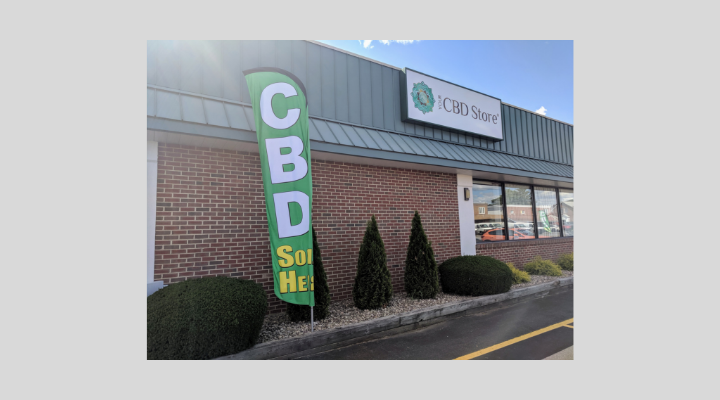 The Grand Opening of Your CBD Store is tomorrow, June 15, 2019, from 10 a.m. to 4 p.m. The business opened in May, but invites you to come check out their new location during their grand opening, with a ribbon-cutting at 10:30 a.m.
Long-time Montoursville residents Catherine Burns, Justin Johnson, and Michael Rakestraw have partnered to bring the affiliate store, of which there are over 300 across the country, to the Williamsport area.
'ÄúAnyone can go online and order CBD products,'ÄĚ said Johnson, 'Äúbut the personal interaction and knowledge you get from us in the store is what sets us apart.'ÄĚ
Misconceptions run rampant when it comes to CBD products. 'ÄúIt'Äôs made from industrial hemp,'ÄĚ explained Rakestraw. 'ÄúIn 2018, the Farm Bill removed hemp from the schedule 1 controlled substances list,'ÄĚ he said, making it an ordinary agricultural commodity. 'ÄúIt can now be grown by any farmer in Pa,'ÄĚ he said.
'ÄúIt'Äôs all about the conversation,'ÄĚ added Johnson. 'ÄúPeople think 'Äėpot'Äô but that'Äôs not what we sell. If you'Äôre confused about Medicare, you ask questions. It'Äôs the same with CBD products,'ÄĚ he said.
CBD is a medicinal herb that can help people who deal with chronic pain, including arthritis, anxiety, inflammation, and sleep disturbances among other ailments. CBD products include oils, creams, lotions, gummies, hard candies, moisturizers, capsules, bath bombs, and others. It's an all-natural, organic supplement with no psychoactive, intoxicating, or addictive ingredients.
'ÄúSoon we'Äôll be able to add roll-ons, vape products, and lidocaine creams to our product list,'ÄĚ said Rakestraw. The line of CBD products, made by Sunmed, is all organic, sourced from farmers in Denver, Co.
CBD products are an alternative for people who would rather cope with conditions naturally without dealing with side effects of medication.
For more information, visit the store at 960 Plaza Drive, Montoursville, PA, 17754 in the Savoy Plaza.
 
Source: https://www.northcentralpa.com/business/your-cbd-store-grand-opening-in-montoursville/article_13cc3698-8eeb-11e9-aef5-4f532c91252f.html