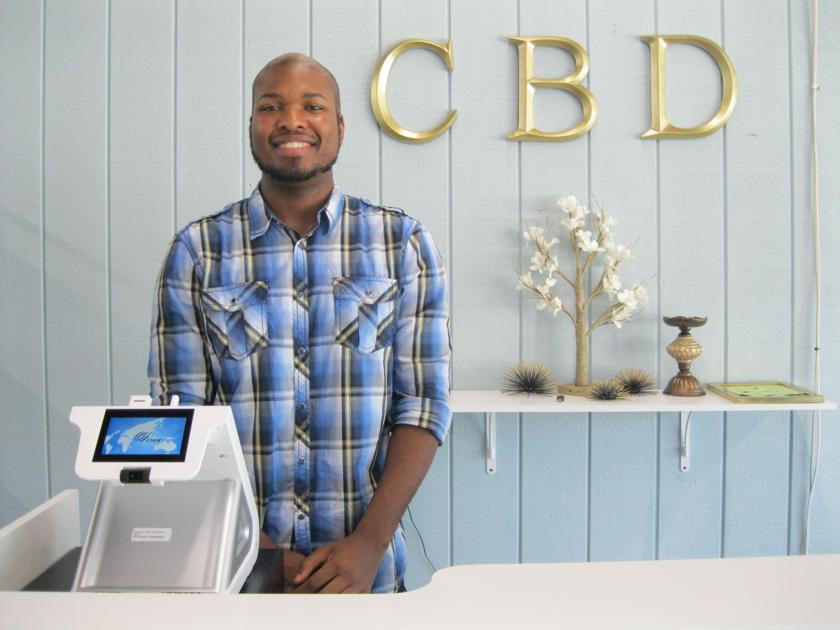 Your CBD Store Conway general manager Desmond Poole will tell you things about CBD oil you didn't know.
For example, under-the-tongue tincture usually doesn't work well for people who've had their gallbladders removed. Those folks might need the water-soluble product instead.
He'll also tell you that one size doesn't fit all, and that the proper dosage is based on the person's weight.
The brand-new business, at 1301 C U.S. 501 Bypass, Conway, is owned by Poole's mother, Valerie Poole.
Because of pain, including migraines, caused by vehicle accidents, she was taking several pain medications routinely.
When a friend told her that CBD oil could reduce her pain without the side effects of prescription medication, she looked into it.
Amazed by the relief the product gave her, Valerie Poole opened Your CBD Store Conway.
Desmond Poole, a food and nutrition major at the University of Alabama, has switched to online studies to work at the family-owned and operated franchise.
Open Monday to Friday from 10 a.m. – 6 p.m. and Saturday from 11 a.m. – 4 p.m., the website is ConwaySC.CBDrx4u.com and the phone number is 843-234-9100.
All products are tested three times in house, and then sent to another facility for third-party testing. This ensures quality and purity.
"We boast about our lab reports; we want people to ask about them," Desmond Poole said.
Your CBD Store Conway carries SUNMED brand oil tinctures, water soluble products, gummies, soft-gel capsules, E-liquids for vaping, topical creams, pet products and more, including vegan products.
They even sell CBD honey sticks, which is a fun, easy way to get a sugar alternative into your coffee.
Your CBD Store Conway also sells CBD skin products including collagen cream, lip balm, bath salts, and moisturizers.
Cannabidiol, or CBD, is a compound found in industrial hemp plants.
One of the things that sets Your CBD Store Conway apart from others is that its products extract more than just CBD from the hemp plant.
While the products contain no THC – the ingredient that gets people high – the process also extracts additional ingredients from the hemp plant that have added benefits.
Poole explained that customers often come into the store thinking they need a particular product. But, after talking about the issues that brought them in, he often suggests a different product, based on their history and their current situation.
All products are available to be sampled, and Poole's suggestions are tailor-made for that customer.
"A minor sprain requires a different product than hip replacement surgery requires," he said.
"Everyone's body is different and everyone doesn't need the same product."
Poole explained that our bodies produce CBD but not necessarily in the amount we need.
"Your body has self-healing mechanisms and when you supplement your body with quality CBD, your body starts making more and that's what puts your body in balance.
"Your body knows what's wrong with you and when you supplement with CBD, your body targets those issues."
Some CBD products work immediately and others take longer for the person to experience the positive effects.
But the free consultation and Poole's attention to detail will put customers at ease almost immediately.
"Your CBD Store's image, products and the knowledge of the people who own them is what makes it successful," he said.
Source: https://www.myhorrynews.com/news/business/your-cbd-store-conway-now-open/article_05e35796-b9f2-11e9-a8c9-db1f08219469.html