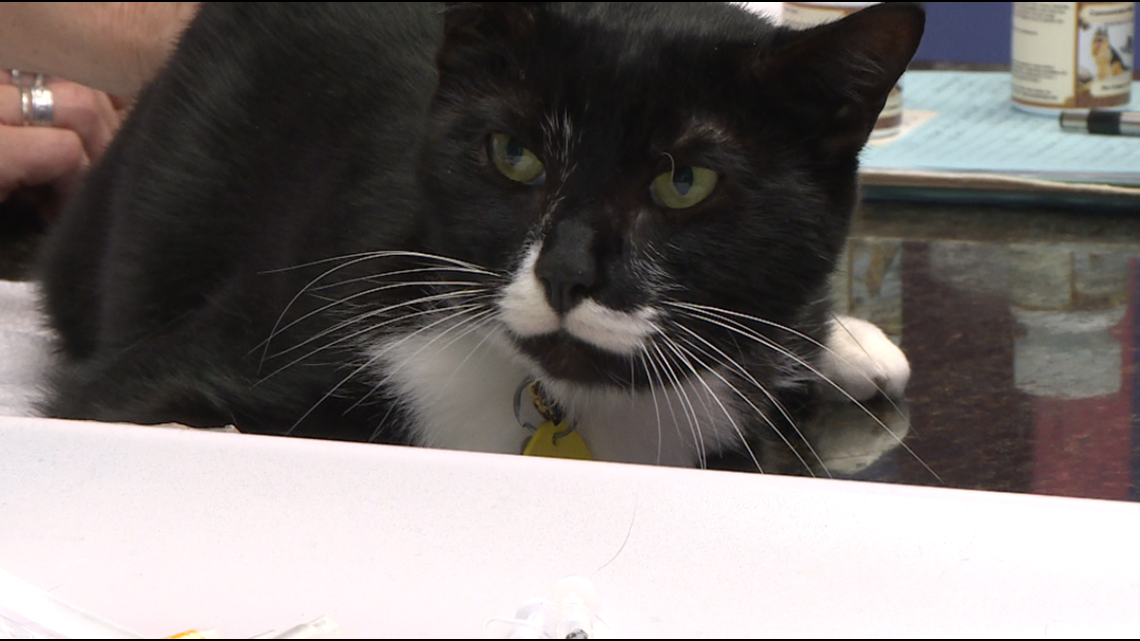 ST. AUGUSTINE, Florida — Pets and pot.
We know people have been giving their pets CBD oil to help with different ailments, but what about medical marijuana for animals?
Many veterinarians believe it would be very helpful. 
Ashley Paper is one of them. She is the vet at Anastasia Cat Clinic in St. Augustine.
She uses both traditional and alternative medicine, like the acupuncture she provided Monday to Grover, a black and white cat. 
When it comes to marijuana, Paper said, "Marijuana is a medicinal plant. It's been used for thousands of years."
She supports the idea for giving pot to pets. 
"I do, if I felt a patient might have a benefit from it," Paper said, "and I think many of my patients could benefit from it."
She's already seen what hemp can do for animals. Hemp is cannabis with a low THC level, so it doesn't get you — or your pets — high.
Paper recalled a cat client who was a complicated case. The cat started CBD oil, "and that's what fixed her GI problem. We literally had 10 more months with this cat that I thought was terminally ill. And not just 10 months — 10 good months!"
Grover's owner, Laura Sapp, has given Grover CBD oil. Â 
"He doesn't vomit nearly as much as he used to," Sapp said.
This experience with hemp or CBD, as well as research and education, has lead this vet to like the idea of medical marijuana for pets.
Paper believes medical marijuana could especially help older cats.
"When they're old and cold and frail and hurting," Paper said. "One of the biggest things that will hold a cat back from eating is pain. If we can keep them out of pain, and keep them eating. It's a bonus benefit."
However, and here's the sticking point, medical marijuana is not legal for pets.
Paper said, "I would absolutely use it if it was legal, but I have to keep my license in mind."
So she waits to see if the lawmakers that approved medical marijuana for people will approve it for the people's pets.
Source: https://www.firstcoastnews.com/article/news/local/veterinarian-weighs-in-on-medical-marijuana-for-pets/77-476ba76a-f978-475f-853f-ed72dc2969fe