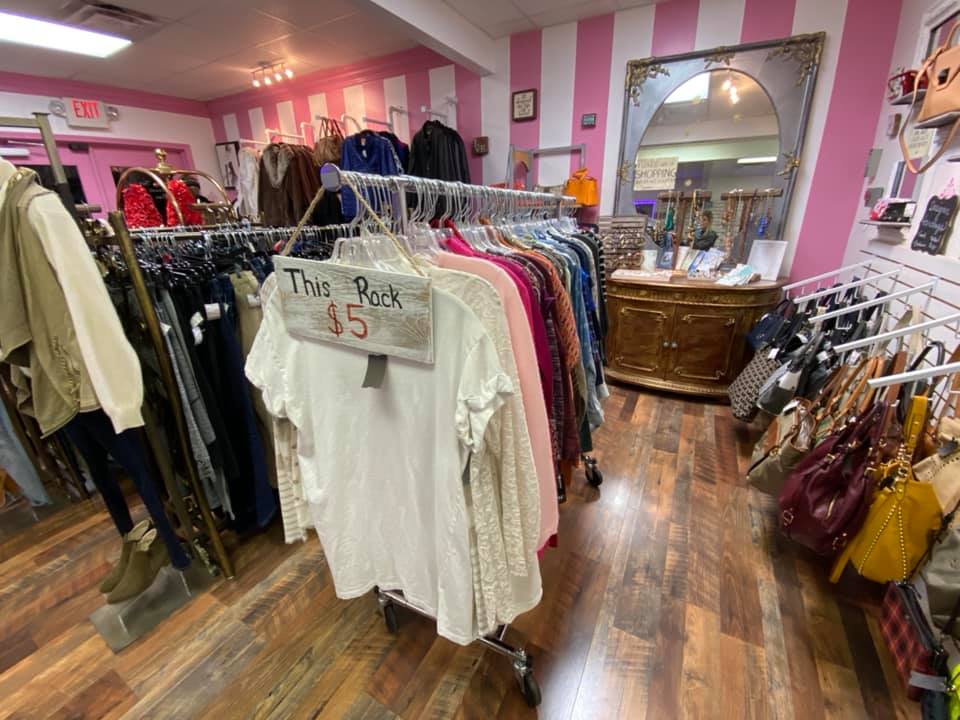 Ho! Ho! Ho! Welcome to Up Front with Cabarrus Magazine, sponsored by Atlantic Bay Mortgage, Cabarrus Arena and Events Center. Cabarrus Eye Center, CERTEC Automotive, Code Ninjas, Concord Downtown Development Corporation, Family Wealth Partners. Merle Norman Cosmetics and Edie's Salon and Your CBD Store of Concord. It's your old pal, Santa. I'm Back! Here's your host, Jason Huddle
Thank you, once again, Santa for that awesome intro to our episode and thank you very much listeners for continuing to listen to this program as we are now on Episode 40. That's episode four-zero, and we are excited to be rounding out the year with you. We have a great program for you today. We are less than a week away from Christmas, and because of that, I thought, You know what? There has to be some listeners out there that are trying to figure out those last minute gifts. Now I know that we can all go onto Amazon and we can all figure out with a lightning deal is for the day. But you and I both know that the point of this program and for comparison magazine itself is to support local businesses. And so what I wanted to do was invite a couple of our sponsors in who have some great ideas for last minute gifts, We're excited to have on today with us, Sean Simmons from Your CBD Store of Concord and Edie Tolson, always a pleasure to have her on the program. She's with Merle Norman Cosmetics and Edie's Salon, as well as Two Blond Chicks Fine Consine. So we're gonna be talking with them and going to their locations to find out what is hot and selling right now and a great idea for a last minute gift. But before we get to that, let's get to this week's shameless plug time.
As I'm recording this today, we are sending our January addition out to press, and while it might just seem like, oh, it's another edition of Cabarrus Magazine, that's great. This upcoming issue represents our 19th anniversary of producing this publication, and I just want to take a moment to thank each and every one of you who read the magazine religiously every month and those of you that even return some accolades and pats on the back and tell us to keep up the good work, you know at I'm humbled by that every time that happens. It never ceases to amaze me that people actually take the time to not only read this publication, but take to heart, the content that's in every issue, and they're proud of it because it is our magazine. It is this community's publication, and we could not do it without you, Certainly not without our advertisers and our sponsors and our supporters. So I just wanted to take one moment to say Thank you for 19 awesome years. We are beginning now, our 20th year of publication and our third decade just saying that is humbling to me. So I thank you. And as we return back to our regularly scheduled program, I just like to say the pleasure is all mine. And that's today's shameless plug time.  
Okay, stay tuned. When we come back, we'll be on location at Your CBD Store in Concord to talk to Sean Simmons. He's got some great ideas on stocking stuffers for your better half.
Welcome back to this episode of Up Front with Cabarrus Magazine. Were talking about last minute gifts. It is less than a week to Christmas. Can you believe that? And there are lots of places locally you can find gifts, great gifts for all kinds of members of your family. And I thought it would be a great opportunity to bring in Sean Simmons. He is the owner of Your CBD Store of Concord and also a sponsor of this program. Sean, thank you very much for your sponsorship and for coming on today.  
Yeah, uh, glad to be here. We really enjoy being a sponsor of the magazine and the podcast as well. So, Your CBD Store, We've had you on before. We've talked about CBD when we were talking about alternative ways that you can help your body without necessarily going big Pharma. 
Huddle
Let's talk about gifts because you don't necessarily equate CBD with Hey, grandpa, how about this last minute gift. So help us through that a little bit. What are some gift ideas that Your CBD Store could offer?  
I guess probably one of our most popular items for a gift idea would be our bath bombs. Everybody seems like bath bombs. They smell good to make the skin feel good. When you're all done with them, they could be pretty relaxing.  
So for the benefit of those people that don't exactly know what a bath bomb is and, specifically for our guys in the audience, because I guarantee you, every female that's listening knows what a bath bomb is. But guys that are listening who are buying presents for females don't necessarily know bath bomb. A, it's not something that will blow up your bathtub. B, it will make your female partner very happy, right?  
So, you put it in there. And what does it do? It fizzes up.  
Yeah, Ultimately, you drop it in the tub fizzes up. They're made with Epson salt, 100 milligrams of CBD in each one of them and then different essential oils. So we've got a eucalyptus, lavender, orange, lang lang, lemongrass and peppermint-scented bath bombs. So, but they use natural essential oils on, and they'll have their kind of different effects.  
Do these bath bombs also have CBD oil in them?  
Okay. And so and what happens is when it fizzes up, basically releases those scents, those aromas and then you inhale those-
Kind of.  The the sents of the aromas they're gonna come from the essential oils on different essential oils kind of have different effects. You know, lavender is pretty calm and relaxing, that kind of thing. The eucalyptus maybe helps with maybe some breathing and stuff like that. But then the CBD itself is just going to absorb warm water. CBD absorbed through the skin so it'll absorb through the skin that way so to get it to kind of any localized type areas and that kind of thing. So they could be pretty relaxing (inaudible).  
Okay, so bath bombs, check. We can get those for the stockings. What are some other products that you guys were offering right now?  
There our big sellers. Our face cream is really big. So we just won a new award recently for the best skin care line as far as CBD goes. And we have a full line of college and creams, daytime moisturizers and a nighttime face serum. So ladies really seemed to like that too. So CBD can be really, really good for the skin,  
So Okay. Yeah. So, I was gonna have you walk me through that a little bit. I put this facial cream on my face at night. What do I expect? What kind of results of my expecting?  
I guess the main thing is any reason why you would normally use ah, face cream or a daytime nighttime serum moisturizer, Something like that. Basically, the feedback that we've been getting from it as having the CBD added to it, just gives it a little extra boost from skin care products that people are already using any.  
And it doesn't have correct me if I'm wrong, but It doesn't have some of the chemicals that you would find in your over the counter face creams that might actually be harmful, right?  
Absolutely. There gonna be a little bit more of, ah, natural ingredients in that type of sense. You know, our collegen is probably one of the most popular. It's using marine collegen in there, some rose hemp oil and vitamin E, And then we're just infusing in our CBD Blend into it a little bit, too, because it's got some different benefits for the skin.  
Very good. Do you offer consumables here like Gummies? Things like that?  
All right. So, candy for the kids? No. Yes. No way? 
We try not to directly point in that direction or anything like that. But, you know, obviously there are some people that are using it as, uh, a little bit more of a natural option instead of maybe going from the pharmaceutical side, but with the kids, too. So it's not something that we target, but yeah.  
So you do offer the gummies. I was kind of half-joking, but, you know, people do enjoy them, right? So it's a way for you to kind of take those oils and get a little candy rush at the same time.  
Yeah, absolutely. Yeah. We've got We've got a couple of different lines of edibles. We've got some hard Candies, peach rings. We always keep those in stock. And then we've got a vegan gummy, too, which is all, all natural. So it's done with, you know, natural flavoring . It's natural colorings, all that stuff.  
So essentially, you can fill a whole stocking with CBD products from Your CBD Store of Concord. And whoever you're giving it to will be very happy with you.  
Yeah, absolutely. I don't think anybody would be disappointed finding CBD in their stockings this year.  
Now, in the closing minutes that we have, Shaun, I can't believe this. You said this to me when I walked in the door. I couldn't believe it.  When you said you guys were almost a year old here.  
Yeah, we'll be one year old in downtown Concord in January, so we're gonna have ah, little bit of a celebration January 18th and we'll put together some promos and a little bit of a party and stuff like that.  
So party at Your CBD Store in Concord on January 18th. Do we have details on that yet?  
I don't have all the details put together, but I'm probably gonna do something along the lines of maybe some free gifts for the 1st few customers that come in, maybe do a wine tasting. A couple other ideas in mind. So something similar that we did with our other locations.  
Very good. Shaun Simmons, I appreciate you spending some time with this today. I can't wait to see what my stocking looks like this year. And you know what? I hope my wife isn't listening because she might have just heard everything that she's getting. It sounds like she's into just about everything that you that you mentioned.
So, thanks for spending some time with Shaun and Merry Christmas. Happy New Year.  
Merry Christmas. Happy New Year. Glad to be here.  
All right, you guys stay tuned. We'll be back with Edie Tolson from Two Blond Chicks and Merle Norman Cosmetics and Edie's Salon. She's got some or last minute gift ideas for us right after the break.
Welcome back. Thanks for joining us once again. I am now on Copperfield Boulevard with Edie Tolson. She is the owner of Merle Norman Cosmetics and Edie's Salon, as well as Two Blond Chicks, which is just down the road. And we are talking this week. Edie, about last minute Christmas gifts and what we were saying before I turned on the mic, was that anybody could go in there Amazon and order something. But the benefit of buying something locally is you're supporting local businesses, but be you're also finding things that aren't necessarily available online. You can go and find something very unique. And when I think about unique gifts, I think about your two stores because you definitely have some things that are unique, and they're not something that everybody could just come across. And so what I wanted to talk to you about is what are some things that you're currently offering and what are some some new trends, So we're gonna cover that today. But first, let me thank you for coming on the program and also for your sponsorship of the program.  
Thank you very much. Some of the trends right now at The Merle Norman Cosmetic studio are our knockout nudes palate two. We had the knockout nudes one come out with all your earth tones. And now we have the knockout nudes palate two with Burgundy's and a little bit of shimmer. So that's really trending right now. We also have a new vendor of clothing out of L. A. They are on point with all their sweaters. They're holey jeans. We have new shoes in. The white boots are on trend right now. Snakeskin leopard. All that we've got in the stores, people are coming in and we have it. Buy one, get 1/2 off right now. Yes, that's really good. We also have some more new things for winter in our winter collection. On the cosmetics is our duo pencils. They're called lip pencil. Plus, you have your lip liner on one end and you have the lipstick on the other. Also, with that, we have our brow sculpting pencil, which is new. Some new foundation colors in the ultra powder, which we are known for our foundations. Merle Norman is worldwide, known for their foundation, so we've got new colors in that and then down at Two Blond Chicks, Oh my gosh, we have Louie Baton. We have Coach. We have Cindy Gucci, Prada, Michael Khors, Kate Spade. You can get a designer handbag that looks brand new for way less than retail. You can get designer boots, shoes. We even have Gianni, Versace, Gucci belts in there. Right now. There's also designer tops, coats, pants, scarves, mittens, tobagins, everything.
And here's the best part. You could actually go into the store and see and feel and touch these things rather than just looking at him on a computer screen.
That's right. Another benefit to that's right, and you can ask any of the girls that work there say dress me and they can dress you from head to toe with all the jewelry to match down to the shoes, nails, everything. 
Do you ever have a challenge? When somebody comes in and says dress me? And is there ever a challenge for you?
Let's talk about some trends. What are what are some things that are trending, both within makeup and fashion right now, as we go into the new decade?
Yes, Leopard is big and guess what is coming back? I just read this off the runways straight from there. The earrings, one kind of hearing and the other one different. So each year a different earring is back in style. Pearls are big whether they're little pearls, big pearls, chokers, long necklaces, pearls. They're big.
So we're back to the fifties with the pearls. Wow, Isn't it true that with fashion everything cycles about every 20 to 30 years? Is that about right?
So that's why you see a lot more jean jackets now, because they were big in the eighties.
And the holey jeans are not going anywhere. Oh, my gosh. I thought they would be gone by now. But everybody loves – the only thing when you're putting holey jeans on, you might get your toe caught one of the holes. Put your socks on first and get your holey jeans on.
good advice from Edie Tolson. Okay, so we have makeup. We have fashion. What are some things that women are coming in and asking for? What are they looking for?
They just want to be beautiful. And that's what we want to do. Make a mile beautiful. Good enough. We can do that from head to toe. And also, if you don't know what to get someone, we always have gift certificates. 25, 50 or 100. Or if you need more than that. Well, especially right. Well now. And they can come in and get clothes, Jewelry, makeup, shoes, handbags, Any of them.
So I'm sorry, I didn't mean to interrupt, but at Merle Norman Cosmetics and Edie's Salon, you also have clothing as well, right? Not just not just makeup, right? 
Look at the boutique section with all the clothes, the jewelry, and we can fix you from head to toe there.
what made you want to get into this business? What made you want to start it?  
Let's see, back around 2008, when the market crashed in the housing market crash, then all the companies you know, it's big recession. All this mess. Companies started cutting their quality. So I was wearing a store brand makeup and I went to buy it. I noticed the jar was smaller and it looked a little different. And when I put on my face, it burned my skin. Oh, my goodness. Yeah. So I started freaking out. I ran to Merle Norman, cause the most beautiful girls always worked at Merle Normon. I said, I'm gonna go ask them for help. And they gave me stuff to put on my face to take care of the burn. And they had given me some stuff in the past to put on my eyes because I used a eye cream that burned my eyes. So I said what am I thinking? I just kept watching the studio. They didn't cut any quality. They always kept the best products. And then I heard the owner wants to sell it, and so I kind of got in good there and was able to buy it.
And so here you are. How many years have you been with them?
With Merle, since 2013? And actually, I've been self employed since 1990.
So, 30 years self employed,  
That's incredible. So, yeah. So if you have makeup needs, if you have fashion needs, go and see any Tolson at Merle Norman Cosmeticsand Edie's Salon and Two Blond Chicks, they will hook you up.
That's right. When you're needy, call Edie and we will get you whatever you need.
Now, what are your hours next week for Christmas week?
We will be here Monday 10 to 6. Tuesday 10 to 4. Closed on Wednesday and Thursday and open again Saturday 10 to 6 and Saturday 10 to 4.
Are you closed on Friday?
Friday, 10 to 6. Okay, all right. So if you need some last minute gifts, stop on by and you just heard those hours. And then after Christmas, come on back by and spend Christmas money.  
And actually, right now we have a $10 gift certificate for everyone for their Christmas present, and they can use that December 27th through January 14th and it's $10 off the $75 purchase. That's great. That's a great deal. Yeah.
Super deal. Edie Tolson, Thank you so much for joining us today,
All right, you guys stay tuned. We'll be back in just a moment.
I'd like to thank Edie Tolson and Shaun Simmons for being on the program today, and also, of course, for their sponsorship of the program. Without sponsors like them, we could not produce Up Front with Cabarrus Magazine, and I'm not ashamed to say we still have a couple of sponsorship spots left available. So, if you are interested in sponsoring, please give us a call at 704-782-2353 and we can talk about that and you can show your support not only for Cabarrus Magazine, but for this community. So take that into consideration. I guess that was a bonus Shameless plug. And I unapologetically did that. Last week, I said this would be the last episode of Up Front for the year and that was a lie. I was incorrect. I forgot that we have a Best of 2019 episode coming up next week. It will be released on December 26th and it's gonna be a lot of fun. I've had a lot of great fun going through the last 40 episodes to pick out some clips and highlights from different interviews that we've done, and we really have run the gamut. We've done serious subjects, we've done funny subjects, and we've just been zany and crazy and had, you know, ghost stories and all kinds of things. So it's been a lot of fun to go through that, and I'm anxious to share that with you. So, after you have opened all the presents next week and have eaten your fill of ham and turkey and pies, and you just need to chill out for a second, go ahead and download next week's episode of Up Front with Cabarrus Magazine Best of 2019 addition, and I look forward to bring that to you. Let me, of course, wish you all a Merry Christmas. Happy New Year, Happy Hannukah, All those other holidays that are thrown in there and tell you once again thank you for your listenership of this program. And with that I will turn back over to my friend Santa.
Thank you, Jason. You've been a very good boy this year. I'm expecting big things under your tree. Thank you for listening to Up Front with Cabarrus Magazine, sponsored by Atlantic Bay Mortgage, Cabarrus Arena and Events Center. Cabarrus Eye Center, CERTEC Automotive, Code Ninjas, Concord Downtown Development Corporation, Family Wealth Partners. Merle Norman Cosmetics and Edie's Salon and Your CBD Store of Concord. Always remember to support those that support this program. This is Santa Claus