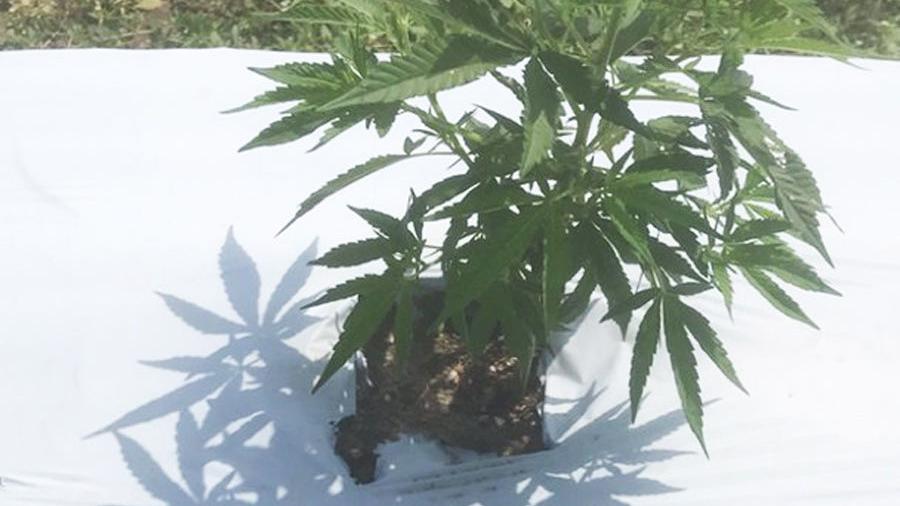 Two Orangeburg County farmers participating in the state's industrial hemp pilot program say thieves have stolen some of their hemp plants.
Unidentified subjects have taken between eight and 10 hemp plants from Ross and John Fogle's hemp fields.
"They are stealing, but they don't understand they are not going to get high off of it," John Fogle said. "There is no need to steal this stuff. They are not going to get high."
Fogle, who is growing about 20 acres of the crop, said the hemp plants were initially in the greenhouse. Because of their size, they needed to be moved outdoors. These were the ones that were swiped.
The estimated value of the stolen hemp is about $2,000, which is the total value of the final product.
In order to help crack down on the thievery, Fogle has installed cameras on his property.
Fogle speculates if the thieves are not trying to smoke it, perhaps they are trying to sell it.
"They might be lying to people and making somebody really mad with them when they find out it is not marijuana," he said.
Orangeburg County Sheriff Leroy Ravenell said his office is working with the property owner to "develop a safety plan that will deter future crimes at this location, and also as a result provide some peace of mind."
At this point, the sheriff's office believes the thief is someone who believes the hemp has a high percentage of THC, like illegal marijuana.
"The plant in these fields is not the marijuana plant. This plant has no more smoking value than a pine tree," Ravenell said.
According to the South Carolina Department of Agriculture, hemp and marijuana come from the same plant species, cannabis sativa, but marijuana is the flower of the plant and hemp is the fibers.
Legally, THC levels determine whether the substance is considered an agricultural product or a regulated drug.
The new S.C. law defines industrial hemp as any part of the plant with a THC concentration that does not exceed .3 percent on a dried weight basis. Anything above that is considered marijuana and is illegal in the state.
Fields are tested to ensure the concentration does not exceed the legal limit. Should it exceed the limit, the crop will be destroyed or reconditioned, according to the SCDA.
SCDA Communications Director Sally McKay said the situation in Orangeburg County is rather unusual.
She said only one report has come into the department of an unsuccessful attempted break-in in Marion County.
National Hemp Association Executive Director Erica McBride said stealing hemp is not a widespread problem.
"We recommend that trial participants place yard signs around the perimeter of the crop letting people know it is an industrial hemp crop and that it has no value as a drug crop," she said. "If the crop was being grown for CBD (cannabis oil) production, it's possible that it's being taken on purpose, but it's still likely to be a case of mistaken identity."
A total of about 45 acres of the crop are being grown in The T&D Region as part of a statewide 2018 S.C. Industrial Hemp Pilot Program.
The other farmers are Patrick Jamison Jr., who grows about 5.5 acres, and Chapin resident Albert Bueno, who is growing 19.54 acres. Jamison and Bueno grow in both Orangeburg and Lexington counties.
Bueno said no one has stolen his hemp plants thus far.
"It is sort of dumb to steal hemp," he said. "It is actually a plant that if you smoke it, you will get sick."
S.C. Gov. Henry McMaster signed a bill into law in May 2018 making it legal for farmers to grow up to 20 acres of the crop for research purposes.
The SCDA selected the men among 20 farmers in the state to grow the crop this year.
About 365 acres are currently being grown in 15 counties. The 20 permit growers were chosen from 131 applicants. All growers went through State Law Enforcement Division background checks.
But the regulation of hemp may soon come to an end.
McKay noted the Senate version of the current U.S. Farm Bill would declassify hemp as a controlled substance, which it has been since the 1970s.
"It will be interesting to see what happens with hemp in the Farm Bill," McKay said.
Expectations are the bill will be taken up before the Labor Day recess.
South Carolina's decision to open the way for farmers to grow the crop came on the heels of the 2014 federal Farm Bill, which sanctioned growth of hemp for research purposes in states that allow it.
About 31 states are growing the crop, led by Colorado and Kentucky.
Fogle, who is growing the crop for medicinal uses, said the experience in the pilot program has taught him that growing hemp is "a lot of hard work."
"It is all hand work," he said. "There is no mechanization in the thing."
But he is bullish that the crop will succeed in the state. Perhaps one day a processing plant will be built here to take out the "middle man."
As far as his crop is concerned, Bueno said it has adapted well.
"It has been a real learning experience for us," he said. "It has been energizing, exciting and invigorating."
Bueno said his experience in the pilot program has been so good that he has applied for a license for next year.
Hemp growth in South Carolina is just beginning, with a new program to come in 2019.
The SCDA received 162 applications to grow hemp next year. It will select up to 40 farmers to receive industrial hemp permits.
The farmers who receive permits will be allowed to grow up to 40 acres of the crop. SCDA plans to name the growers by mid-September.
Source: https://thetandd.com/news/local/they-are-not-going-to-get-high-local-hemp-farmers/article_d3cefae3-b0e6-5e14-afec-cbf22cf8d21f.html