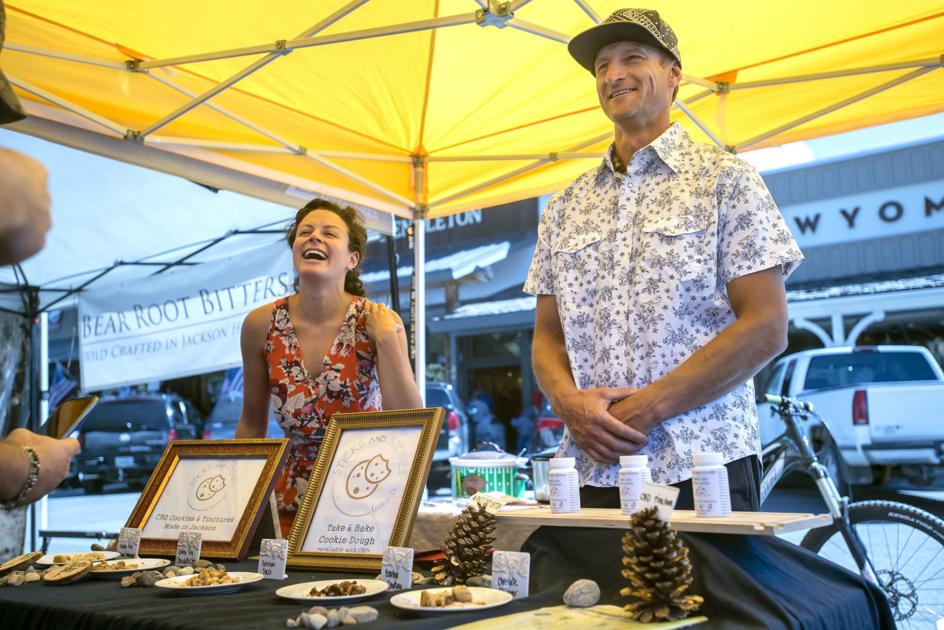 Your grandma's cookie recipe didn't include a line that said, "Stir the phytocannabinoids into the dough."
But if Li Corn and Jason Agrelius ever have grandchildren that instruction will be there.
The Jackson husband-and-wife team is behind Sticks and Stones Cookie Co., a take-and-bake cookie startup that sells dough in unadulterated granny style and in a modern version — one that includes CBDs.
CBD — recently under a federal ban that would have made CBD cookies a Schedule 1 drug — have in the past few years become wildly popular as a no-high hemp product that's said to offer a variety of physical and mental benefits. The marijuana cousin is believed to be a good treatment for anxiety and stress, rheumatoid arthritis, high blood sugar and seizures.
Outlawed because of its botanical adjacency to marijuana, CBDs now seem to be becoming legally accepted nearly everywhere, and the federal prohibition was lifted last year.
Corn said her cookies are delicious and won't give you a buzz.
"Our product has zero percent THC," the active ingredient in marijuana, she said, "and we have it independently tested."
"It doesn't have any psychoactive properties," Agrelius said.
Besides the supposed medical benefits — claims that are widely accepted by millions of Americans — the Sticks and Stones product has another selling point: It's a cookie.
In her six years in the area Corn has been food and beverage manager for the Four Seasons Resort in Teton Village and then a pastry chef for Persephone Bakery. Her father is a New York City pharmacist who hoped she would follow him into the business. She thinks Sticks and Stones may be a compromise, a place where cooking and pharmaceuticals meet.
Agrelius said he and Corn "have a cookie pharmacy."
Sticks and Stones was named, appropriately but also oddly, during a planning session at Inspiration Point in Grand Teton National Park. They went into business last November and since then have made nearly all their sales at the People's Market at Snow King and the Jackson Hole Farmers Market on Town Square. They've also shipped dough. The business has grown from moving about 20 dozen cookies a week to about 100 dozen.
A 13-cookie package of the oven-ready dough costs $10 for the OMG variety — that's "O milligrams" CBD. Dough with a 10-milligram CBD dose goes for $20 a package, and the 25-milligram style costs $45.
There's your basic chocolate chip, but also a Snicker Doodle and Li Corn originals like the Rainbow and the Bourbon Cowboy. The Rainbow is milk chocolate, almond toffee, coconut, potato chips and rainbow sprinkles; the Bourbon Cowboy is chocolate and bourbon, pretzels, pecans and butterscotch. There are also Thick Mints and, on the horizon, some oatmeal and some pumpkin varieties.
The CBD is from organic hemp grown by a friend in Colorado, the marijuana and hemp capital of the universe. The CBD is an isolate extracted with a CO2 process that creates a tasteless powder, so your arthritis-soothing cookies won't smell of weed or any of the oils often used in CBDs. Corn and Agrelius also make and sell tinctures from the powdered CBD.
As far as they know, they're the only makers of a CBD-infused cookie dough. They've begun talking with grocers about carrying their dough and envision a stand-alone refrigerated display.
Agrelius used a CBD salve after a shoulder injury and said it helped "on contact." Corn has used CBDs to good effect and eagerly endorses them, including reassuring newcomers that while they may overdose on cookies they won't do it on the CBD ingredient.
"If you have too much you just get tired," she said. "We tell people to start small and see how they feel."
Source: https://www.jhnewsandguide.com/news/business/these-cookies-are-delish-and-my-arthritis-feels-better/article_c605bd9b-53f3-5728-8384-d5aaa530901c.html