Marijuana has taken North America by storm in the past year.
It's created a new kind of industry. One that is really just beginning.
Because the cannabis industry is heading to the global stage.
All around the world, countries are beginning to recognize the value and importance of medical marijuana.
And one company is perfectly positioned to exploit the global opportunities opening up in this next wave in the marijuana revolution.
Scythian Biosciences (TSX:SCYB.V: OTC:SCCYF), is a Canadian company that is NOT satisfied to rest on its laurels.
Already a pioneer of cannabis-based biotechnology, Scythian Biosciences (formerly called Scythian Biotechnology) is embarking on an aggressive program of expansion…
Using strategic partnerships to fuel massive growth in cannabis markets outside of North America.
By targeting just-emerging marijuana markets around the globe, Scythian will essentially be 'Äúfirst to market'ÄĚ in these new territories.
Shaping the Future of the International Cannabis Industry
For Scythian Biosciences (TSX:SCYB.V: OTC:SCCYF), transitioning from marijuana biotech research into an investor and spotter of potential regional leading growers, cultivators and distributors of medical marijuana is a natural step in its corporate evolution.
Scythian Biosciences has already successfully entered multiple regions in the early stages of building their domestic cannabis industries.
This global 'Äúfirst mover'ÄĚ approach gives the company a unique advantage:
By developing and building complete infrastructures for the entire industry, Scythian Biosciences is working to create its own 'Äúecosystem'ÄĚ 'Äď from plant to product 'Äď in each territory it enters.
This regional infrastructure is intended to be supported by a global network of distribution and processing centers, built to enable increasing growth, and meet demand in specific regions.
By building the foundations of emerging marijuana markets… Scythian Biosciences is helping to shape the future of the international cannabis industry.
To make its global dreams a reality…
Scythian Biosciences has partnered with one of the leading marijuana grow companies in the world.
Aphria, Inc (TSE: APH) is a C$2.9 billion marijuana behemoth – one of the largest marijuana growers in North America.
With a vast network of expert cannabis cultivators and industrial-scale production facilities, Aphria has perfected the process for growing safe, pharma-grade, cannabis for researchers and patients across the globe.
Aphria has thrown its substantial support and experience behind Scythian's plans for expansion Рbuying an almost 10% stake in Scythian Рmaking it one of the largest shareholders of the small medical cannabis company from Toronto.
And there are exceptional growth opportunities outside of the over-crowded North American market…
Beginning with the most important… Scythian has one of the most unique business models in the industry.
REASON 'Äď Aphria and Scythian Biosciences'Äô innovative win/win partnership
Aphria, the CAD$2.9 billion behemoth, partnered with smaller, CAD$136 million Scythian Biosciences with a very specific goal in mind:
To build Scythian Biosciences into a corporate feeder system for Aphria'Ķ to 'Äúfront-load'ÄĚ its own global expansion plans with proven, reliable, and profitable entities around the world.
Scythian Biosciences will act as Aphria'Äôs de facto corporate 'Äúincubator'ÄĚ.
Scythian intends to invest in on-going businesses in the cannabis industry around the world… and use its extensive knowledge and research to build out first-class cannabis cultivation and distributions systems.
When these companies have become established and positioned to gain substantial market share in regions just opening to medical marijuana…
Scythian has been offering these opportunities to Aphria at a healthy profit for Scythian. Aphria can either buy into these companies as a partner… or simply buy the companies outright directly from Scythian.
This system of 'Äúfront-loading'ÄĚ with proven and promising companies gives Aphria access to virtually unlimited expansion possibilities'Ķ without enormous up-front risks.
More importantly for investors… Scythian Biosciences gets a very important strategic partner Рand a near-guaranteed buyer for the companies it successfully identifies or develops.
Each company Aphria buys from Scythian will increase Scythian's bottom line, while providing ever-growing cash and stock infusions to fuel additional expansion targets.
REASON – Scythian Biosciences Worldwide Spending Spree
Its partnership with Aphria gave Scythian Biosciences (TSX:SCYB.V: OTC:SCCYF) a $14 million cash-infusion, buying its stock and becoming one of Scythian's biggest shareholders.
And as medical marijuana has become legal in more countries, Scythian has been targeting for acquisition smaller companies and establishing strategic partnerships all around the world…
Beginning with one of the most promising regions…
REASON – Multiple Expansions in South America
Scythian Biosciences carefully considers all aspects of each emerging market 'Äď and strategically enters high growth territories first.
Which is why Scythian has been busy buying up some of the leading cannabis and pharmaceutical companies in Latin America, one of the fastest growing markets outside of North America.
Argentina
ABP S.A. is an Argentinian pharmaceutical import and distribution company. ABP has just received its license to import CBD oil into Argentina. (CBD is one of most active compounds in cannabis). This past spring, Scythian announced it was entering into an agreement to buy the company.
MMJ International Investments Inc: the owner of ABP S.A.: Scythian Biosciences is making a huge splash in the Argentinian medical cannabis market with the upcoming purchase of MMJ – one of Argentina'Äôs leading importers and distributors of pharmaceuticals 'Äď The double purchase of MMJ International and ABP S.A. would have given Scythian open access to Argentina'Äôs network of hospitals, doctors, retail pharmacies, private health providers and public health system for their world-class marijuana products: but Scythian has already announced their sale to Aphria for a healthy profit.
Colombia
MMJ Colombia: Scythian Global contracted to purchase 100% ownership in MMJ Colombia… giving them their first solid foothold in the country. The purchase would also have given Scythian complete control of another company:
ColCanna – the first company in the region to receive a license to grow cannabis in the region. ColCanna is building a 80,000 meters square of greenhouse production space and is planning to build its laboratory for the fabrication of cannabis extracts.
For its Colombian targets, like in Argentina, Scythian has already announced their sale to Aphria for a healthy profit before they pay for them.
Brazil
Brazil Investments РScythian is entering into a partnership with Brazil Investments, which owns 90% of Green Farma Brazil of Sao Paulo. This partnership gives Scythian access to Brazil's pharmaceutical industry, and perfectly positions it as Brazil moves towards medical marijuana.
In addition, Scythian Global is positioning itself in other Latin American countries (what the company calls 'ÄúStage 2 opportunities'ÄĚ) including Mexico, Chile and Peru.
REASON РThe Unique Business Model Pays off: Scythian Biosciences $65 (based on a $4 CAD share price) Million USD Shopping Spree Turns into a Nearly $200 Million Sale… in just 6 months
Scythian Global's partnership to act as a corporate incubator for the Canadian cannabis giant Aphria is already paying off.
In July 2018, Scythian Biosciences (TSX:SCYB.V: OTC:SCCYF) announced it would be selling its investments in South America… Colombia and Argentina… and its investments in the newly legalized cannabis market in Jamaica… to Aphria, Inc. for $193 million. It will also grant to Aprhia the right to buy its assets in Brazil on terms to be agreed.
This monumental sale to Aphria 'Äď the first in the company'Äôs unique strategy 'Äď gives the company approximately $200 million in cash and Aphria stock to ramp up its aggressive expansion into the global cannabis markets.
REASON: An Ever-Growing Market
The global market for legal cannabis is enormous.
Arcview Market Research estimates that over the next 10 years, the legal cannabis industry will reach $57 billion.
33% of that is projected to be for medical marijuana.
As incredible as that dollar figure is…
That estimate pales in comparison to the report from Grand View Research. They say the global market for legal marijuana will hit $150 billion by 2025…
Putting the potential market for medical marijuana at approximately $50 billion.
Expanding legalization around the world is creating significant demand for both medical and recreational marijuana…
And Grand View's research says we can expect to see massive surge in global demand for all things cannabis…
As you can see in this chart from Grand View's report, the market for medical marijuana could quickly overtake demand for recreational marijuana by a sizable margin.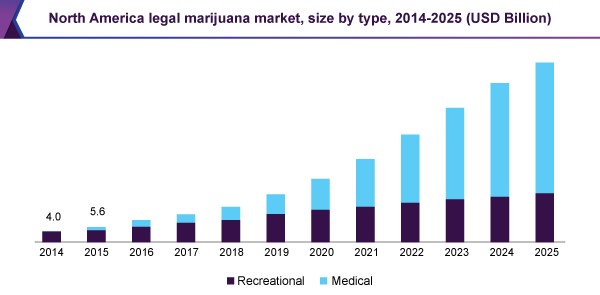 Which brings us to the next reason Scythian Biosciences will likely be successful…
REASON: Medical Marijuana Works.
The market for medical marijuana is exploding worldwide for a simple reason 'Äď it works.
In medical studies around the world…
Cannabis is being proven effective against a whole host of medical conditions and diseases.
The human body's endo-cannabinoid system is a series of millions of receptors located throughout the body Рeach designed specifically to respond to the constituent compounds that make up marijuana.
Medical marijuana interacts directly with the endo-cannabinoid system, helping the body restore itself to health.
CBD and THC, the major compounds in marijuana, have been shown to cause apoptosis in cancer cells – essentially, the cancer cells stop reproducing, and commit suicide.
But medical marijuana has also been proven to improve bone mass in osteoporosis, reverse symptoms of diabetes, obesity and metabolic syndrome, soothe mental disorders and brain injuries, including Alzheimer's, multiple sclerosis, and Parkinson's, improve blood vessels and reducing inflammation, aiding over-all cardio-vascular health.
A huge number of medical ailments known to man has been shown to be improved with medical marijuana.
REASON – Continued Expansion Across Europe.
Scythian Biosciences (TSX:SCYB.V: OTC:SCCYF) continues to strategically target cannabis companies that it can grow, expand, and then sell.
Portugal'Äď Portugal legalized marijuana in 2001, and Scythian has an opportunity to invest in the country'Äôs growing marijuana market.
UK and Ireland – The UK has had medical marijuana for 7 years, but regulatory red tape and fees have made cannabis pharmaceuticals prohibitively expensive. Under pressure from patients and advocates, the government will be issuing its first ever 'Äėimport license'Äô'Ķ and by 2020, is expected to issue the first cultivation license.
Scythian Biosciences is keeping watch on opportunities all across Europe, including France, Italy, and Macedonia.
REASON: A Growing International Portfolio of Strategic Investments
Scythian Biosciences continues to solidify its foundation to become a leading player in the global cannabis company development market, with strategic investments in innovative companies in targeted regions:
Isodiol International Inc. is the world leader in CBD oil products.
Scythian Biosciences continues its partnership with The University of Miami and its neuroscientific team to conduct pre-clinical and clinical trials of its drug regimen for traumatic brain injury.
Conclusion:
Scythian Biosciences is quickly growing into a major player on the world stage to identify and develop promising companies involved with legal marijuana. Its innovative partnership with Aphria gives it global reach, global impact, and global profits.
As medical marijuana becomes more and more accepted around the world, those involved with cannabis will be seeking out new, innovative approaches to the fast-growing sector. Scythian Biosciences' (TSX:SCYB.V: OTC:SCCYF) unique and proven business model perfectly fits the bill, and those serious about marijuana stocks should take a closer look at this company.
Other marijuana companies taking the world by storm:
Canopy Growth (TSX:WEED) was the first cannabis organization to surpass the $1 billion market cap level, and it is one of the biggest names in the industry. When the upcoming cannabis legislation is passed in Canada, a jump in stock price here is near-inevitable.
The problem with stocks of this size, of course, is that the upside is unlikely to be near the upside of those new and dynamic smaller players in the space 'Äď but the downside is far more appealing for a conservative investor.
iAnthus Capital Holdings (CSE: IAN) iAnthus is a U.S. based cannabis company listed in Canada.
The company has recently taken an interest in cannabis based businesses in four U.S. states. While uncertainty about changing regulation has kept many companies from investing in U.S. cannabis, in Q3 2017, the Trump administration reaffirmed the Cole Memorandum which allows states to legalize marijuana and precludes the federal government from pursuing action against operators in compliance with state cannabis regulations.
Aurora Cannabis Inc (TSX:ACB) which is a producer and distributer of medical marijuana across Canada. The company, formally Prescient Mining Corp, is a Vancouver-based business founded a little over one decade ago. Aurora's main objective is to bring medicine to the people reliably and economically, which sets it aside from many of its major competitors. In the marijuana industry, patients will often have to jump through hoops to procure their medication, but with Aurora's caring and knowledgeable staff, patients no longer have to worry.
One of the most appealing things for patients ordering medications from Aurora is the company's delivery method. This marijuana major sells marijuana by phone and over the internet and then it is delivered straight to the patient's door.
CanniMed Therapeutics (TSX:CMED): CanniMed Therapeutics has been cultivating pharmaceutical cannabis for 15 years, and with this experience is it sure to be near the front of the pack when Canada's cannabis boom comes into force.
On top of this, CanniMed has exposure to Australian markets and has recently signed a supply deal in South Africa, evidence of not only the company's ambition, but also the quality of its contacts and product.
The limited downside and undeniable experience of this company should be enough for all investors to take a second look.
Emerald Health Therapeutics Inc (TSXV:EMH) is another producer and distributer of medical marijuana. Based in British Columbia, Emerald Health is fully licensed by Access to Cannabis for Medical Purposes Regulations (ACMPR) and provides high quality medicine of different varieties. The company's approach to research is what really sets the company apart from the competition. With the incredible emphasis placed on isolating the most important qualities in each strain and creating new products for patients, it is no wonder their medicine is so popular.
**IMPORTANT! BY READING OUR CONTENT YOU EXPLICITLY AGREE TO THE FOLLOWING. PLEASE READ CAREFULLY**
Notice for Forward-Looking Information
Certain statements in this press release are forward-looking statements and are prospective in nature. Forward-looking statements are not based on historical facts, but rather on current expectations and projections about future events, and are therefore subject to risks and uncertainties which could cause actual results to differ materially from the future results expressed or implied by the forward-looking statements. Such forward-looking information includes information relating to Scythian'Äôs proposed acquisition of Marigold, MMJ Colombia, ABP and ColCanna; the expected sale of these companies to Aphria and resulting receipt of $193M from Aphria; that cannabis use and sales will grow as predicted; Scythian'Äôs intended acquisition of a Brazil company and potential sale to Aphria; that Scythian will be in a prime position in the UK and Europe to take a substantial portion of the cannabis market when laws permit; that Scythian can create its own 'Äúecosystem'ÄĚ 'Äď from plant to product 'Äď in each territory it enters; its plans to incubate projects in various locations throughout the world; it could be granted licensable patents; and that it'Äôs traumatic brain injury solutions will be accepted by medical practitioners. Readers are cautioned to not place undue reliance on forward-looking information. Forward looking information is subject to a number of risks and uncertainties that may cause actual results or events to differ materially from those contemplated in the forward-looking information, and even if such actual results or events are realized or substantially realized, there can be no assurance that they will have the expected consequences to, or effects on the Company. Such risks and uncertainties include, among other things: that a regulatory approval that may be required for the intended acquisitions and subsequent sale are not obtained or are obtained subject to conditions that are not anticipated; that a condition to the completion of the intended acquisitions or sale may not be satisfied; construction delays and costs overruns; potential future competition in the markets Scythian operates; that Scythian'Äôs technology may not achieve the expected results and its accomplishments may be limited; that Scythian may not establish a market for its services as expected; competitors may quickly enter the industry; general economic conditions in the US, Canada and globally; the inability to secure financing necessary to carry out its business plans; competition for, among other things, capital and skilled personnel; the possibility that government policies or laws may change; technological change may result in Scythian'Äôs solutions not be the best or cheapest available; Scythian not adequately protecting its intellectual property; interruption or failure of information technology systems; the cannabis market may not grow as expected; Scythian'Äôs technology may not achieve the expected results and its accomplishments may be limited; even if it is granted patents, it may not have success at licensing its technologies; Scythian'Äôs business plan also carries risk, including its ability to comply with all applicable governmental regulations in a highly regulated business; investing in target companies or projects which have limited or no operating history and are engaged in activities currently considered illegal under US federal laws; changes in laws; and regulatory risks relating to Scythian'Äôs business, financings and strategic acquisitions.
DISCLAIMERS
PAID ADVERTISEMENT.¬†This communication is a paid advertisement and is not a recommendation to buy or sell securities. Oilprice.com, Advanced Media Solutions Ltd, and their owners, managers, employees, and assigns (collectively 'Äúthe Company'ÄĚ) has been paid by the profiled company or a third party to disseminate this communication. In this case the Company has been paid by Scythian Fifty-eight thousand three hundred thirty three US dollars for this landing page and certain banner ads. This compensation is a major conflict with our ability to be unbiased, more specifically:
This communication is for entertainment purposes only. Never invest purely based on our communication. Gains mentioned in our newsletter and on our website may be based on end-of- day or intraday data. We have been compensated by Scythian to conduct investor awareness advertising and marketing for Scythian. Therefore, this communication should be viewed as a commercial advertisement only. We have not investigated the background of the company. The third party, profiled company, or their affiliates may liquidate shares of the profiled company at or near the time you receive this communication, which has the potential to hurt share prices. Frequently companies profiled in our alerts experience a large increase in volume and share price during the course of investor awareness marketing, which often end as soon as the investor awareness marketing ceases. The investor awareness marketing may be as brief as one day, after which a large decrease in volume and share price is likely to occur.
We do not guarantee the timeliness, accuracy, or completeness of the information on our site or in our newsletters. The information in our communications and on our website is believed to be accurate and correct, but has not been independently verified and is not guaranteed to be correct. The information is collected from public and non-public sources but is not researched or verified in any way whatsoever to ensure the information is correct.
SHARE OWNERSHIP. The owner of Oilprice.com owns shares and/or stock options of this featured company and therefore has an additional incentive to see the featured company's stock perform well. The owner of Oilprice.com will not notify the market when it decides to buy or sell shares of this issuer in the market. The owner of Oilprice.com will be buying and selling shares of the featured company for its own profit. This is why we stress that you conduct extensive due diligence as well as seek the advice of your financial advisor or a registered broker-dealer before investing in any securities.
NOT AN INVESTMENT ADVISOR. The Company is not registered or licensed by any governing body in any jurisdiction to give investing advice or provide investment recommendation. ALWAYS DO YOUR OWN RESEARCH and consult with a licensed investment professional before making an investment. This communication should not be used as a basis for making any investment.
INDEMNIFICATION/RELEASE OF LIABILITY. By reading this communication, you agree to the terms of this disclaimer, including, but not limited to: releasing The Company, its affiliates, assigns and successors from any and all liability, damages, and injury from the information contained in this communication. You further warrant that you are solely responsible for any financial outcome that may come from your investment decisions.
RISK OF INVESTING. Investing is inherently risky. While a potential for rewards exists, by investing, you are putting yourself at risk. You must be aware of the risks and be willing to accept them in order to invest in any type of security. Don't trade with money you can't afford to lose. This is neither a solicitation nor an offer to Buy/Sell securities.
Source: http://www.baystreet.ca/articles/stockstowatch/40903/The-Next-Cannabis-Boom-Could-Happen-Everywhere