The "dog days of summer" aren't named for lazy dogs, lying around panting on the hottest days of the year, though that's a good visual to illustrate the summer swelter, as hot weather all over the globe sets records.
The dog days actually are named after Sirius, the Dog Star, which rises with the sun for a few weeks in the summer, during July and August, when the weather is sultry. So, during these warm, long days, we want to talk about some cannabis treats that are cool and refreshing–so you can get baked and still stay cool: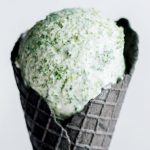 Cloud Creamery–The recently launched artisanal cannabis ice cream company is located in the East Coast and are, according to their website, "The first chef-driven, artisanal edible company to reach the mainstream market on the East Coast. We use local grass-fed milk, organic cane sugar and zero artificial ingredients to make a decadent full-fat ice cream… Our mission is to offer a thoughtful and delicious alternative to opioids and steroids." Company founder Chef David Yusefzadeh uses edible cannabis to treat Crohn's Disease, which was aggravated by stress from his fast-paced job. After getting relief from cannabis edibles, Yusefzadeh set out to make a gourmet quality edible of his own. Available in medical and adults use formulations, in select Boston cannabis dispensaries. At CloudCreamery.co.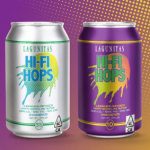 Lagunitas Hi-Fi Hops–In partnership with neighbors at AbsoluteXtracts, leading California craft brewer Lagunitas Brewing Company just released a non-alcoholic, THC-infused brew called Hi-Fi Hops. "This IPA-inspired sparkling beverage is made using everything Lagunitas knows about hops–but with zero alcohol, zero calories, and zero carbs. Infused with THC from the finest, sun-grown cannabis at AbsoluteXtracts." In 2017, Lagunitas and AbsoluteXtracts partnered for their Super Critical IPA craft brew and matching vape pen collaboration. Celebrating summer by getting a little toasty with an ice-cold beer. In California. Available in 1:1 THC-to-CBD 5mg blend, and a 10mg THC-only option. From Lagunitas.com.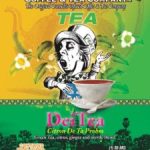 The Mad Hatter Coffee & Tea Company DeiTea Blend–Described as "an 'angkoracle' whisper of zesty citrus & aromatic botanicals: A blend of green tea, lemon grass, and lemon myrtle. Green tea is said to strengthen tooth enamel, and has one of the highest levels of antioxidants. Used to stabilize blood sugar levels in diabetics, clears skin affected by acne, and aids in the treatments of cancer, migraines, hormonal imbalance. Sativa-infused and caffeinated." This active blend would be great slow-steeped and served over ice. An organic and delicious alternative to smoking. Available in Arizona, Colorado, Illinois, Oregon, New Mexico, Nevada, Vermont, and Washington State. Visit MadhatterCoffeeandTea.com.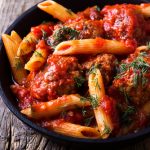 Raw Summer Tomato Sauce with CBD – For this recipe from the Sous Weed Blog, author Monica Lo put together a simple fresh sauce for a brunch. She "whipped up a pasta with raw tomato sauce, with CBD olive oil, and lots of herbs. This effortless recipe contains less than ten ingredients and comes together in no time." A perfect light meal with pasta and aged Parmesan, or served with crusty bread. In Lo's recipe, she uses a CBD-infused olive oil, but this recipe could just as easily be made in a THC-infused version, especially if you infuse your own oil at home, and add homegrown, heirloom tomatoes. CBD-infused oils are available from online retailers, like House of Spain Olive Oils, located in Oregon.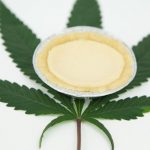 Sweet Grass Kitchen's Key Lime Pie – These seasonally produced, small batch pies come in three different flavors, but our favorite for summer is Key Lime. "Sweet Grass Kitchen's signature pies are released in short runs throughout the year. Each pie is made from a hand-pressed, infused shortbread crust, and filled with either key lime, pumpkin, and pecan." The single serving sweets come in various dosages, from 10 to 75mg, with sativa cannabutter making this an active daytime, treat. In Colorado. From SweetGrassKitchen.com.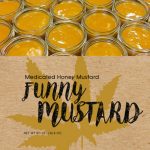 Funny Mustard – From Bay Area-based Flourish Cannabis, this all-natural honey mustard has just enough cannabis infusion so that an extra-long hot dog can really do its thing, with extra relish. "Delicious yellow mustard (distilled white vinegar, mustard seed, water, salt, turmeric, natural flavor, and spices), local honey, cannabis, and a touch of the giggles," said the Flourish website. Sweet and spicy, this infused mustard can compliment many dank gourmet dishes. Available in Arizona and California. At FlourishCannabis.com.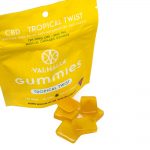 Valhalla Tropical Twist Gummies–Valhalla Confections said, "Our sativa and indica are local, sun-grown, and sustainably farmed. Our CBD is indoor-grown and made by some of the most respected in the industry. Valhalla uses only FDA food grade silicone molds, free from BPA, PVC, phthalates, latex, and heavy metals… Gummies are gluten-free, made with organic sugar, and no artificial sweeteners. Kosher gelatin, the unsung hero in the gummy world, is loaded with goodness, and benefits improved metabolism, healthier and more beautiful skin, healthy joints via reduced inflammation, and has even been shown to help you sleep." These gourmet gummies come in a variety of flavors; if you can't afford a tropical vacation, a few of these gummies can help you dream of paradise. Available in California, Nevada, and New Mexico. Visit ValhallaConfections.com.
Source: https://mgretailer.com/strains-of-august-refreshing-cannabis-products-for-the-dog-days-of-summer/