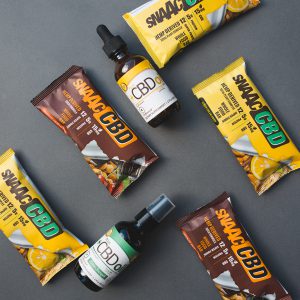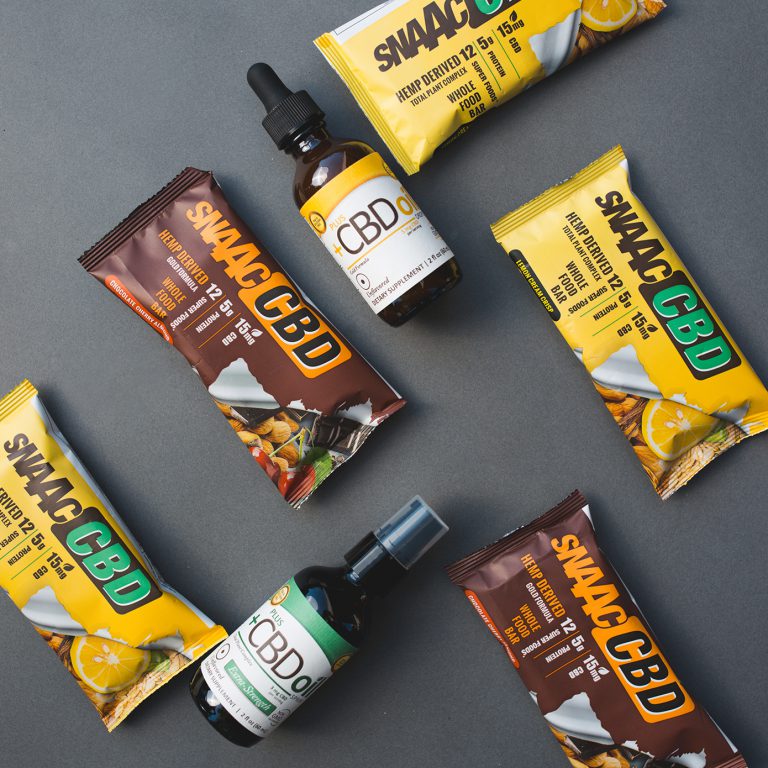 REDLANDS, Calif. — SNAAC CBD, a hemp based CBD sports bar product line, launches today nationwide as a collaboration between SNAAK BAR and CV Sciences Inc, preeminent supplier and manufacturer of hemp extracts. (OCTQB: CVSI). SNAAC CBD is the first sports bar formulated with hemp cannabidiol (CBD) on the market, designed to improve athletic and workout performance through advanced phytocannabinoid nutrition.
SNAAK BAR (Sports Nutrition Athletes Adults Kids) was founded by Anke-Juliana Thiel and Leon Garcia in 2012 and have grown to build their own facility that produces ands package whole food nutrition products. In 2017, while attending Natural Products Expo West, Thiel and Garcia attended a presentation by Stuart Tomc, VP of Human Nutrition from CV Sciences, on the potential health benefits of hemp CBD oil and decided to expand their product line. Thus, in collaboration with CV Sciences, they developed a sports bar using CV Sciences' industry-leading brand, PlusCBD Oil.
CBD is one of over 100 cannabinoids found in the cannabis plant. Hemp CBD, like PlusCBD Oil, is not psychoactive, so it won't get you high. People often take hemp CBD for mood, recovery, inflammation, stress, restful sleep and pain management.
PlusCBD Oil is the flagship brand from CV Sciences and the #1 selling hemp CBD product line in the natural products industry. PlusCBD Oil products are sold in natural, healthy, and organic food stores as well as online at www.PlusCBDOil.com.  PlusCBD Oil is committed to developing and supplying the highest quality of hemp extracts which include CBD. PlusCBD Oil products are subjected to immense testing processes in a state-of-the-art laboratory to ensure potency, efficacy, and safety.
SNAAC CBD offers two new hemp CBD whole food nutrition bars. The Chocolate Cherry Almond bar includes 15mg of hemp CBD from their PlusCBD Oil Gold Formula extract while the Lemon Cream Crisp bar includes 15mg of hemp CBD from their PlusCBD Oil Total Plant Complex. All infused hemp CBD concentrates are made from agricultural hemp, delivering full spectrum cannabinoids, naturally-occurring vitamin E, plant sterols, terpenes, and fatty acids to support the balance of body and mind. The bars also include 12 superfoods including several targeted to enhance athletic support.
Thiel, a Registered Dietitian, shares a few of the superfoods chosen for SNAAC CBD:
Raw Unfiltered Honey – Raw unfiltered honey contains Bee Pollen, which is among the top 10 superfoods and can promote good energy levels, maintain healthy energy levels, and supports overall athletic performance by allowing the body to recover quickly after working out, while promoting healthy stamina and endurance levels.
Almonds and Almond Butter – Almonds and almond butter are the most nutritionally dense nut, providing a great source of fiber, vitamins and minerals which give your body the energy to continue perform with sustained blood glucose levels.
Raw Coconut Oil – The antibacterial and antiviral properties in coconut oil support fitness enthusiasts with a  healthy immune system, allowing the process of recovery to take place, this way performance not hindered.  An additional benefit is that coconut oil is a medium chain fatty acid allowing you to burn the fat as energy and not storing it.
Flax seeds – The nutritional powerhouse of these tiny seed is that they are the richest source of omega -3 fatty acids, high in fiber, B vitamins and antioxidants. These seeds are easy to digest and support cardiovascular health aiding in continuous performance.
Hemp seeds – Hemp seeds are said to be the most nutritionally complete superfood, with an almost equal amount of Omega-3 and Omega -6 fatty acids plus iron, Vitamin E and all the essential amino acids. The protein in hemp seeds may allow you to build healthy bones, muscle, blood, skin and cartilage so we can recover and continue to perform at utmost best.
Pink Himalayan Salt – Pink Himalayan Salt contains less sodium than table salt due the it's crystal structure and contains over 84 minerals and trace elements including calcium, magnesium, potassium, copper and iron. Pink Himalayan Salt may support athletes with minerals and sodium which is needed for muscle function and electrolyte balance. Additional benefits include increased hydration, improved circulation and detoxifies the body by balancing PH.
Chia Seeds (black and white) – Chia seeds may maintain stable energy to be released during digestion providing athletes the energy they need. They are a great source of fiber and have been used for hundreds of years as one of the most stable endurance foods. Aiding in hydration, and providing protein, as well as Omega-3 as a great form of fuel.
Baobab – Baobab also known as 'The Tree of Life' is an extraordinary African tree, its fruit contains many vitamins and nutrients.  For example, when comparing ounce for ounce, baobab has 6 times the Vitamin C found in oranges, 3 times the antioxidants found in blueberries, 3 times the amount of calcium found in milk, 3 times the amount of iron found in spinach, and 6 times the amount of potassium found in bananas.  Baobab fruit also has all 8 essential amino acids and is high in fiber.
Mulberries – Mulberries contain many antioxidants, allowing them to decrease the damage caused by free radicals.  Mulberries specifically contain one antioxidant, resveratrol, which can have positive effects on age and longevity.  Mulberries also contain alkaloids that activate macrophages, meaning that it can provide support to the immune system.  Mulberries are high in fiber, meaning that they can also support digestive health.
Cacao – Cacao contain a significant amount of magnesium, which can support heart health, strong bones, and healthy blood pressure levels. Cacao promotes healthy blood flow to all organs, prevents premature aging and can provide healthy blood glucose levels. Cacao contains one of the highest levels of antioxidants, exceeding that of red wine, Green tea and many other exotic fruits and vegetables.
Organic Pea Protein – Pea Protein may include over 5 times the amount of Arginine as compared to whey protein. Arginine, or L-arginine, is an amino acid that is needed to keep the keep the liver, skin, joints and muscles healthy. Arginine may support the body build muscle mass, and may help impact body fat and speed up weight loss.
It is combined with brown rice protein, which, together, provides the perfect dairy-free alternative to whey protein along with a full amino acid (AA) profile which provides all 9 essential AA, creating a complete protein. Sufficient amounts of protein provide fuel during exercise as well as enable to muscles to heal after being damaged from intense physical exertion.
About CV Sciences, Inc.
CV Sciences, Inc. (OTCQB:CVSI) operates two distinct business segments: a drug development division focused on developing and commercializing novel therapeutics utilizing synthetic CBD; and, a consumer product division focused on manufacturing, marketing and selling plant-based CBD products (PlusCBD Oil™) to a range of market sectors. CV Sciences, Inc. has primary offices and facilities in Las Vegas, Nevada and San Diego, California.  Additional information is available from OTCMarkets.com or by visiting www.cvsciences.com.
Forward-Looking Disclaimer
This press release may contain certain forward-looking statements and information, as defined within the meaning of Section 27A of the Securities Act of 1933 and Section 21E of the Securities Exchange Act of 1934, and is subject to the Safe Harbor created by those sections. This material contains statements about expected future events and/or financial results that are forward-looking in nature and subject to risks and uncertainties. Such forward-looking statements by definition involve risks, uncertainties.
Source: https://www.projectnosh.com/food-wire/2018/snaac-cbd-launches-hemp-cbd-sports-bar/