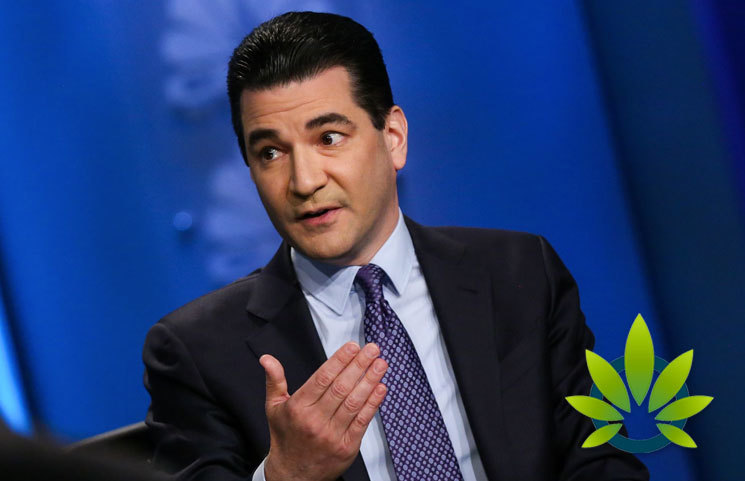 Scott Gottlieb, the former head of the Food and Drug Administration, recently appeared on CNBC's Squawk Box. During the segment, he discussed the absence of regulations concerning CBD in food and dietary supplements.
He then shared his experience with a person who called in to a separate C-SPAN segment that he had done earlier this week. Gottlieb stated that the she gave "CBD to her dog and said it relaxed the dog and the dog was great after getting CBD" and joked that the "dog was high." He then stated that the CBD may have had THC in it, and that he did not ask the caller if the dog "had the munchies too."
Gottlieb is no stranger from commentary on CBD, even in relation to animals.
In a statement released in 2018, Gottlieb stated,
"Among other things, the FDA requires a cannabis product (hemp-derived or otherwise) that is marketed with a claim of therapeutic benefit, or with any other disease claim, to be approved by the FDA for its intended use before it may be introduced into interstate commerce. This is the same standard to which we hold any product marketed as a drug for human or animal use. Cannabis and cannabis-derived products claiming in their marketing and promotional materials that they're intended for use in the diagnosis, cure, mitigation, treatment, or prevention of diseases (such as cancer, Alzheimer's disease, psychiatric disorders and diabetes) are considered new drugs or new animal drugs and must go through the FDA drug approval process for human or animal use before they are marketed in the U.S. Selling unapproved products with unsubstantiated therapeutic claims is not only a violation of the law, but also can put patients at risk, as these products have not been proven to be safe or effective."
Source: https://timesofcbd.com/scott-gottlieb-comments-on-cbd-for-pets-claims-benefits-only-come-from-thcs-high/