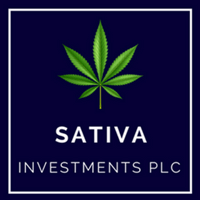 Sativa Investments PLC (NEX: SATI), the UK's first medicinal cannabis investment vehicle, announced today a Strategic and Trading Update which details the Company's prospects for the next stage of growth. All financial estimates are based on unaudited initial management estimates.
Trading Update
Within nine months of being admitted to trading on the UK'Äôs NEX Exchange Growth Market on 29th March 2018, Sativa has made six investments, these being Canadian-based and dual-listed emerging pharmaceutical company, Veritas Pharma Inc., CSE-listed Toronto-based Pharma-Tech company Rapid Dose Therapeutics Inc., which owns the patent-pending proprietary QuickStrip'ĄĘ technology, UK-based CBD products provider George Botanicals Ltd (of which Sativa has 100 per cent ownership), PhytoVista Laboratories (of which Sativa also has 100 per cent ownership), a UK testing laboratory meeting the need for regulatory and batch testing of products such as CBD oil, a joint venture with Germany'Äôs Lexamed GmbH, and an option on a 7.53-acre development site in Wiltshire with the potential to build a glasshouse for growing raw cannabis for medicinal and CBD use.
Sativa is also deriving great benefit from its four-man, high level, Medicinal Cannabis Advisory Board led by Sir Alasdair Breckenridge, former Chairman of the UK'Äôs Medicines and Healthcare products Regulatory Agency ('ÄúMHRA'ÄĚ).
With effectively only nine months of trading to report to the year end at 31st December 2018, the revenues and returns are not going to be substantial. However, overall performance is encouraging, with George Botanicals having already achieved a monthly revenue run-rate of £65K, which continues to grow apace, for its online, wholesale and retail sales, and PhytoVista Laboratories approaching break-even.
The Company is also likely to benefit from its C$ 0.2 million investment in May 2018 in RDT as the investee company's shares were admitted to the Canadian Securities Exchange on 17th December 2018 and as of close of trading on the 7th of January 2019, are trading at C$ 1.10, presenting a potential 120 per cent uplift in the investment after just seven months.
The C$ 0.2 million investment in Veritas Pharma, also in May, is currently fairing less well financially. However, the Veritas investment is also interlinked to an agreement for the use of its cannabis strain selection IP held in its subsidiary company, Cannevert Therapeutics Ltd. This agreement will, in conjunction with Sativa's medicinal cannabis licence application to UK Home Office Drugs Licensing and Compliance Unit, assist Sativa in growing raw cannabis at its proposed Wiltshire glasshouse for medicinal cannabis use.
The NEX Exchange Growth Market has provided an excellent launch platform for the Company and continues to offer a first-rate liquid market for a company of Sativa's size.
Strategic update
When the Company was admitted to trading on NEX in March 2018, its focus was on investing in medicinal cannabis-related businesses, primarily in Canada and potentially in other overseas jurisdictions. However, since March 2018, the overall sentiment in the UK towards the industry has developed significantly from a number of stakeholders, including the consumer, in terms of unmet patient need, the medical profession, Government, and Regulators.
In Canada, medicinal cannabis was approved in 2001 and that country is significantly further advanced in accepting its patient benefits, including its use as an alternative to opioid-based drugs. As the UK market continues to develop quickly, this presents a significant opportunity for the Company to capitalise on its first mover advantage in the UK as a seed-to-consumer business including CBD products.
The Directors have therefore undertaken a strategic review of the business and its future direction and are focussed on a UK 'Äėseed-to-consumer'Äô business model with the potential for it to be rolled out in other countries. As part of this strategic focus, the Company is evaluating a number of strategic initiatives, including:
· Development of a glasshouse at Wiltshire site. Plans for this proposed development, which has already been granted outline planning permission, are progressing well, with detailed specifications underway including hydroponics, extraction and processing.
· Sativa Germany GmbH. The Company will advance its joint venture with Germany's Lexamed GmbH as a distribution channel for Sativa's medicinal cannabis and CBD products as its initial route to the German market once cannabis production within the glasshouse commences.
· CBD wellness retail centres. Mirroring the trend in North America, the Company intends to open a limited number of test retail outlets for potential Company roll-out or franchising.
· Medicinal cannabis clinics. The Company is in negotiations with a well-known healthcare operator to open a series of clinics with specially trained and accredited medical practitioners to meet the patient need for practitioners experienced in the medical cannabis field.
· Sativa Veterinary services. Discussions are progressing with veterinary practitioners and regulators over applying the benefits of medicinal cannabis to the equine and general pet market.
· Switch from an investment vehicle to an operating company. This would enable a wider institutional investor audience to participate as many are able only to invest in operating companies and not investment vehicles. Furthermore, retail investors, who we are aware are keen to invest and also provide worthwhile liquidity to the Company's shares, may benefit from tax advantages such as EIS.
Funding and markets
As indicated in the Company's announcement on 18th October 2018, the glasshouse alone will require funding of approximately £12 million through to revenues from the first crop which, assuming that funding is available, is expected in Q4 2020. Other initiatives involved in the seed to consumer strategy will require further funding.
The Company is therefore in discussions with regards to the options available to meet the Company's funding requirements.
Commenting on the Strategic and Trading Update, Geremy Thomas, founder and Chief Executive Officer of Sativa Investments, said:

"The Company has made significant progress since its admission to the NEX Exchange Growth Market in March last year. The Company's operations now cover seed growing, in so far as the Company has already successfully grown a hemp crop under the CEO's own growers' licence, and along with great strides in developing its medical cannabis business, and has researched, tested, marketed and sold CBD products.

'ÄúSativa now has a solid base on which to build its seed-to-consumer model and this next round of fund raising will allow institutions and other investors to participate in what is expected to be a major UK industry.'ÄĚ
Source: https://www.directorstalkinterviews.com/sativa-investments-plc-has-a-solid-base-on-which-to-build-its-seed-to-consumer-model/412763629