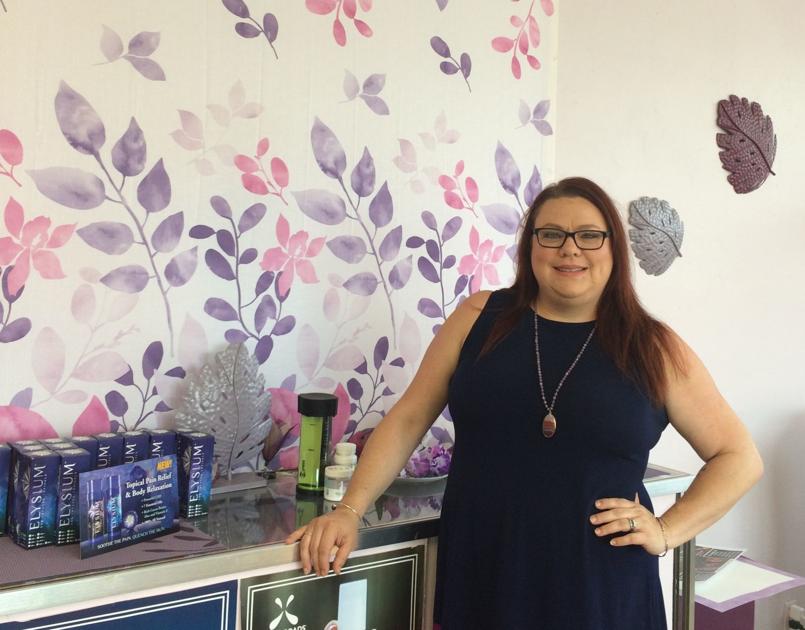 Purple Leaf Cannabis Dispensary owner and founder Kristal Reeves is dedicated to debunking myths about cannabis and declaring its myriad virtues.
Opened for business in early July, across from the Mound in South Charleston, Purple Leaf offers cannabis-containing medicinal supplements, including oil tinctures, gel capsules and gummies. Topical products include muscle recovery cream, patches and pain relief lotions and salves. Skin care items for sale include a.m./p.m. moisturizers, anti-aging/retinal creams, firming formulas, skin rejuvenating creams, scrubs, lip balm and body lotions with and without cannabis ingredients. Anti-anxiety products for pets are also for sale at the boutique.
The Purple Leaf provides infused massages, including hot stone, Swedish, chair and deep tissue options, and facials for added relief and relaxation. Yoga classes are offered each Monday evening, as well.
Offering paths to healthful living was a key motive that led Reeves to eschew a longtime retail management career and launch the dispensary as a new career venture.
'ÄúI wanted to be a stay-at-home mom that does all of the arts and crafts. That lasted about two months,'ÄĚ the South Hills resident recounted. 'ÄúI told my husband I wanted to open my own business. I told him, 'ÄėI want to help people.'Äô I'Äôm never going to be a doctor or a nurse; I'Äôm not trained for that. I'Äôm able to help people with this medicinal plant and the industry is booming.'ÄĚ
The products she sells contain CBD, short for cannabidiol, a non-psychoactive cannabinoid derived from hemp. CBD binds to immune system receptors and was patented by the federal government 15 years ago as a neuroprotectant and antioxidant, according to materials on display at The Purple Leaf.
'ÄúOur biggest [selling] items so far are the tincture, a full-spectrum, cannabis-based, daily supplement,'ÄĚ said Reeves. 'ÄúOne of its main functions is reducing inflammation that causes pain. It also helps to repair the receptor connections so different areas of the body function better.
'ÄúOur edibles and drinks sell very well, too.'ÄĚ
Reeves said she is promoting the Purple Leaf'Äôs purpose and products diligently to dispel some long-held beliefs (and misbeliefs) people may have when they think of the word 'Äúcannabis.'ÄĚ
'ÄúOne of my biggest goals was to create an environment that was completely opposite of the 'Äėhead shop,'Äô'ÄĚ she said, 'Äúso, when you looked in, you'Äôd see it was a sleek, sophisticated, boutique-type environment, not dark and smoky with tie-dyed shirts. Something very upscale, where a soccer mom would feel comfortable coming into to buy her medicine or Grandma and Grandpa would feel comfortable coming in, where the Millennial feels comfortable coming in to buy their edibles. I wanted it to be welcoming to everyone, even children, because children benefit so much from these plants 'ÄĒ as do pets.
'ÄúI'Äôve had positive feedback from everyone. … This plant, the CBD, is such an amazing product. It'Äôs going to change West Virginia. Not just economically, but with the opioid epidemic. The CBD alone, if someone is coming off of any type of chemical 'ÄĒ whether it be pharmaceutical medications, nicotine, caffeine 'ÄĒ the CBD acts as a blocker to those receptors that make addicts crave the substance. As they'Äôre coming off those chemicals, CBD is a great buffer. It helps with any kind of pain or body ache they'Äôre feeling.
'ÄúPeople back in the 'Äė80s were saying this is a gateway drug to something harder. This is a gateway drug away from it now, away from heroin and cocaine and pills and all of the harsh actual drugs,'ÄĚ Reeves said.
She said the CBD products also help relieve symptoms of Post Traumatic Stress Disorder, depression, anxiety and general stress. They can also help regulate blood pressure, cholesterol and sugar levels, she said.
'ÄúIt helps to stop the growth of cancer tumors and helps slow the process of Alzheimer'Äôs and Parkinson'Äôs. There are so many great avenues this plant takes you down.'ÄĚ
CBD education classes are held at The Purple Leaf on the third Sunday of every month, she added, to explain further the properties and benefits of the Purple Leaf inventory. The company's Facebook page provides additional information and a website is being developed.
'ÄúWe have information in the boutique that discusses CBD and how it works … for people who are unfamiliar with cannabis and where we are at a legal status and how we'Äôre evolving in that,'ÄĚ she said.
The Purple Leaf also hosts open mic sessions for area performers on Saturday nights.
Reeves said the Purple Leaf name was inspired when she originally intended to sell cannabis-infused wine along with the cannabis-based products available at the store. 'ÄúIt was 'ÄėPurple'Äô for the wine and 'ÄėLeaf'Äô for the cannabis; it sounded better than 'ÄėWine and Weed,'Äô'ÄĚ she quipped.
Located at 246 Seventh Ave. in South Charleston, Purple Leaf Cannabis Dispensary is open from 10 a.m. to 8 p.m. Mondays through Thursdays, 10 a.m. to 9 p.m. Fridays and Saturday and noon until 6 p.m. on Sundays.
For more details, call 681-265-3940. You can also follow the business on its Facebook and Instagram accounts.
Source: https://www.wvgazettemail.com/metrokanawha/purple-leaf-cannabis-dispensary-opens-in-south-charleston/article_f9fee119-ee11-5f90-aac0-6e1682add056.html