Boy, are we excited with cannabis at Benzinga?
Since our Benzinga Cannabis Capital Conference in Toronto last week, we've received such an impressive response and demand for more content, we've decided to expand our cannabis newsdesk considerably. Check out our extensive coverage here.
This week, Canopy Growth Corp (NYSE: CGC) continued to dominate headlines, after Moody's called the Constellation Brands (NYSE: STZ) investment a "big, speculative bet."
Green Market Report CEO Debra Borchardt reacted: "While the analyst made some very good and valid points, I think it comes from someone who doesn't recognize the future of these cannabis-infused drinks."
In other Canopy Growth news, Borchardt said the marijuana company is spinning off its venture arm Canopy Rivers, with the stock beginning trading Sept. 17
"This means more money to invest in cannabis companies, so this is a good thing," she said. 
Borchardt took note of a Friday Bloomberg story that said alcohol conglomerate Diageo plc (ADR) (NYSE: DEO) is searching for a cannabis partner as well.
Related Link: 6-Time Olympic Gold Medalist Amy Van Dyken Talks CBD For Pain: 'I Can't Explain It But The Stuff Really Works'
Marijuana Indexes & ETFs
In the capital markets realm, the United States Marijuana Index, which tracks 18 of the largest marijuana stocks in the U.S., gained roughly 3.8 percent this week, while the North American Marijuana Index, which also includes Canadian stocks, surged about 13.4 percent.
Over the last five trading days, the Horizons Marijuana Life Sciences Index ETF (OTC: HMLSF) (TSE: HMMJ) gained 22.5 percent, while the ETFMG Alternative Harvest ETF (NYSE: MJ) lost 18.7 percent. The SPDR S&P 500 ETF Trust (NYSE: SPY) closed the week up 0.9 percent.
Stock Moves
In the past week, marijuana stocks with $100-million-plus market caps trading on U.S. exchanges performed as follows:Â 
In Other News
The 501c3 non-profit Athletes for CARE, or A4C, recently completed the pilot of Tastemakers, a new program offered to its athlete members. Led by former NFL player and A4C Ambassador Javiar Collins, the Tastemakers Program provides an opportunity for brands and consumers to engage professional athletes with products that promote health, wellness and quality of life.
"The spirit of the Tastemakers Program is to promote alternative health and wellness options to athletes transitioning in to life after a career in sports," Collins told Benzinga. "It's evident by the success of our first campaign that there's a real demand in the athlete community for healthier options that address the mental, physical and emotional challenges athletes face both during and after sport." Learn more about Athletes for CARE and the Tastemakers program at www.AthletesForCARE.org.
Digital media brand Civilized is teaming with Chelsea Handler for a cross-Canada speaking tour, where they plan to take the pulse of the nation ahead of an Oct. 17 cannabis legalization date. Publisher Derek Riedle describes the talk show-style events as an opportunity to engage with Chelsea on everything from politics and culture to cannabis. Tour details and tickets can be found at Civilized.life/Chelsea.
Interested in what motivated this alliance, Benzinga reached out to Riedle, founder and publisher of Civilized, who said: "Chelsea Handler is a smart, witty speaker who's never been shy to talk about cannabis. Her honest and humorous approach is helping to remove some of the negative perceptions and stigmas that prevent the canna-curious from trying cannabis the first time, or for the first time — again." 
Sproutly Canada Inc (OTC: SRUTF) announced this week that it has entered into an exclusive technology license and use agreement with Minnesota State-based Micronutrient Technologies Inc. to utilize its proprietary platform Minerals in Solution Technology in the creation of cannabis- and hemp-based beverages.
MiST produces a 100-percent water-soluble form of multiple minerals — including calcium, magnesium, zinc, potassium, sodium and trace minerals such as copper, iron, manganese and strontium — on the same molecular platform and produces standalone or custom blends of minerals with other micronutrients in water solutions that fortify a beverage in a single manufacturing step and are said to be shelf stable for at least two years. 
"We're excited about being able to go beyond just offering a cannabis beverage and to be able to add fully soluble nutritional minerals to our products to work along with the positive attributes of cannabis in order to provide an increased healthy blend for our consumers," said Sproutly Canada CEO Keith Dolo.
Under the license agreement, Sproutly will be granted the exclusive right to utilize the technology and its water-soluble nutritional minerals to produce enhanced water, beverages and soluble nutritional mineral supplements that include a cannabis or hemp component for the recreational and medicinal markets.
MedMen announced it has signed an exclusive license agreement that would grant the company rights to use the Woodstock brand on weed products manufactured and sold in California, Nevada, Massachusetts, Florida, Illinois and Arizona.
Cannabis-focused media and events company Field Day launched a crowdfunding campaign on SeedInvest, seeking to "enable cannabis enthusiasts to participate in its early financing."
Field Day will bring together industry leaders, emerging companies and lifestyle enthusiasts for knowledge sharing and community development, a company representative said. 
The company will seek to capitalize on combining its cannabis and entertainment experience with IRL's expertise in producing large scale events.
"Our goal is to bring together industry leaders, emerging entrepreneurs, passionate fans and consumers just beginning to explore cannabis," said CEO Mike Tolkin. "We have our initial funding round open on SeedInvest because crowdfunding, like Field Day and the cannabis industry, is grassroots and inclusive. Think of Field Day as the ComicCon of Cannabis."
MediPharm Labs said it will take part in future legal retail cannabis operations in the Canadian province of Manitoba as part of a consortium operating under the retail name Garden Variety. The consortium will open two Winnipeg stores within the year, launching Brandon and Thompson locations in 2019, according to MediPharm. The project is led by Native Roots dispensary.
MediPharm Labs President and CEO Pat McCutcheon said his company "was built on the premise of being leading experts in pure cannabis concentrate production, which is why MediPharm did not hesitate to join this consortium enabling experts from across the industry to deliver Manitobans the best possible products and services."
In addition, MediPharm Labs and POCML 4 Inc. shareholders approved a business combination that "will result in a reverse takeover of POCML by the shareholders of MediPharm ahead of a planned go-public transaction."
Healthier Choices Management Corp (OTC: HCMC) announced that it has entered a distribution agreement with MJ Holdings Inc (OTC: MJNE) to exclusively sell and distribute its cannabis and CBD quartz "Q-Cup" technology in Nevada. The Q-Cup is positioned as the cannabis equivalent of the convenient coffee pods to which consumers have become accustomed.
The company recently eliminated almost $50 million of warrant liability in exchange for approximately $21 million in preferred stock, exchangeable for $21 million in HCMC common stock without any additional warrants or cash payment obligations.
"There exists a niche in the cannabis consumer market for a convenient, more efficient and better-tasting way to vape concentrates on the go," Healthier Choices CEO Jeffrey Holman told Benzinga. 
International Cannabrands Inc (OTC: GEATF)-owned JuJu Royal cannabis-infused olive oils won first place in the fourth annual Best of Edibles List Awards in two categories.
"We are so grateful to have won this award. Having our efforts recognized by Edibles List has been very exciting. International Cannabrands is looking forward to continuing to make innovative strides with our products that fit seamlessly into our consumers' lifestyle," said Steve Gormley, the company's president and CEO. 
Wells Fargo & Co (NYSE: WFC) terminated the campaign account of Nikki Fried, a candidate for Florida agriculture commissioner. The move came after the bank asked whether Fried intended to receive donations "from the medical marijuana industry in any capacity."
Wells Fargo doubled down on their policy after an uproar, stating it is "seeking to comply with federal law." 
MassRoots Inc (OTC: MSRT) Isaac Dietrich told Benzinga that the bank served as his company's primary financial institution from 2015 until December 2017, when Dietrich said the account was closed along with those of several other cannabis-related businesses. 
"Wells Fargo's policy on cannabis-related small businesses is preventing job creation and hampering the medical cannabis legalization movement across the country," he said. 
Tahoe Hydro CEO Ray Schiavone said: "The current banking climate currently is and has always been incredibly frustrating. Not only does it minimize workability, but it also creates incredible safety risks due to cash management. Wells Fargo closed our accounts while receiving a large investment wire and we almost lost that investor and could have potentially gone out of business."
Related Link: 6-Time Olympic Gold Medalist Amy Van Dyken Talks CBD For Pain: 'I Can't Explain It But The Stuff Really Works'
Medical Marijuana Inc (OTC: MJNA) announced that the company and its subsidiaries Kannaway, HempMeds, HempMeds Mexico and HempMeds Brasil booked their largest-ever sales revenue quarter in their history in Q2 2018, as well as reached major milestones in business operations.
"In Q2 we saw significant media coverage and operational successes," said CEO Dr. Stuart Titus. "As we move into Q3, we will aim to continuously make our mark in the cannabis space with our portfolio of high-quality cannabis products, all while increasing shareholder value."
Hemp Inc (OTC: HEMP) entered into a letter of intent to purchase CBD-Rich Hemp Seeds from Ventura Seed Company. "We are very proud to announce that we will be purchasing hemp seeds from Ventura Seed Company," said CEO Bruce Perlowin. "This company's commitment to expanding access to CBD aligns with Hemp, Inc.'s mission and vision as we further our footprint nationwide. As we continue to also launch Village Kins Communities in new states, having a reliable source for CBD-rich hemp seeds is imperative to support the cultivation of high-quality hemp."
Medical cannabis health care network Compassionate Certification Centers (CCC) announced it will launch patient evaluation and certification services at The Rehab Centre, a chiropractic group. In addition, the company's new THC-free CBD line will also be available at all Rehab Centre locations, CCC offices and online. Made from organically harvested hemp in Kentucky, the company's CBD line is formulated using broad-spectrum hemp oil. 
"This partnership is a very exciting opportunity for us as we try to combat the opiate crisis. As doctors we don't have a lot of avenues for chronic pain, but now we can offer relief in a safe manner with CBD," said Dr. Ralph Petrarca, founder of The Rehab Centre.
Petrarca estimates 75 percent of his chiropractic and rehabilitation patients are dealing with chronic pain from sports injuries, auto accidents, and work-related injuries sustained from mining or steel manufacturing.
Find out more about this news and more on MedMen, Namaste Technologies Inc (OTC: NXTTF), CannaRoyalty Corp (OTC: CNNRF), Emblem Corp (OTC: EMMBF), Kaya Holdings Inc (OTC: KAYS), Cannabis Strategic Ventures (OTC: NUGS) and 22nd Century Group with our friends at Marijuana Money, who make a weekly video summary of the top financial and business news in the cannabis industry.
More From Benzinga's Cannabis Newsdesk
Over the week, Benzinga's Cannabis Newsdesk also reported on:
"Everything You Need To Know From The Cannabis Capital Conference."
Susquehanna's view on Constellation Brands.
The view of Mark Lakmaaker, vice president of investor relations at Aurora Cannabis, on M&A in the cannabis space.
The challenges in scaling a cannabis business according to execs at Invictus MD Strategies Corp (OTC: IVITF), OrganiGram Holdings Inc (OTC: OGRMF) and Hiku Brands.
What execs at MedMen, Acreage Holdings, 4Front, MediPharm and Cordova Cann had to say about marijuana business models.
Insights on emerging cannabis markets shared by Supreme Cannabis Company President Nav Dhaliwal, Pistil + Sigma CEO Rebecca Gasca and Avicanna CEO Aras Azadian at the Benzinga Cannabis Capital Conference.
New Frontier Data's insights on contamination in medical cannabis; how cannabis consumers in Canada are overwhelmingly turning to weed for relaxation and pain relief; the pricing of GW Pharmaceuticals' epilepsy drug; and branded marijuana-derived CBD products.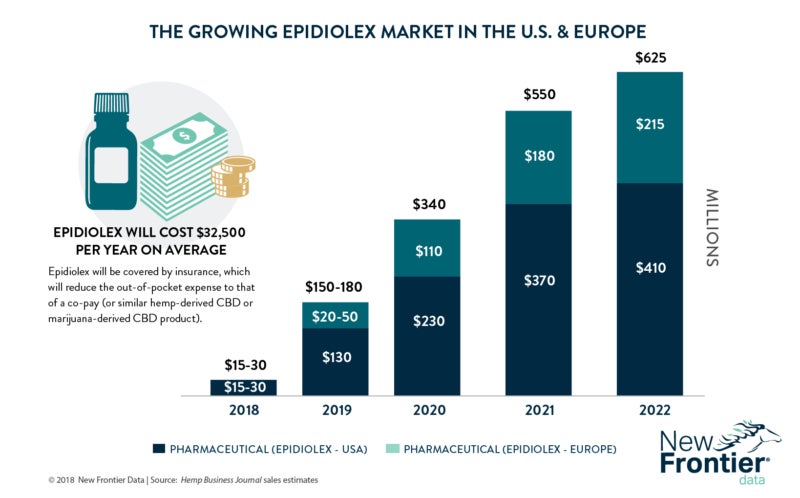 What The "420 Investor" Alan Brochstein said about supply agreements in Ontario and the continued expansion of the cannabis industry.
"10 Companies That Could Benefit From New York's Medical Marijuana Market."
The impact of legalization on pot prices.
How medical marijuana will dominate European market growth.
Interesting Data
According to Headset's new Insights Report for California's cannabis industry, there are two brands emerging as the major players across multiple categories: Caliva, in the flower, pre-roll and vape categories, and Papa & Barkley in the topical and tincture categories.
Of the top 30 brands across these five categories, the two companies hold 21 of the 50 top-10 rankings in the statea, Headset's report said.
"Very few cannabis companies are seeing tangible success in the wake of new July 1 regulations. These two companies were well-prepared for the change, had systems in place to distribute their robust product lines statewide and are reaping the benefits in sales and early brand recognition," the firm said.
Events Calendar
Aug. 27-29: Portland, Oregon hosts the Third Annual Cannabis Science Conference organized by CSC Events. The conference focuses on three tracks this year dedicated to providing attendees with a variety of innovative content designed by cannabis industry experts: the Analytical Cannabis Track; the Medical Cannabis Track; and the Cultivation Cannabis Track.
"Each year there are new and exciting things happening in the cannabis industry and we strive to provide some of the most knowledgeable experts and interesting topics to keep our attendees in the know with this rapidly evolving industry," said CSC Event's Joshua Crossney.
Aug. 30: Grassposts.com is hosting the second event in its GP Connect Series at The Majestic in Los Angeles. The experience "will provide an environment for cannabis brands, distributors and retailers to engage face-to-face to conduct business," the company said. "In order to attend the event, you must possess a valid state and local license to operate in California's regulated market. If you are an existing brand or a startup looking to meet a white labeling partner, you may register to attend."
Sept. 7-9: Oklahoma is getting its first Hempfest ever: the Hempfest Oklahoma.
"After a year of working with Oklahoma politicians and venues we finally get to announce the world's largest hemp festival is coming to Oklahoma," event organizer and Hi Tunes Distribution CEO Scott McKinley told Benzinga.
"With Dj Snoopadelic [Snoop Dogg] coming for a free show in Oklahoma and the massive four-stage, three-day lineup we are about to announce, we are hoping to bring out the masses and educate on what the hemp industry really is."
Sept. 14: New York City hosts the "Green Market Summit – The Advanced Economic State Of Cannabis," the first in a planned series of conferences. 
This event hosted by Green Market Report will be held in partnership with The Street at One World Trade Center. The keynote speaker is CNBC and TheStreet's Jim Cramer, who will interview Acreage Holdings CEO Kevin Murphy. Tickets can be purchased on this website.
Sept. 21-22: Anaheim, California is the site of CBD Expo West 2018. Powered by CBD Health and Wellness Magazine, the CBD-focused event will feature 75 exhibitors along with a large lineup of presentations and panel discussions from experts in the production, distribution and sale of CBD products. Tickets can be purchased online; check out cbdexpo.net for more detail.
Oct. 11-13: The New West Summit, a conference focused on "game-changing, disruptive developments in technology, science, media and investment within the cannabis space," will hit Oakland, California. Speakers include Weediquette's Krishna Andavolu, Slow Ventures' Dave Morin, rapper Berner, Steve DeAngelo, Ricardo Baca and many others. 
Oct. 19-21: The Initiative presents "Hustle Hard: A Cannabis Friendly Retreat For Women Who Mean Business," a three-day intensive retreat for women in cannabis in Bend, Oregon.
October 30-31: Michigan is hosting its first Commercial Cannabis Conference & Expo. This inaugural year is special , as it celebrates the state's first year in a commercial framework and an upcoming voter decision on recreational marijuana. Collectively, the state cannabis community is taking a stand for a healthy and strong cannabis industry in Michigan. Sponsorship, booths and tickets are available.
Picture by Javier Hasse.