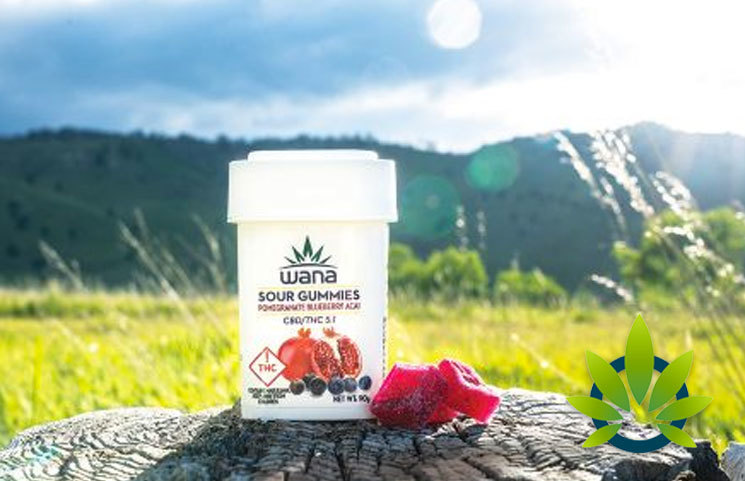 Wana Brands released a new sour gummies product, available in Pomegranate Blueberry Acai.
The product will originally be available in Colorado, but other Wana markets will follow.
The cannabis market is growing, though there are many consumers that want to remain inconspicuous when they partake in this substance with edible products. With this niche in the market, Wana Brands is taking advantage to offer a new product to consumers. The cannabis-infused products brand had decided to release a new sour gummies edible, available in Pomegranate Blueberry Acai, according to reports from Cannabis Business Times on June 11th.
These gummies feature a 5:1 CBD/THC ratio, which ensures that consumers get the therapeutic effect of CBD with the various effects that are induced with THC. The sweet, tangy flavor is created with handcrafting production methods, including 25mg of CBD and 5mg of THC each. With each container of 20 gummies, that is a total of 500mg CBD and 100mg THC per package.
According to the report, some experts say that CBD with THC provides an "entourage effect," giving the users better results than simply a hemp-based CBD product. For consumers that are still working to find a good ratio for themselves, this product may be exactly what they need.
Nancy Whiteman, the founder and CEO of Wana Brands, stated,
"Our new Pomegranate Blueberry Acai Sour Gummies give consumers yet another choice in terms of dosing." She added,

"It is one of an array of alternatives that Wana Brands offers, enabling people to match products to their own particular needs. These tasty gummies are ideal for people who want a little THC along with their CBD, but not too much. A 5:1 ratio means that most people will be able to function normally in their daily routines while still receiving the beneficial effects of the plant. I personally love this product as a sleep aid."
The formula is made with all-natural flavors and colors, combined within a proprietary artisan recipe with a tincture that blends the flavors well. The fruity flavor is consistent throughout each of the sour gummies, which are exclusively made with vegan ingredients. While there are some gummies made with sorbitol or mineral oil, causing the stomach to become upset while consumed, these gummies do not include these substances.
Before the new sour gummies manage to make it into all locations, Wana Brands plans to start off by making the product available in Colorado, where recreational and medical use of cannabis has been legalized. After it has been launched in Colorado, Wana plans to roll it out to other markets that they cover, like Michigan, Arizona, Illinois, Oregon, and Nevada. By the end of the year, Wana hopes to expand its reach to other markets as well.
Wana Brands already has a quite large selection of products they offer, allowing customers to get their preferred cannabis experience. With everything from vapes, to capsules, to edibles, and a variety of different dosages, the goal of the company has consistently been to offer customers the experience that they want.
Source: https://timesofcbd.com/wana-brands-cbd-pomegranate-blueberry-acai-sour-gummies/