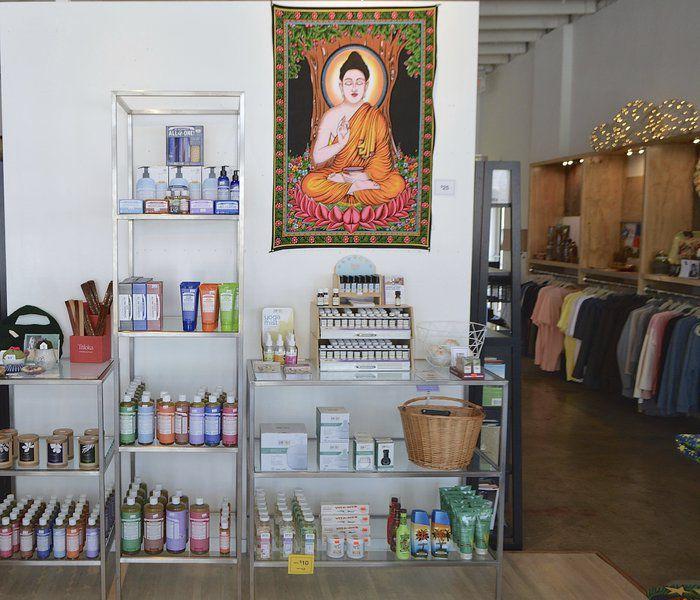 NORMAN — Less than a year after reopening in a new location, Friendly Market has seen a shift in its customer age demographic with other products now outselling the once-controversial glass pipes. 
Store manager and city council member Stephen Tyler Holman was among those charged last year in connection with selling glass pipes under the state's paraphernalia laws, but after a mistrial, three not-guilty verdicts and a State Supreme Court decision, the confiscated pipes were returned and the store reopened in a new location at 301 S. Porter Ave. next door to Nurture Day Spa and Salon Zen. 
Now, the shop's top sellers aren't pipes, a trend Holman attributes to the shop's growing health care business.
"When our primary product was glass pipes and smoking accessories, a lot of our customers were college students through early thirties, but since CBD and kratom have become our biggest selling products, the age demographic has gone up considerably," Holman said.
Folks over 50 and older use these products, he said, and that includes a lot of retired veterans as well as people who've worked in hard labor fields. 
"They've turned to CBD and kratom to manage their chronic pain, arthritis being one of the biggest issues," he said. "People, that, for a number of years, have taken prescription painkillers are looking for a natural alternative for that."
Holman said he hears success stories from customers using these products, and he's become a believer.
"Most of these customers are returning customers and many come here because they were referred to us," he said.
Initially, Holman was skeptical about the benefits of CBD, in part, because it became popular very quickly.
"Our state has the one of the highest rates of opioid addiction and chronic illness in the nation, so we have a lot of people in Oklahoma who are desperate for relief," he said. "You end up with a population that is very vulnerable."
Holman feared CBD was just a modern version of snake oil and wondered if it really worked or if people just wanted it to work.
"I was pretty skeptical about the real effects of CBD," he said.
After selling it for nine months and helping lots of repeat customers with various ailments such as arthritis, nerve pain and seizures, his perspective shifted. 
"My skepticism is gone because I've seen first hand from the repeat customers that this has worked for them," he said. "It's been impossible to discount that."
The CBD products Friendly Market sells do no contain any trace of THC.
"Based on advice from our legal counsel, we believe that CBD products for consumption in Oklahoma are illegal if they have any THC in them, but CBD is unregulated and quality control is a big deal," Holman said. "None of our CBD products have THC in them."
While he doesn't think there's anything wrong with using CBD with THC, Holman said at Friendly Market they do not want another legal battle, and they're very careful which products they sell.
"There are definitely benefits from having CBD and adding THC, but it is illegal," he said. "Trusting the place where you buy it is important before you put it into your body. Our CBD products come from a local company in Oklahoma City, and we get regular testing results from them to show that our products do not have THC in them."
Holman said the staff is knowledgable about the products and are always willing to answer customer questions.
"We feel it's important as a small, locally-owned business, because we thrive on return customers," he said. "We want people to know what it is before they put it into their bodies, and we want them to be satisfied so that they come back."
• The kratom debate: Kratom is an herb that grows naturally in Thailand, Malaysia, Indonesia and Papua New Guinea, according to the U.S. Food and Drug Administration.
"We started carrying kratom, partly because we were looking to expand, but we had customers who were asking about it," Holman said.
A Vietnam veteran in his early 70s who looked very frail came into the store, Holman said. The man said he lived out by lake and had been driving to Oklahoma City for kratom because he had found no place in Norman to buy it.
"It is a controversial thing, so we had been having long discussions about whether we should carry kratom," Holman said.
That veteran swayed their decision.
"Since we've started carrying it, it has become our number-one seller, especially with veterans," he said. "It's also popular with people who have been addicted to prescription opioids trying to get off of them or with people who want to avoid getting addicted to opioids.
"We've got an opioid epidemic in the United States and, in our observation, kratom is something that has helped to combat that."
Holman said the Drug Enforcement Administration (DEA) has tried to ban kratom, but public pushback and the number of people that contacted Congress reportedly overwhelmed the switchboard so that measure didn't go through. 
Now, the U.S. Food and Drug Administration (FDA) is trying to ban the herb.
"There's just a lot of misinformation about it," Holman said. "It doesn't make you high."
That may or may not be true, based on the available literature, though many documented concerns about the dangers of kratom in the literature yielded by a google search indicate problems could occur when kratom is combined with other drugs.
Researchers, such as Professor C. Michael White, who is head of the Department of Pharmacy Practice at the University of Connecticut, believe kratom merits further study that could be shut down if the herb were banned outright.
Writing for online journal The Conversation (theconversation.com), White said that while kratom appears to be safer than heroine and some other drugs, not enough is known about the herb at this time. What is known, he said, is that it is addictive.
White believes kratom shows promise and merits further research but having it readily available for purchase without any regulation is dangerous. He proposes making it available over the counter with limits such as those currently put on pseudoephedrine, ephedrine and phenylpropanolamine. 
Holman fears people would turn back to opioids and heroine if kratom weren't available.
"There's lots of theories about kratom," Holman said. "It's a natural plant that's a competitor for big pharma. We don't recommend that people who use kratom take it every single day. We recommend that you take it only when you need it."
People using kratom in southeast Asia tend to just roll the leaf into a ball and chew on it, but it's extremely bitter, so in the U.S. kratom is usually sold as a powder that people add to shakes or in a capsule which allows people to track the dosage they are taking.
"The kratom that we get is a natural plant," Holman said. "We buy it directly from a farmer. Just like CBD, kratom is unregulated and treated like a supplement so quality control is a big deal."
Holman said it's important that people don't buy CBD and kratom online because they don't really know what they're getting.
"We want repeat customers, we want customers to buy things that are actually going to work for them and we want people to know what they are putting in their body," he said.
Source: http://www.normantranscript.com/news/government/new-products-are-taking-the-lead-at-friendly-market/article_afb87648-3b40-5eda-b33f-c39abfb44111.html