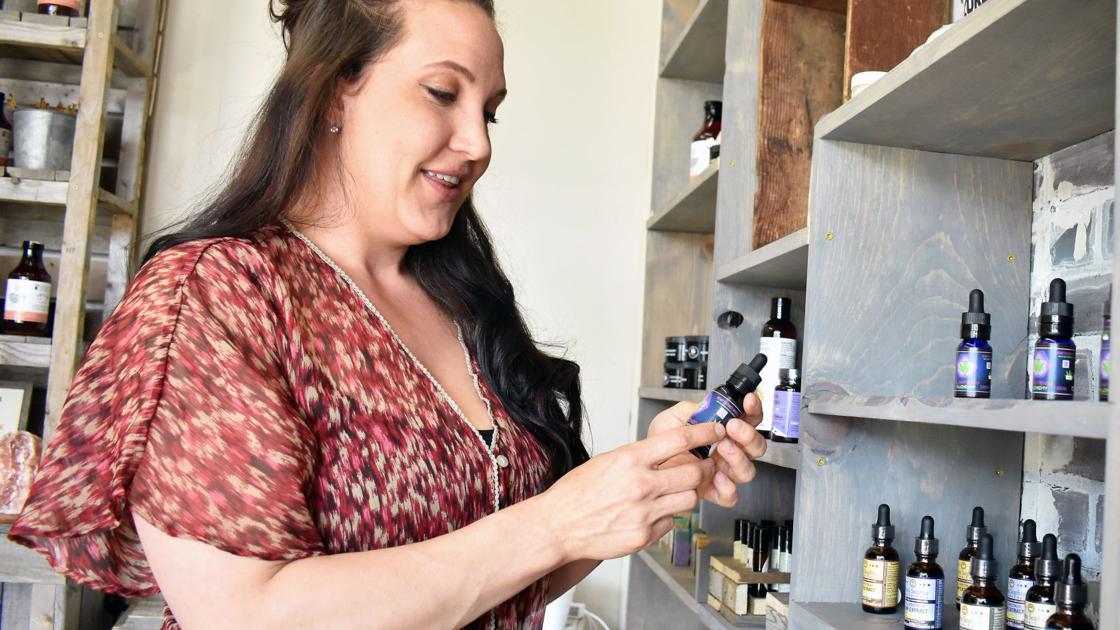 Kasha Hennes says people shouldn't assume her business in downtown Portage is just another store selling cannabidiol products.
About half of the products she sells contain cannabidiol or CBD — a non-intoxicating compound found in cannabis and hemp plants — and she sells them in the form of gummies, tinctures, oils, lotions and more.
Other items available include locally and artisan-made jewelry, elderberry syrup and honey.
Hennes knows CBD products inspire many questions — "It is everywhere now," the Wausau native said — and she believes her answers might help her to stand out from other sellers.
"This can be very daunting for people researching CBD because there are literally thousands of brands," Hennes said at the store she opened in mid-March. "Everybody wants to know, 'Which product is the right one?'"
Hennes, who spent several years selling CBD products at various farmers markets before she opened her store, said the most important factor for customers is understanding where the products come from. Hennes makes many of the CBD products she sells under the brand name Eldie and the rest of them she acquires from small, organic farms that she's familiar with, she said. None of the products she sells come from overseas or from large, factory-style hemp farms and all are third-party tested for pesticides and metals.
Hennes, an advocate for many natural remedies, will answer questions about CBD at 5:30 p.m. June 25 at the Portage Public Library.
Research limited
In 2017, the federal government allowed states to create a pilot research program permitting people to cultivate industrial hemp. The substance remained banned in Wisconsin until the state Department of Justice ruled in May 2018 that farmers could grow industrial hemp under the pilot program and stores could sell CBD produced in compliance with regulations set by the state Department of Agriculture, Trade and Consumer Protection. A few days earlier, the DOJ said medicinal oil derived from marijuana and hemp would be illegal before reversing its decision.
Dr. Jill Pogorelec, a family medicine provider at of Divine Savior Healthcare in Portage, said more than 10 of her patients have either asked her about CBD products or already tried it. Since medical research of CBD is still in its infancy and since CBD products could interact with other medications a patient already takes, Pogorelec says people should consult with their doctors before trying it.
"Some people who've tried nothing else but CBD will claim that it works," Pogorelec said. "Preliminary studies show there is consistent improvement with very specific medical ailments, including rare seizure disorders and some chemotherapy-related ailments, but the big thing to understand is that this is not regulated and you don't know what you're getting."
Most of Pogorelec's patients who tried CBD used it for pain related to arthritis, she said. She said that some of them have told her, "It worked great early on but then lost its luster."
There are no definitive studies that suggest CBD helps with anxiety, Pogorelec added, but some of her patients claimed it did.
Within five years Hennes hopes to turn Wildflowers Wellness into a "one-stop healing center," possibly by partnering with an acupuncturist, massage therapist and others from the alternative medicine community.
Hennes, who received an emergency medical technician diploma from Northcentral Technical College in Wausau in 2015, said she believes the best and biggest change people can make for their health is simply researching what they put into their bodies.
"If you're reading ingredients and you don't know what something is, do the research," she said. "I find that when people start cutting out synthetic ingredients, they start feeling better. We're living beings, and when we're eating living things, our bodies are happy. When we're eating fake things, our bodies don't know how to process it.
"I tell people to invest in their bodies now so that they don't have to down the line."
Source: https://www.wiscnews.com/portagedailyregister/news/local/health-med-fit/new-downtown-portage-wellness-business-focuses-on-more-than-just/article_e82f228f-0e06-57dc-a944-381aa6f3432c.html