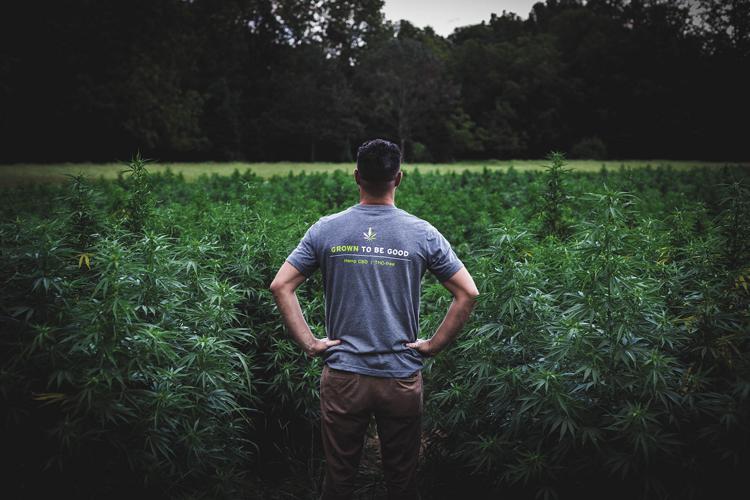 Heather Kreider wears a lot of hats. She's a registered nurse, a licensed esthetician, a local business owner, a calculated risk-taker, a steward of the community, and a chronic pain sufferer.
On the surface, these things might seem unrelated, but each of them helped shape Hempfield Botanicals, the Lancaster business Kreider owns with her husband, Nathan.
The Kreiders got their start in 2010, when they launched Makes Scents Natural Spa Line, which manufactures all-natural, all-vegan spa and room amenity products for luxury spas, salons and resorts nationally.
Kreider cites the passage of the 2018 federal Farm Bill, which removed hemp from the list of Schedule I controlled substances and made it an ordinary agricultural commodity, as the beginning of Hempfield Botanicals.
"People were coming to us and asking us to do a CBD line before the law had passed, but there was such a grey area surrounding hemp, we really didn't want to push ahead with it at that time," she says. But as time went by, and the Farm Bill continued to move through Congress, the Kreiders began to see the potential for hemp on the horizon. And even though the bill had not yet officially passed at the time, they decided to take a chance.
The risk paid off. Today, Hempfield Botanicals has 14 full-time employees, and the business continues to grow.
Since the prohibition of the cannabis plant in the United States began in the 1930s, there has been little to no federally funded research on hemp. Because of that lack of research from the U.S. Food & Drug Administration and other government agencies, Kreider says each individual must advocate for themselves when it comes to understanding the hemp plant, CBD oil, and the available medical-based research. This research has been conducted to support a wellness plan for CBD (cannabidiol) and hemp products.
Kreider cites medical research that points out the plant's effectiveness in reducing chronic pain and inflammation from diseases like lupus or arthritis.
"If you think of chronic inflammatory issues, they can range anything from lupus, arthritis, rheumatoid arthritis, irritable bowel syndrome, or multiple sclerosis," says Kreider.
It can also be used to help reduce the pain from muscle and joint strain and overuse, Kreider says, citing similar research.
Kreider herself uses CBD to treat chronic pain resulting from compressed vertebrae in her neck.
Kreider says her company can give customers tips for best practices and point them to research on the effectiveness of its treatment for certain conditions. This information allows each person to take control of their own wellness, make their own choices, and pursue options outside traditional medicine.
"I'm a registered nurse, and as a nurse, I realize there's a place for pharmaceuticals," Kreider says. "And I'm not anti-pharma, but there are so many alternatives that people can turn to. It's no longer just about what your physician writes on a prescription pad."
Since CBD use is on the rise, it's easy to find CBD products on almost every countertop at convenience stores, gas stations and grocery stores. But Kreider cautions prospective CBD users to do their own research before selecting a product.
Kreider and her team talk about the Three T's that should be included in all CBD products: transparency, traceability, and testing.
Every product manufactured by Hempfield Botanicals undergoes testing by a third-party entity, Kreider says. Hempfield Botanicals and its parent company, Makes Scents Natural Spa Line, is a Certified B Corporation, which is a designation given to businesses that meet the highest standards of verified social and environmental performance, public transparency, and legal accountability to balance profit and purpose.
"It's who we are as individuals, Nathan and I," says Kreider. "We think business can be used as a force for good. It's such a fulfilling business to be in. When you have the ability to help someone improve the quality of their life, it's really a gratifying thing. It's amazing to see these lives changed in a positive way."
Find out more at https://hempfieldbotanicals.com/, and enjoy 20% off with code BalanceLancaster.
Source: https://lancasteronline.com/sponsored/natural-botanicals/article_9ddf3e24-3310-11ea-8604-1306364e4510.html