Morinda's product line was originally based on the Tahitian Noni.
The Farm Bill act allowed Morinda to perform necessary research to launch their CBD products.
Morinda was originally introduced to the market in the 1990s with their superfood products, creating juices, oils, and supplements with it to nourish consumers. However, a few years ago, scientists with the company discovered that there were significant therapeutic and nutritional similarities between the Tahitian Noni that they'd used for decades and CBD.
At the time, the regulatory atmosphere wasn't a positive place for CBD, and the company delayed getting involved. Adam Olsen, the director of marketing and communications for Morinda, explained that the climate was, at best, "unknown" during that time. Last year, when the Farm Bill passed, everything changed. Industrial hemp became a legal crop, giving Morinda an opportunity to explore CBD as a product of their own, thanks to a merger with New Age Beverage Company.
As a result, the two teams created the new 'NHANCED CBD Collection. Presently, there are three CBD-infused products, which include a CBD oil, a roll-on gel, and a body creme.
Laura Kimball, the Senior Product Line Manager, explained,
"We went in search of the best CBD we could find. We knew we wanted farm-grown, minimally processed, responsibly farmed hemp so we could ensure its purity."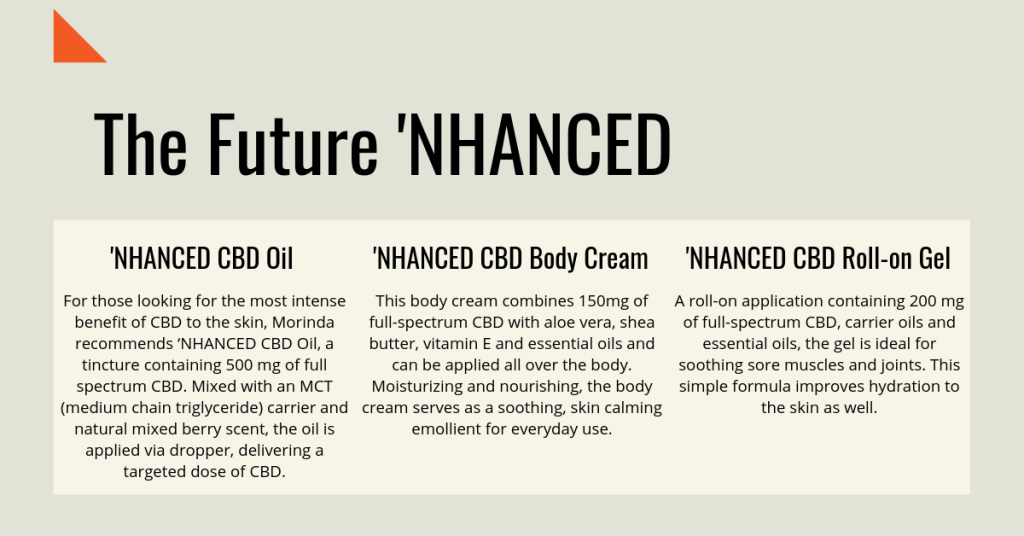 The hemp used in Morinda's products are sourced from Oregon, and Olsen explained that they already have inspected the farms themselves to make sure they have control over every part of the cultivation of the hemp plant. By launching the new line, the company is exposing CBD to 60 countries, though their collection will be made available to international countries before the United States.
Brett West, the senior director of product research, stated,
"In our bodies we have cannabinoid receptors—the two primary receptors are CB1 and CB2. We've found that noni does a better job impacting one of those receptors and CBD does a better job impacting the other. The two working together can have a profound impact on the body."
Along with the collection, consumers will be able to try the Tahitian Noni + CBD juice, which will give more intense effects than the topical application of CBD. The company also plans to release a CBD-infused beverage called Marley Mellow Mood, which is a tea with 25mg of CBD in each serving. While these drinks will be available in Japan first, Morinda will wait for the government regulations in the United States to change before it is available locally.
Kimball added,
"When we first started studying CBD years ago, we could see the tremendous benefits and perfect tie-in to our product line. It's a natural way of helping people and that's what we're most interested in—bringing healthy products to the world."
Source: https://timesofcbd.com/morinda-launched-nhanced-cbd-collection-with-three-new-products/