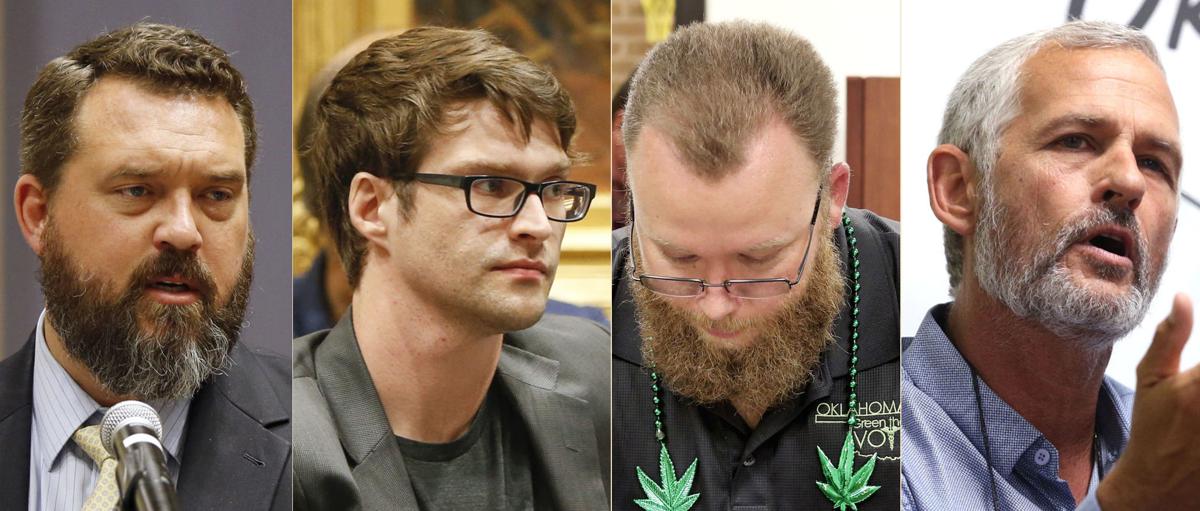 The cannabis community in Oklahoma has grown significantly in the two years since a group of activists successfully petitioned to put medical marijuana on a ballot. But many people don't know who it was behind that effort, much less who has stepped in since then as the leading voices on marijuana in Oklahoma.
The names of various industry groups, activists, patient advocates and other stakeholders are likely familiar to those who follow the issue on social media. That's where the grass-roots movement to put State Question 788 up for a vote of the people began years ago and where it gained steam.
For those who haven't engaged in the community as much, it might be hard to keep track of the names as news comes out almost daily regarding the state's implementation of a legal medical marijuana program.
Oklahomans for Health and its co-founders Frank Grove and Chip Paul were the first to launch petition efforts to put medical marijuana up for a vote of the people. The first effort in 2014 failed. They worked on the text of SQ 788 and gathered signatures in 2016 that ensured the measure's appearance on the June 2018 ballot.
Green the Vote in 2015 launched a failed petition drive to make medical marijuana a constitutional state question. The group is now a listed plaintiff in a lawsuit regarding emergency rules put in place after SQ 788 took effect. Its leader, Isaac Caviness, came under fire after confirming he and another board member reported inflated numbers while collecting signatures in support of a state question that would legalize recreational marijuana.
New Health Solutions Oklahoma, a trade group representing some cannabis industry entrepreneurs, has been among the most vocal advocates for a special legislative session to enact regulations for SQ 788. Leaders Bud Scott and Jed Green drafted 200-plus pages of proposed rules last month and opened it up for public comment.
Oklahomans for Cannabis is associated with the Oklahoma Cannabis League, a grass-roots group renamed after the passage of SQ 788. The group, led by Frank Grove and Shawn Jenkins, also operated under the Oklahomans for Health name during the SQ 788 petition drive process but has since become a separate organization.
The four camps are unified behind the broader goal of legalization, but beyond that their motivations often differ over what promises to be a lucrative industry.
"The only thing that we could all come together on is the Yes Campaign, Vote Yes on 788," Green the Vote co-founder Josh Lewelling said. "Since then, cooperation's started to dissipate."
Josh Lewelling used to buy into the "DARE propaganda," he said, that cannabis in all its forms is destructive, that a life of substance abuse and depravity was always just a few bong hits away.
"I had always thought that medical marijuana was a smoke screen for a bunch of hippies so that they could just get high for the rest of their lives," Lewelling said.
The Green the Vote co-founder began seeing things differently after he left the military in 2014 over an injury he suffered in Iraq. The VA had him on 23 prescriptions, some to treat what was wrong, and some to treat the treatment.
Cannabidiol, or CBD oil, is distilled from cannabis and proved to be a very effective treatment for him, he said, knocking back the number of needed prescriptions and improving his quality of life.
Looking to the future, Lewelling wants to see Oklahoma take the lead in the cannabis business, and for it to be open to anyone.
"This should be an opportunity for anybody who wants it to open up a dispensary or a grow operation," he said. "You follow some simple guidelines and make that happen, have your American dream."
The subject of business is where tensions tend to flare. Most frequently it's directed toward Bud Scott, a lobbyist, lawyer and the man with the most legal experience regarding the cannabis industry currently in the SQ788 fray.
Many in the growing cannabis community see Scott as a big business champion, working to heighten barriers to entry into the industry, looking to keep the little guy out.
Scott's group, New Health Solutions Oklahoma, was established a little over a year ago and is the newcomer to the local cannabis community.
While Lewelling has his concerns about New Health Solutions, Green the Vote will stand with them for the time being, out of necessity.
"Right now is the time that everyone with interests in the cannabis industry should be coming together and flexing their muscle against these lawmakers and letting them know what we want," he said.
According to Bud Scott, there are over 90 member companies in New Health Solutions, the majority of which are small or mid-size interests.
"There's a little too much hero worship and vilification involved in grass-roots movements like this," Scott said. "It's never as clear-cut as people like to make it out to be."
The process of legalization is complex, because legalization is just the start. Groundwork needs to be laid for an entirely new regulatory program, a new industry, and new form of medicine, he said. Add ego and opinion to the mix and mistrust can build.
"They see it the way they want to see it but the reality is we're effective," Scott said.
Given his six years of expertise assisting cannabis business interests in the U.S. and Europe, Scott was asked by parties in Oklahoma to come and shepherd everyone through the process.
"We set out to be a professional voice for this industry because Oklahomans need to hear from professionals on this," Scott said. "They need to understand that there's more to it than the prototypical Cheech & Chong idea."
New Health Solutions political director Jed Green defended Scott, whom he's known for nearly a decade, he said.
Part of the reason some dislike their trade group is because of its relative newness, he said, and their willingness to take the lead.
"You can't be afraid to hop out and take charge on an issue when you do have that expertise in what's going on. We see it as an obligation," he said.
Green joined New Health shortly after its inception and got to work on the Yes to 788 campaign, as well as forming and heading the political action committee for the campaign.
"We're coming from a place of experience here, of having worked with folks in other states," Green said. "So while what we say might not always be the most popular … eventually everyone comes around."
Oklahomans for Health director Chip Paul stands with Green the Vote and New Health Solutions behind a newer, reworked version of the initial 270-page draft of proposed legislation.
Paul runs a business himself, called GnuPharma, selling plant-based products designed to interact with the endocannabinoid system and ultimately improve the health and well-being of the consumer.
In late June, Paul was forcefully removed from a public marijuana forum by Rogers County Sheriff Scott Walton. Paul said he was quietly expressing frustration over comments made by some speakers at the forum for which Walton physically removed him. Walton claimed Paul was being disruptive.
Paul has long been an influential advocate for 788. He took issue with the initial proposal, which he said offered an advantage to Scott's business partners, but is happy with the latest draft "all the way down to the dotted I's and the crossed T's."
Not every side has come together, however. Oklahomans for Cannabis broke off to release for public comment a 30-page draft of its own proposed legislation.
"Our primary concern is that mom-and-pop shops can provide quality, diverse products to patients," Oklahomans for Cannabis director Frank Grove said.
Grove first started advocating for legalization as a 16-year-old Bishop Kelley High School student, when he delivered a presentation to his government class, convincing even his teacher and every student except one, he said.
His passion was based on principle at the time, but it later became personal when doctors found a tumor in his father's head. It was benign but growing toward his spine, so it had to be removed.
Grove believes if his father had access to medical marijuana following the surgery, he would have recovered better and would be better able to treat his pain today.
"He could still be out there working on the oil wells, I believe, if this had been legal in 2014," Grove said.
Oklahomans for Cannabis has maintained that their No. 1 concern is making sure patients gain access to medical marijuana for treatment. Business interests are a distant second, which Grove said isn't the case for the groups that signed off on the collaborative draft.
"Those other groups are all basically trade organizations at this point, and our focus remains on patients, the working class and all of Oklahoma," he said. "I think it's important we maintain an equal yet distinct voice."