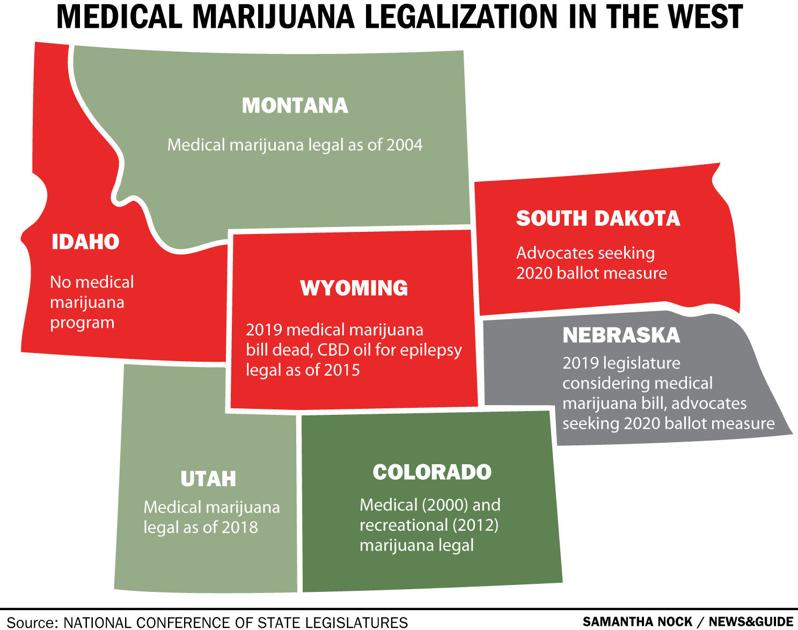 Epidurals, acupuncture, physical therapy.
None are helping Don Wadsworth battle chronic pain following an unsuccessful back surgery in 2008.
ā€œSince that surgery,ā€ he said. ā€œIā€™ve been in pain forever.ā€
He and his wife, Gwenn Wadsworth, think medical marijuana should be legalized to help people like him. They were hopeful when House Bill 278 popped up in January, but it died without a committee vote, leaving him where he began ā€" in pain and looking for alternatives.
Surrounding states have taken differing approaches to the plant, some agreeing to some form of legalization and others considering it.
The Wyoming Legislature also saw bills related to hemp and cannabidiol, better known as CBD, this year. Hemp and marijuana come from the same plant, Cannabis sativa, but the two are different. Hemp is grown to have less than 0.3 percent of the Schedule I controlled substance tetrahydrocannabinol, or THC, so it isnā€™t psychoactive. CBD is extracted from the flowers and buds of marijuana and hemp plants, and unlike THC, wonā€™t get you high.
Formerly an avid skier in the Tetons and surfer in Mexico, Wadsworth now canā€™t stand for long periods of time.
Heā€™s tried what feels like everything ā€" laminectomy, a surgery that enlarges the spinal canal to relieve pressure; foraminotomy, a surgery to relieve pressure on nerves; radiofrequency ablation, a procedure designed to decrease pain signals; a spinal cord stimulator meant to mask pain before signals reach the brain.
He doesnā€™t want to try opioids, but thereā€™s not much left.
Some doctors have told him, ā€œā€˜Youā€™re 85. Enjoy what you can do.ā€™ā€
He rails against that assessment.
ā€œI donā€™t need a shrink,ā€ he said. ā€œI need to play more.ā€
This fall he submitted a CBD prescription, penned by a University of California-San Diego doctor, to the Wyoming Department of Health, with a doctorā€™s note and his medical history. He was denied.
As of 2015 epilepsy is the only medical condition accepted for a hemp extract registration card. Any CBD with ā€œmeasurableā€ levels of THC is illegal in Wyoming. Some in Teton County have been arrested for having it and CBD products have recently been pulled from grocery store shelves.
While access to marijuana isnā€™t hard to find in Teton County, Wadsworth is hesitant with current laws on the book.
ā€œIā€™m in Wyoming,ā€ he said. ā€œI donā€™t want to do anything illegal. I also donā€™t want to leave Wyoming. I love it here.ā€
His wife watches as he plays pickle ball in the morning and pays the price later. She watches as some of their friends, mountaineers in their younger days, stay inside because of their pain.
ā€œOld people should be doing stuff, they shouldnā€™t be sitting in front of the TV,ā€ she said. ā€œThey should be out having fun.ā€
Absent guidance from the Legislature, physicians are left to grapple with what legalized medical marijuana would look like should it ever make it to the Equality State.
How do you prescribe something as medicine that isnā€™t produced uniformly as a pharmaceutical?
How do you prescribe something as medicine that some say isnā€™t heavily backed by research, evidence or clinical trials?
The Centers for Disease Control and Prevention said that while ā€œthe marijuana plant has chemicals that may help symptoms for some health problems ā€¦ there isnā€™t enough research to show that the whole plant works to treat or cure these conditions.ā€ The U.S. Food and Drug Administration has not recognized or approved the plant as medicine either. The Wyoming Medical Society opposes the legalization for such reasons.
Wyoming Medical Society vice president and Casper neurologist Dr. David Wheeler said heā€™s in favor of marijuana legalization but opposes medical marijuana on philosophical grounds.
ā€œThe basic problem is that the term ā€˜medical marijuanaā€™ has no meaning on a scientific or clinical basis,ā€ he said. ā€œMarijuana is a broad term that encompasses a lot of different products and things that really canā€™t be described as a monolithic therapy for anything.
ā€œIt doesnā€™t make sense on the face of it to refer to it as medicine.ā€
The plant has potential, Wheeler said, but would have more if the health care community had better information about how to use it and what the consequences might be. But he opposes medical use being used to ā€œdo the dirty workā€ for those who want legalization.
ā€œLaws like these usurp our professional standing to exert social changes,ā€ he said. ā€œAnd we resent that as a group.ā€
Source: https://www.jhnewsandguide.com/news/health/article_2fbefacc-28e5-5a15-b06f-c7534d677385.html