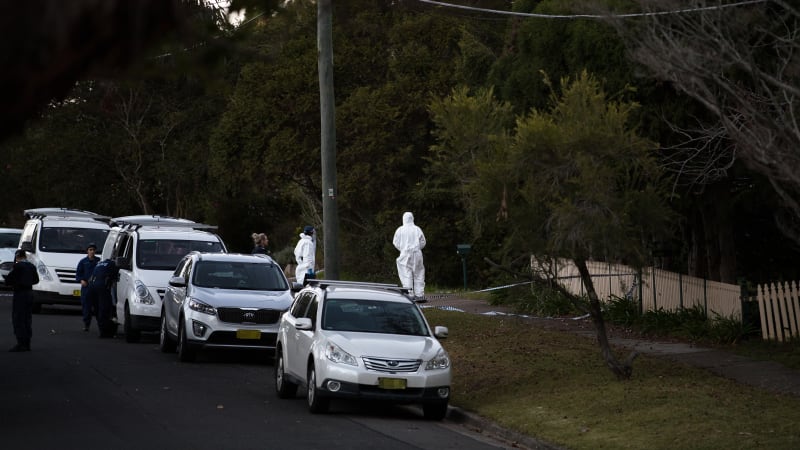 "What we do know from the information available to us, this was a planned activity on the part of the 68-year-old male and we are of the belief that shortly thereafter he has attended the address at Normanhurst and taken his own life," he said.
Loading
The acting commissioner said two firearms, registered to Edwards, were also found at the Normanhurst property.
While Edwards had a police record, acting Assistant Commissioner McFadden said he did not believe it was extensive and was from "many years ago".
As forensic examinations of the home continued on Friday morning, it is understood the teens' bodies were removed just before 6am.
Speaking to the media on Friday, Prime Minister Malcolm Turnbull described the deaths as heartbreaking.
"This is a heartbreaking, a heartbreaking crime. Two children killed, murdered, it appears by their father who has subsequently taken his own life," he said.
"It's a terrible, terrible tragedy. Our hearts go out to the mother and to all of the family, and we mourn the loss of those young people. And just pray that those who have been so, so hurt in this – by this shocking crime, can find comfort in prayer and the consolation from friends and loved ones."
Calling the deaths "a tragedy", a neighbour said the children were shot dead within a minute's walk of her home.
"May you rot in hell, buddy," she said.
Emergency services arrived at the Hull Road address just after 5pm on Thursday to find a 13-year-old girl and a 15-year-old boy dead in their bedrooms.
Seven ambulances and a helicopter attended, but there was nothing the first responders could do for the children.
Loading
The teenagers' mother, 36, arrived after police.
She was treated at the scene for severe shock and was released into the care of friends.
Acting Assistant Commissioner McFadden said the woman suffered "significant shock".
"I can't imagine the significant stress and heartache she is going through," he said.
With Lucy Cormack
Support is available by phoning Domestic Family Violence Counselling Service 1800 737 732; Men's Referral Service 1300 766 491.
Sally Rawsthorne is a Crime Reporter for the Sydney Morning Herald.
Rachel Clun is a reporter at the Sydney Morning Herald. She was previously a reporter with the Brisbane Times and Domain.
Morning & Afternoon Newsletter
Delivered Mon–Fri.
Source: https://www.smh.com.au/national/nsw/man-who-shot-two-teens-in-west-pennant-hills-found-dead-20180706-p4zpth.html