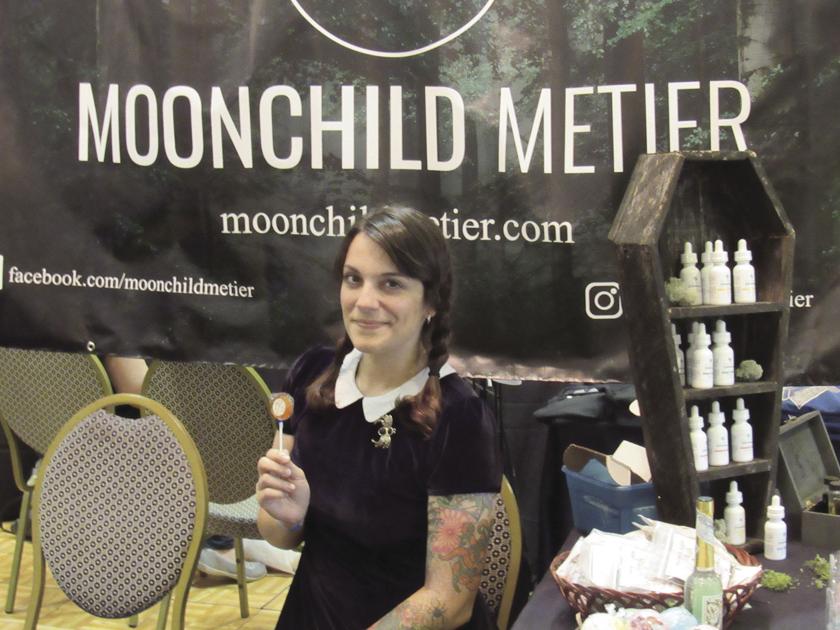 ROCKLEDGE — Nichole Skinner, owner of Moonchild Metier, specializes in cannabidiol infused products, a relatively unknown, organic remedy that can be fashioned into a variety of items. The benefits of CBD use have enhanced the scope of holistic and natural medications and Ms. Skinner uses her altruistic personality to transcend the relationship between retailer and customer.
Ms. Skinner's business started from her own personal use of CBD oil. She began with making bath balms to help with eczema, a dermatological condition in which patches of skin become rough and inflamed.
"I deal with anxiety and have dealt with eczema all my life," Ms. Skinner said. "I had been using CBS oil for them and it's one of those things that I don't like to take prescription medicine for. [Drugs like] Valium are addictive so I didn't want to be on it. I know it's effective, but it's highly addictive and that's not my bag."
Ms. Skinner also tried to journal, used melatonin, and drank tea as natural remedies to combat her anxiety.
"I spent two years before starting this business and taking CBD and trying every holistic thing in the book. I joke about this now, but at one point where I was standing in my kitchen, at 2 o'clock in the morning, crying," Mrs. Skinner said.
Similarly, Ms. Skinner's customers experience a variety of symptoms. One customer in particular had had difficulty with irritable bowel syndrome.
"They basically couldn't leave their house, they were cramping. They bought the product, they went home, and within an hour they texted me saying that it was the first hour in two days that they didn't have stomach pains," Mrs. Skinner said.
Ms. Skinner was introduced to CBD through a friend.
"They were taking it for her more serious health issues they have and they recommended it because they knew it helped with anxiety, too. So, I did a lot of research and started taking it and it turns out there are so many uses for the plant, the cannabis plant, itself," Ms. Skinner said.
CBD is one of the two main cannabinoids found in marijuana and hemp plants. Unlike tetrahydrocannabinol (THC), CBD does not produce any psychological effect or euphoria. This has to do with how CBD interacts with the body.
Both CBD and THC work with an extensive regulatory system in the body called the endocannabinoid system, or ECS for short. The ECS is made up of a multitude of receptors located all throughout the body. These receptors can be activated either by the body's naturally occurring cannabinoids, or by cannabinoids such as CBD and THC.
CBD and THC primarily interact with two receptors: CB1 and CB2. These receptors are primarily located in the brain, nervous system and immune system. However, unlike THC, CBD does not directly bind to these receptors. Instead, CBD stimulates the body's naturally occurring cannabinoids to activate the receptors, causing them to do more.; in essence stimulating the bodily to naturally activate it's own preservation system.
Numerous studies, including from the National Center for Biotechnology Information, reflect CBD offers a multitude of medical benefits, including: reduces nausea and vomiting, acts as an anti-inflammatory, combats anxiety (anxiolytic), an antioxidant, anti-psychotic, as well as anti-convulsant (suppresses seizure activity, anti-tumoral/anti-cancer properties.
The shop's website features an array of products and a blog that Ms. Skinner developed "to bridge the gap between nature and our every day lives. To highlight like-minded businesses that create healthy and beneficial products." CDB infused items such as bath balms, candies, and oils are available.
Customers like Michele Vannoy of Viera are grateful for the shops variety of products and services.
Ms. Vannoy has problems sleeping and explained to Ms. Skinner that she experienced a great deal of pain in her elbow from a fall she had taken that required multiple surgeries. After discontinuing her opioid use for the pain, she subscribed to CBD oil after she met Ms. Skinner at this years Earth Day event in Rockledge.
"I'm sleeping like I'm in my 20s again. I highly recommend talking with Nichole about any issues," Ms. Vannoy said.
Ms. Skinner has an emphatic passion towards helping others. She not only understands her customers' needs but believes in the benefits and uses of CBD.
"To me, it's not like I put my hands on them and heal them, but I'm genuinely glad that they're gaining their life back," Ms. Skinner said.
For more information, visit www.moonchildmetier.com or reach Ms. Skinner at moonchildmetier@gmail.com or 321-482-4308.
Source: http://www.hometownnewsbrevard.com/news/local-company-specializes-in-cbd-products/article_6ae0a248-904a-11e8-9365-6f25f932f465.html