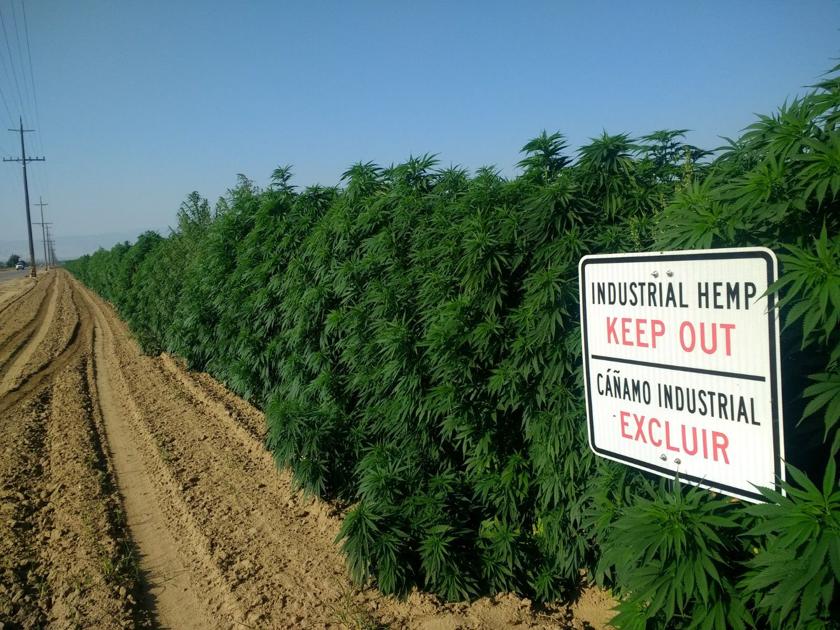 Hemp production continues to spark the imagination of Kern County farmers, investors and government officials despite a high-profile incident that led to the destruction last year of close to 500 acres of the plant by the Sheriff's Office and a subsequent $1 billion claim against the county.
While senior county officials mull new hemp regulations, possibly including a path toward Kern's first legal hemp-processing facilities, a locally based company is organizing a meeting to connect local growers with investors and lawyers specializing in hemp and cannabis issues.
The renewed interest in California's hemp capital — nearly 5,000 acres of hemp have been registered in the county, more than anywhere else in the state — comes as the once-hot market for hemp-derived CBD oil continues to cool.
The hope now is that willing buyers can be found in the ag, textile and construction markets, not just among consumers looking to benefit from CBD, the edible and smokeable cure-all also known as cannabidiol.
"The industry will change from growing hemp for nutraceuticals to fiber and textiles, and Kern County is going to play a huge role in that," said Ollie Danner, CEO and founder of HempAccess.com, a Bakersfield-based networking outfit hoping to attract more than 100 industry players to a Jan. 23 gathering at the RiverLakes Ranch golf course. Tickets to the 5:30 p.m. meeting cost $20.
Hemp is a nonintoxicating but visually identical relative of marijuana. It only recently became legal to cultivate in California after being outlawed nationwide in the 1930s.
In October, the Kern County Sheriff's Office, working with the FBI and state officials, destroyed Arvin-area hemp fields contracted by former Indiana chiropractor Trent Jones. The agency said the plants had tested above the legal limit for THC, pot's psychoactive ingredient.
Jones, head of a hemp company called Apothio LLC, claims the sheriff's department was wrong to destroy his plants. Exploiting what hemp lawyers consider a loophole in federal law, he contends his research agreement with Cerro Coso Community College permits him to possess hemp that tests positive for marijuana as he works to refine his hemp strains.
The Kern County Board of Supervisors has denied Jones' $1 billion claim for damages. County Counsel Margo Raison declined to comment Thursday, saying she expects the claim to end up in court. The Sheriff's Office also declined to comment, saying the case is part of an ongoing criminal investigation.
Jones and his lawyer could not be reached for comment.
Senior government officials in Kern have otherwise embraced local hemp cultivation as a kind of deterrent to pot-growing. Cross-pollination with hemp plants reduces THC concentrations in marijuana, which by local ordinance may not be grown, processed or sold in Bakersfield or unincorporated portions of Kern.
They also support hemp as a crop-diversification option for local growers.
Kern Agricultural Commissioner Glenn Fankhauser said county supervisors have told him they want to remain "hemp-friendly" but that certain concerns must be addressed.
Accordingly, he said Thursday, there may soon be new limitations on hemp research and a grower registration fee to help cover rural law enforcement's unforeseen costs of cracking down on hemp theft by people who mistake it for marijuana.
And given the county's production volume, he said, some county officials advocate permitting hemp processing plants.
"There's a learning curve that we're going through," he said.
Source: https://www.bakersfield.com/news/kern-county-sticks-by-hemp/article_84a796ba-332c-11ea-b038-df4ab3d0b489.html