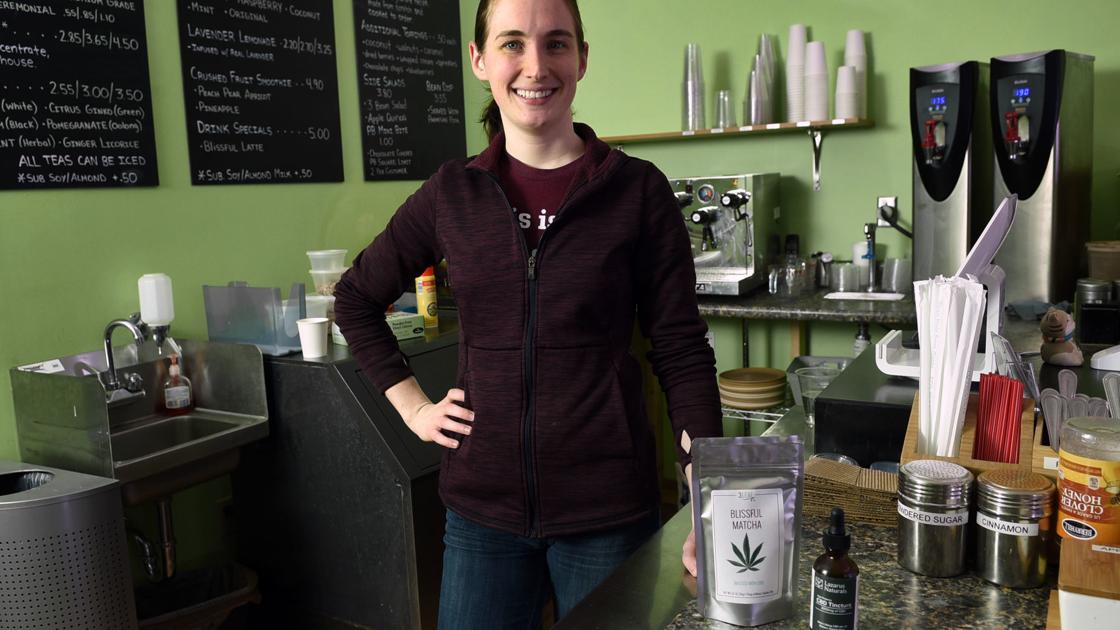 Whether it's a tea latte, a cup of coffee, gummy bears, a vaporizer or a pain cream, cannabidiol products are on the rise in Cayuga County. 
More commonly known as CBD, it's carried by a variety of Auburn retailers in different forms. All of them seem to agree on one thing: It works, and it doesn't have any negative side effects. 
At this time, the Cayuga County Department of Public Health said that there is no countywide regulation of CBD products, nor a license needed to sell the products. 
Luciana Torous, the owner of 3 Leaf Tea at 25 E. Genesee St. in Auburn, said she first learned about infusing teas with CBD at a tea expo in Brooklyn last March. At the time, she didn't know much about CBD and learned that it was legal in all 50 states, had anti-inflammatory benefits and could help people relax and relieve pain.
"People do get confused about it; there are some people that think it's marijuana," Torous said. "It's different biologically, industrial hemp from marijuana is structurally different. … It's not going to affect your mental state in any way, but you're getting the benefits."
Industrial hemp is naturally high in CBD and only contains traces of tetrahydrocannabinol, or THC, the primary psychoactive component of marijuana. CBD does not cause any euphoria or a high, as the distillation process removes the THC.
Torous left the tea expo inspired, and decided to bring CBD-infused teas back to Auburn. In her store, she sells CBD-infused matcha tea lattes that she makes by adding a CBD tincture. The tincture itself isn't flavorless, but it pairs well with the matcha and most people don't taste it, she said. In store and online, Torous also sells a powdered matcha infused with a CBD powder that is flavorless. In addition to the latte in store, she sells 900 mg bottles of the CBD tincture, as well as a topical salve. 
"I've had the craziest testimonials," Torous said, saying she often hears people say they're sleeping better, their chronic knee or back pain is gone, or they've been experiencing less anxiety.
Rich DeChick, the owner of Vape Kult at 10 South St. in Auburn, also said that he's heard from people who use CBD that it has helped with their anxiety, pain, arthritis and even post-traumatic stress symptoms.
In his Auburn store, DeChick carries versions of CBD oil that can be taken orally or by vaping, as well as a roll-on pain relief product. Vape flavors include blueberry, pineapple and peach. However, DeChick runs another store in Fulton called Evolve CBD sells a much larger variety of CBD products.
He said CBD is the closest thing to the legendary snake oil that people used to say would cure any ailment — "but it's legit."
In June, the U.S. Food and Drug Administration approved a form of CBD to treat rare forms of epilepsy. DeChick said that he gives CBD products to his cat — which has epilepsy — and he's noticed that the seizures don't happen as often, and are less severe.
Both DeChick and Torous said that there is no way to overdose on CBD, and effective dosages vary by person. But you can't take too much, and there are no known negative side effects.
In addition to Torous' tea lattes, coffee has also recently joined the list of beverages with CBD available in Cayuga County.
Serenity Wellness owner Robin Jackson now sells hot cups of CBD coffee in her store. People can also purchase packets or boxes of the instant CBD coffee, which include 5 mg of CBD per cup as well as chaga mushrooms, which have immunity and health benefits, Jackson said.
Located at 214 Seymour St., Serenity Wellness also sells a variety of CBD products from Hempworx and Bison Botanics. Products include THC-free oils, pain creams, pet oils and treats, CBD gummies, salve sticks and creams.
"I educate everyone who comes to the shop," Jackson said. "I make sure everyone leaves with instructions on how to use (CBD)."
Starting up again at 6 p.m. Wednesday at Serenity Wellness is a general illness and CBD support group led by Vin Gleason, who also a certified CBD distributor.
Gleason leads the support groups, in part, as a way to share his knowledge and testimony of CBD products. He said he connected with Jackson last summer and began using CBD products in July for an illness he'd been battling since the spring of 2017. He'd been on more than 100 days of antibiotics, wasn't getting better, and was eventually unable to work, he said.
After just two weeks of using CBD products, Gleason said he began to feel completely different. As someone who used to be a skeptic, Gleason said the Wednesday night support groups can also be a time for people to come and ask questions. If he doesn't know an answer, he will connect with people to find it.
"Everything started really changing in my life," Gleason said, adding he's back to working full-time and is able to exercise again. "I'm still in shock everyday."
Source: https://auburnpub.com/lifestyles/it-s-legit-cayuga-county-businesses-offering-cbd-in-variety/article_5b78bb48-6675-5597-9552-e83e7f4c51af.html