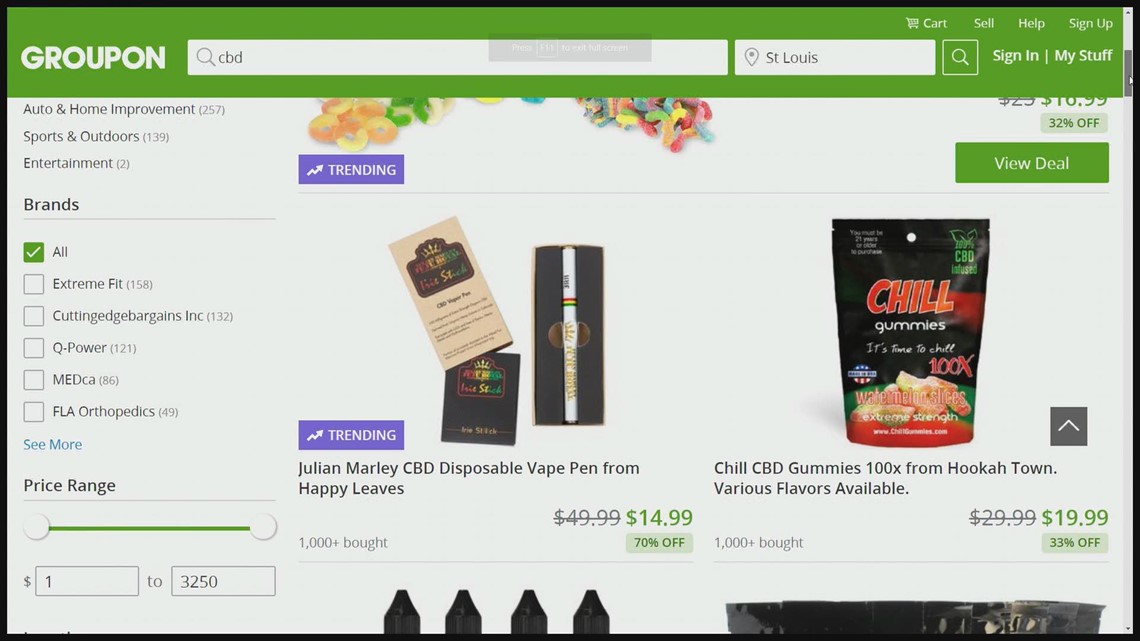 ST. LOUIS – Are you trying to save some bucks? If so, you've probably turned to deal sites like Groupon.
But did you know some of the deals on the site might be illegal? The scary part is, you may not even know you're breaking the law.
This week, 5 On Your Side learned about a discount offer on Groupon for CBD-infused gummies.
CBD is an oil derived from the cannabis plant. Some swear by its benefits, claiming everything from pain relief to improved heart health.
The Food and Drug Administration recently approved a prescription medicine called Epidiolex to help treat epilepsy. It contains CBD, but it's not available just yet.
"There are many claims about what CBD can or won't do. Some of them have been scientifically validated. Many have not," said Drug Enforcement Administration Diversion Program Manager Scott Collier. "CBD remains a Schedule 1 Controlled Substance."
That means it's illegal for anyone to have in any form.
After finding the first ad, 5 On Your Side did a little more searching and found dozens more CBD products available through Groupon. So, we asked, "Why is the site selling products the DEA says are illegal?"
We got an email that explains Groupon doesn't sell the goods, it only markets them. It went on to say, sellers are required to sign an agreement stating their products and services are legal. But when we asked what kind of checking Groupon does to make sure sellers are being honest, we got no response.
We also wanted to know, if CBD is illegal, why isn't the DEA going after the sellers, including stores right here in our area? The answer is two-fold.
"We have a finite number of resources, both financial and personnel. And we have to use those judiciously," said Collier. "We are primarily focused in this area on opioids and methamphetamine."
Collier added, despite what the label might say, there's no proof the products actually contain CBD.
"It's a wholly unregulated industry. There are claims that are made that, 'Hey, we put x or y in the product.' We don't know what's in it until we get a sample and we test it."
The bottom line is: CBD is illegal according to the federal government. And Collier said if you're buying it, you don't always know what you're getting.
The Missouri Hemp Extract Registration Program provides Missouri residents with intractable epilepsy a registration card that allows them to legally possess and use CBD oil in Missouri to treat intractable epilepsy.
© 2018 KSDK
Source: https://www.ksdk.com/article/news/local/is-groupon-selling-illegal-drugs/63-576052761