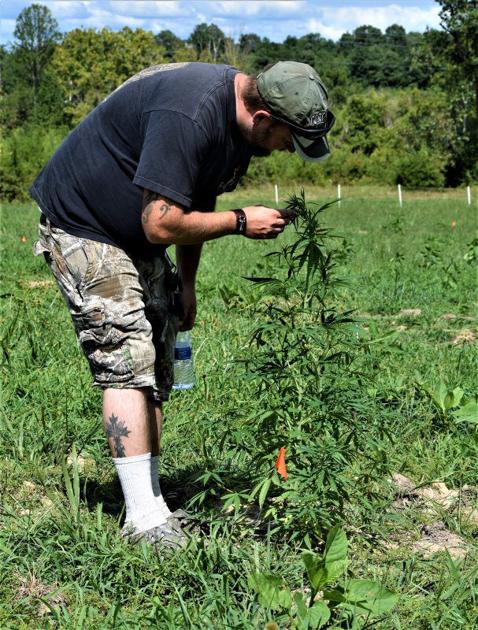 Chris and Kelly Slayton looked over their field of young hemp plants in Prince Edward County, Virginia, and noted that they were far behind the expected growth plateau for this time of season and said simply, "We planted too late, but we couldn't help it. We didn't get them planted until early June."
"There are 3,000 plants out there," Kelly Slayton motioned over the field. "We planted each seed by hand, and we are out here tending them three times a week."
According to the Virginia Department of Agriculture and Consumer Services, amendments to the Virginia Industrial Hemp Law, effective March 21 of this year, eliminated the previous "grown for research only" requirement that hemp cultivation and growth had previously been confined to in Virginia. The relaxed legislation resulted in an increase of industrial hemp grower applications that totaled 700 permits to grow 7,000 acres of hemp in Virginia for 2019.
There were 85 permits issued in 2018, by contrast.
The Slaytons said they don't think the state's registration and permitting agency, VDACS, was prepared to efficiently handle the onslaught of 2019 grower applications provoked by the amended legislation. They also said that the extended permitting process, which Kelly Slayton estimated to be 50 days, cost their crop precious growing time that may amount to lost revenue.
The 2018 Farm Bill had already dropped industrial hemp from the list of controlled substances, as long as industrial hemp crops maintained a THC level of 0.3% or lower. THC is the psychoactive compound in marijuana. Industrial hemp grower permits were previously issued as part of various research programs only.
The newly amended legislation allowed for the commercial production of industrial hemp with the mandated 0.3% or lower THC levels as long as growers registered with the state.
The legislation sparked a dramatic increase in an already growing interest in the versatile plant as an alternative crop, in part by established farmers, some looking to industrial hemp as a means of diversifying to offset the loss in market value that conventional crops, such as soybeans, are suffering due to the U.S.-China trade war — an escalating series of tariff retaliations between the two nations in which China's latest response has been to cut out all U.S. agricultural imports.
The relaxed industrial hemp legislation has also piqued the interest of small growers, such as Chris and Kelly Slayton, because of the therapeutic properties and medicinal value of a different, naturally occurring compound in the hemp plant, cannabidiol, or CBD, as well as the lucrative potential it carries. CBD is often processed into an oil, although there is current research into its effectiveness in transdermal patches, applied to the skin and absorbed over time. The oil is most often taken orally.
The flower of the hemp plant can also be smoked, allowing for the effects of CBD without the psychoactive affects associated with marijuana due to the near absence of THC in industrial hemp. This is the specific area the Slaytons are working to enter with their crop. Reports indicate that smokable hemp flower is one of the fastest growing areas of industrial hemp revenues today. According to Kelly Slayton, the estimated low-end return on 76 plants averaging one pound of yield per plant was $7,600. The high-end return for the same number of plants averaging five pounds yield per plant was as high as $133,000.
There is plenty of documentation involved in growing industrial hemp, and there is still a bit of a gamble involved.
All hemp growers must provide GPS coordinates of their crop's location, planting reports as well as projected harvest dates.
Additionally, if any of the crop tests above the 0.3% allowable THC level, the entire crop must be destroyed.
"We just think that it is important to get the word out that there are areas where the program could improve. Proper growing time and climate is important to this crop. We could not purchase our seed until we were permitted, which was May. Once we had the seed there was still prep and then planting," Slayton said.
Currently, there is scientific research into the use of CBD as a treatment for a myriad of medical conditions such as anxiety, chronic pain, heroin addiction and prostate cancer.
Hemp has been grown as a crop in America since colonial times. At one time it was required that each farm grow a certain acreage of hemp to contribute to the manufacture of ropes and sails for ships of the British Royal Navy. Since then, uses for the oil and fiber of the versatile plant, from health food to cosmetics, paints, plastics and even biofuels, have been developed, and more are currently being researched.
The federal government crippled hemp production in 1937 in its campaign against marijuana. It was not until 1997 that the economic feasibility of industrial hemp as an agricultural crop was again investigated and considered by federal committee.
Source: https://www.lancasterfarming.com/farming/industrial_hemp/hemp-growers-face-start-up-challenges/article_e77d5dd7-f620-5bce-a5df-9222279a41e0.html