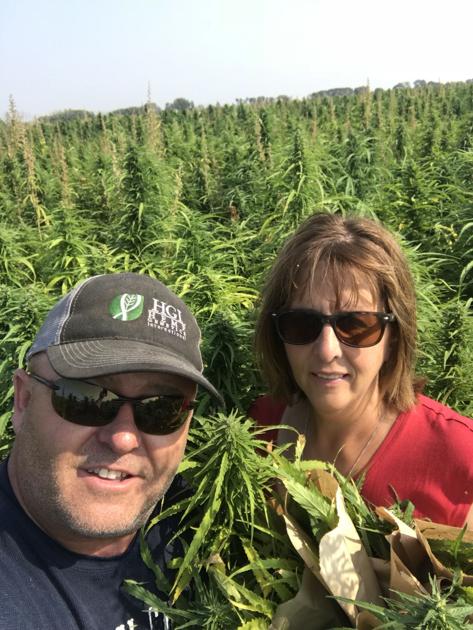 When Canada legalized hemp, Jeff Kostuik was working as a diversification specialist with an an applied research agronomy background.
That gives him a unique perspective on the road ahead for hemp, which has just been legalized in the United States.
Kostuik today grows pedigreed seeds for Hemp Genetics International on an 8-acre tract of land in Canada. He'll be among the speakers coming to Williston for the 66th annual Hard Spring Wheat Show March 12 and 13 at the Raymond Family Community Center.
The sessions include a wide range of topics, starting with climate scientist Dr. Adnan AkyĂĽz, who will give the weather outlook for the upcoming growing season. His presentation is scheduled for 8 a.m., Tuesday, March 12.
There are also sessions that day on nutrient management with agronomist Dr. Dave Franzen, and a marketing outlook with economist Dr. Frayne Olson, as well as several others.
Day two of the conference begins early with a free agriculture appreciation breakfast, sponsored by AMerican State Bank, at 7:30 a.m. Sessions that day include succession planning, soil health, commodity updates and more. Singer songwriter Jessie Veeder will headline the luncheon awards program.
Kostuik's program is part of the dinner 5:30 p.m. Tuesday evening, which has been sponsored by Williams County Farmers Union. The menu includes Famous Dave's Georgia Chopped Pork.
Kostuik told the Williston Herald he plans to focus on the particulars of growing industrial hemp.
The crop is well suited to the climate of the region, and works well rotations that are common in North Dakota, including canola, wheat, barley and pulses.
But there are tricks to growing it successfully.
"It's a little bit different than growing any other crop," Kostuik said.
In addition to growing recommendations, Kostuik will also talk about variety selection from an agronomic standpoint.
"I do wear my old extension hat there," he said. "Obviously, I believe in the seed we sell, but there are other seeds out there that may fit other markets. So I'm fairly open-minded, and it will be more of an agronomy session on how to grow hemp for a number of different uses, including fiber, grain and CBD crushing."
While hemp is in the cannabis family, it does share some diseases with other families, namely sclerotina.
"It's considered an oil seed in that regard, but it's got a tap root," he said. "And it's not as much of a miracle crop as you might read. It definitely can play host to some insects and diseases."
Hemp markets are likely to take much longer to grow and develop than it will take for farmers to figure out how to grow hemp, Kostuik added.
Canada has had legal hemp since 1998, and is still developing its own hemp market and has infrastructure.
"The supply-demand has not quite been figured out yet," he said.
Along the way, however, the crop is becoming more and more of worldwide commodity. And where Canada had been the leader in food, and much of Europe and China were focused on fiber, some of those interests are beginning to flip. All of which points to rising demand curves in the crop's future.
One issue that has continued to hold hemp back is the stigma of belonging to the Cannabis family, which makes it a kissing cousin to marijuana.
However, despite its familial relationship, hemp doesn't contain enough THC to get someone high.
"People still want to know, will I fail a drug test if I consume hemp hearts or oil?" Kostuik said. "So consumer awareness and market development, and diminishing the stigma around hemp are first and foremost important aspects of developing the crop."
CBD oil has attracted many headlines, but Kostuik believes the nutritional value of regular hemp oil, with its omega fatty acid profiles, is an overlooked area where the product can gain traction, particularly in the health food market.
Kostuik said he will also throw up a few caution flags during his presentation.
"There are so many articles coming out, saying that hemp is going to save the family farm," he said. "It does provide some good income, but it is subject to market fluctuations like any other crop, and producers need to be aware of that."
Source: https://www.willistonherald.com/news/hemp-grower-to-give-wheat-show-dinner-keynote/article_6f7dfdea-404a-11e9-9bdb-838ecbe65391.html