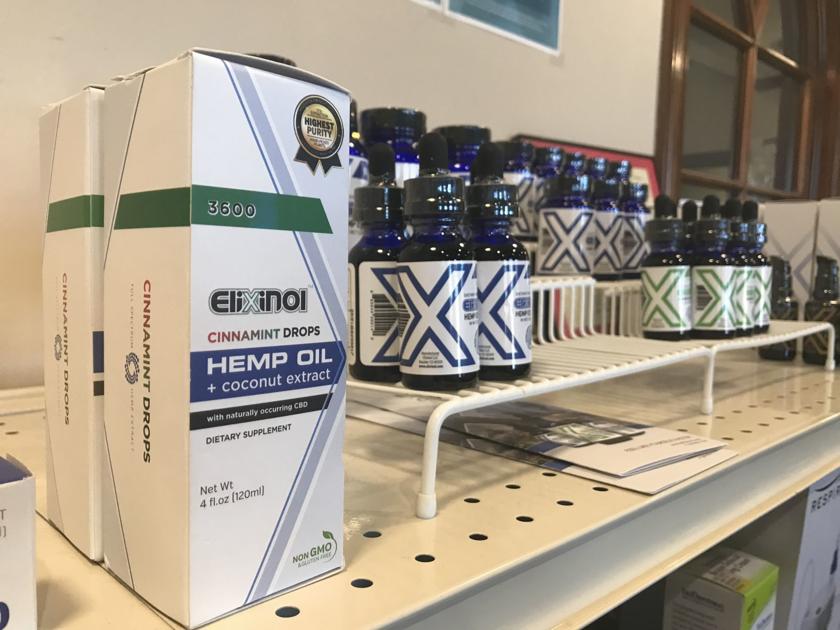 TUPELO • As Mississippi voters begin mulling a medical marijuana ballot initiative in November, hemp-derived CBD already has a thriving market in place.
Since the Farm Bill redefined hemp's status and took CBD off the controlled substances list, the cannabinoid compound is being sold everywhere from specialized stores to gas stations. It exists in a no man's land without clear FDA guidelines and enforcement.
"It's kind of the wild, wild West," said pediatric neurologist Dr. Brad Ingram, who is leading a promising study using CBD to address severe epilepsy at University of Mississippi Medical Center. "Your toothpaste is more regulated."
Last week, Mississippians for Compassionate Care turned in more than 100,000 signatures from registered voters to get Initiative 65 on the November ballot. If passed, it will allow doctors to prescribe medical marijuana for certain medical conditions under the regulation of the Mississippi Stat Department of Health. Thirty-three other states and the District of Columbia have legalized medical and/or recreational marijuana use.
The FDA has approved only one CBD prescription medication, Epidiolex for specific subsets of epilepsy. In November, it issued warning letters to 15 companies that were marketing CBD products with claims that it could prevent, treat and/or cure serious diseases like cancer. CBD is also considered an unapproved food additive and should not be considered a dietary supplement.
Researchers see great promise CBD, but remain concerned about the lack of regulation and clinical research.
"The marketing has gotten way ahead of the testing," said Larry Walker, director emeritus of the National Center for Natural Products Research at the University of Mississippi.
CBD, which is short for cannabidiol, is actually one of hundreds of cannabinoids found in hemp and marijuana. Unlike THC, it doesn't deliver a high. In addition to epilepsy, it appears to have properties that reduce inflammation and anxiety and assist with sleep.
"I think this is a compound that deserves a lot of attention," Ingram said.
Unlike other over-the-counter health and beauty products, there are no guarantees for consumers that the label matches the contents. When the FDA has audited CBD products, they've found everything from olive oil and oregano to a vape pen with fentanyl, Ingram said. The research is still developing around what conditions CBD might help and proper dosages.
"It's really a mixed bag," Walker said. "There's a lot of fraudulent projects (but) you do have ethical companies doing the right thing and finding good quality product."
Because CBD affects the central nervous system, it shouldn't be considered for children and adolescents outside of epilepsy. Because of the way CBD is metabolized by the liver, there are real concerns about interactions with other drugs and potential for damage. It should not be inhaled with e-cigarettes as the vitamin E compound it is paired with in vape juice is associated with lung injury.
"It certainly warrants caution," Walker said. "Just like any other medication, if it's strong enough to do you any good, it's also strong enough to do harm."
Walker suggests that people interested in CBD seek out pharmacists and health food retailers who are well established, who take care with their products and have good reputations.
"Buying over the internet is really risky, unless you know the company," Walker said.
Shop smart
A great deal of research went into the decision to offer CBD at Zip Scripts in Tupelo, said pharmacist Stump Gilmore. The pharmacy's former compounding pharmacist was well-versed in the field, having participated in research at Ole Miss.
The supplier they decided to use, Elixinol, raises its own hemp plants, processes them and uses third party labs as part of its quality control process.
"We thought they had the best process and the best quality control," Gilmore said.
CBD shouldn't be considered a cure, and customers are strongly counseled to involve their physician in any decision to use CBD and consider how it might interact with their medications, Gilmore said. Customers have reported good results with anxiety, inflammation and sleep.
"I wouldn't stop any medications without the OK of my doctor," Gilmore said. "I'd make sure to follow up on any lab tests" recommended to track liver function and medication levels.
Interactions with other medications need to be watched closely.
"Sixty percent of drugs go through the liver," Gilmore said. "There can be problems, but the incidence of interactions is low."
Medications that require precise levels, like blood thinners and immunosuppressants, would likely be the most vulnerable to adverse interactions with CBD, Gilmore said. People also need to consider over-the-counter medications.
"Tylenol is probably the most common thing," because like CBD it can be hard on the liver, Gilmore said. "If you are taking (acetaminophen) every day, I'd approach it cautiously."
Likewise, alcohol use should be considered.
"We don't know (if there's a problem with taking CBD and alcohol together), but it's a logical potential risk," Walker said.
CBD appears to be most reliably delivered by drops that are absorbed under the tongue or capsules. Other products should be considered with a pound of salt. Because of CBD's popularity, it's popping up in all kinds of products like lipstick, candles, drinks, gummies and edibles.
With exception of some topical creams applied directly to painful joints, there are no indications that CBD can be absorbed effectively through the skin.
"CBD absorption doesn't seem to work that way," Walker said.
The products are likely, at best, ineffective.
"You don't have enough CBD in that to do any good," Walker said. "It's a marketing gimmick."
CBD in edibles like brownies and gummies would have to go through the whole digestive process to enter the blood stream, Gilmore said.
Promising results
The UMMC clinical trial, which uses CBD derived from marijuana, has seen good early results. The 10 children participating in the study had such severe, uncontrolled epilepsy that they were not able to walk or talk. In partnership with the UM School of Pharmacy, the medication is produced from marijuana grown and processed in Oxford.
"Our experience has been very, very positive," Ingram said. "We've had significant seizure control."
There have been no significant adverse reactions from the 10 children in the study, and all chose to continue when the study was granted an extension in August. Two patients are doing so well, the researchers had to re-examine if they still met the criteria, Ingram said.
"We will be changing a few things in the way the trial is conducted," Ingram said in a press release. "In the first six months of this trial, we were looking at tolerability. Now the trial's focus will shift to how well patients are responding and whether we are still seeing a positive response in 12 months."
While there remains a great deal of research to be done, Ingram anticipates there are a number of conditions that could benefit from cannabinoid-based therapy. The medical community needs a great deal more information about how and where to use CBD before it becomes a regular part of the health care tool box.
"We're not there yet," Ingram said.
Source: https://www.djournal.com/news/local/hemp-derived-cbd-widely-available-in-mississippi/article_28719daa-d133-5cfa-b7a4-412cbc637163.html