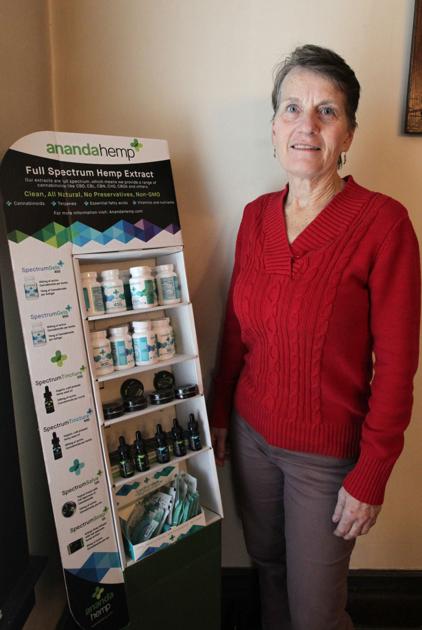 HUNTINGTON — According to a new estimate from cannabis industry analysts the Brightfield Group, the hemp-CBD market alone could hit $22 billion by 2022.
CBD, or cannabidiol, is a non-psychoactive cannabinoid found in cannabis. It has had a surge in popularity over the past couple of years. Today, CBD products are legally sold in West Virginia, while medical research is ongoing regarding CBD's potential for combating pain, anxiety, PTSD, epilepsy, gastrointestinal disorders and others.
While industrial hemp is of the same species of plant as marijuana, it's genetically and chemically different. Hemp contains 0.3 percent or less delta-9 tetrahydrocannabinol (THC), the narcotic chemical found in marijuana.
Unlike THC, the chemical compound that gives weed its signature effect, CBD has been shown in studies to help with everything from PTSD and anxiety to MS and epilepsy — without getting you high. A recent study in the New England Journal of Medicine concluded that CBD can reduce the rate of seizures from a form of epilepsy.
Jerie Laishley, owner of Appalachian Forest Herbs in Huntington, has been in business selling native plants and herbs for about five years, but began selling CBD herbal medicine products at her store, Appalachian Forest Herbs at 307 6th Ave. in Huntington, in October 2017.
"I went to a local hemp farm and toured the fields and processing lab," she said. "I learned the hemp oil may help with my inflammatory arthritic pain. I had such good results that I started selling the hemp oil, gelcaps and salve."
Laishley said her wish is that people in pain would try hemp oil before they use opiates and narcotics.
"It has worked well for me," she said. "This might be my small contribution to try to decrease the opioid epidemic in this area."
KALI Wellness, located at 820 8th St. in Huntington, is one of the latest retail outlets to offer CBD and other hemp-derived products.
KALI Wellness also offers infused massage therapy by Thomas McFarland, and a host of other holistic wellness services will be offered in the future, according owner Erin Adair, who is also a hemp cultivator.
Adair, 37, had an industrial hemp farm in Wayne County last year. She said none of the 1,500 plants on her farm last year contained THC.
"My goal is not just to sell the hemp-derived products, but to also educate people about hemp and all its uses and benefits," Adair said.
Adair says CBD is an anti-inflamatory that can help with pain, but it is often misunderstood.
"The spectrum of medical benefits is so large, from anxiety to epilepsy to chronic pain and much more," she said.
Adair's passion for the health benefits of cannabis came after she lost both her father and a cousin in opioid-related deaths. After undergoing chemotherapy and radiation treatment, her father began taking a prescribed opioid. It proved to be too much for his body to handle. Her father passed away in August 2012.
"Most addictions start because someone was prescribed a medication," Adair said. "(Hemp) can help, and it's accessible. Whatever I need to do to help, I'm here. We can get people back to a healthy state of mind."
Above all reasons, Adair simply believes in the healing power of hemp. She said the plant aids in the human body's natural processes and hopes that by educating the general population, hemp growth can expand even further in her home state. It can help heal an area whose battle against addiction has been hard fought.
"I think the biggest thing is that we have an endogenous endocannabinoid system in our body," Adair said. "This plant helps regulate if we're in a deficiency state. We naturally produce it. I want to help people understand that the stigma has to go. Hemp is nutritional, it's got medicinal values, and countless other uses. We can help heal people."
Research also suggests that adding cannabis to opioids makes opioid use safer, according to Adair.
"Cannabis can prevent opioid tolerance building and the need for increased dosage," she said.
According to the American Medical Association, passing a state medical cannabis law reduced opioid overdose deaths by a 25 percent average.
When President Donald Trump signed the new Farm Bill in 2018, industrial hemp was separated from its cannabis cousin, marijuana, and therefore removed from the list of scheduled drugs. Now farmers can grow hemp like any other cash crop, transport it across state lines and use the plant in the processing of numerous products.
"One agricultural initiative that West Virginia has been way ahead on is the development of industrial hemp," said West Virginia Department of Agriculture (WVDA) Commissioner Kent Leonhardt.
In 2002, the West Virginia Legislature tasked the West Virginia Department of Agriculture with setting up a program to support industrial hemp research. This program sat dormant until Congress, through the 2014 Farm Bill, allowed industrial hemp research pilot projects to be established under state departments of agriculture.
In 2016 the WVDA licensed nine individuals to cultivate 13 acres of industrial hemp as a part of the department's research project in collaboration with West Virginia University.
In 2017, the state had 46 growers and in December 2018 the WVDA had received 170 applications to grow industrial hemp, said Cresent Gallagher, communications director with the WVDA. The WVDA has seen a 300 percent increase in applications for the 2019 growing season.
"We expect to see the number of growers increase each year," he said.
Leonhardt says the United States Department of Agriculture will, over the next several months, promulgate rules and regulations.
"From there, the public will have its say, and the agency will adjust," he said. "Once those rules are finalized, West Virginia will submit its plan to manage the state program, based on requirements laid out by the USDA. This process is no different for the numerous other programs the WVDA works in cooperation with USDA."
In the meantime, Leonhardt says the WVDA and West Virginia's industrial hemp program will be in a transition period.
"We will continue to operate under the current rules and regulations until the USDA establishes its new framework," he said. "The WVDA will work with our farmers to understand these changes as they come down from the federal government. Our goal is to ensure a smooth transition through an 'educate before regulate' mentality. We want to grow this industry, not hinder it. It is clear our representatives in Washington support a robust industrial hemp industry in the United States, and they have entrusted state departments of agriculture to carry out their intentions."
Numerous challenges for West Virginia hemp
There continues to be a lot of excitement around growing industrial hemp, but also numerous challenges ahead.
"Our challenge will be to match this excitement with the resources for proper management," Leonhardt said. "As of right now, the WVDA receives no state or federal support to manage the program. We lag behind states like Kentucky, which will collect upwards of $500,000 in fees to support four full-time employees. While we work with the legislature to find ways to bring in more resources, we know we cannot operate this program on the $9,000 in fees we collect."
Leonhardt said everyone must work together to tap into this new market.
"We need support from Governor Jim Justice and our West Virginia Legislature as we work through this process. We need to work with law enforcement to ensure illegal drugs are not being grown alongside legal crops," he said. "Farmers will have to understand how to comply with laws while formulating best practices. As the regulatory agency, the WVDA will need to provide more support to our farmers in the early years, as this industry gets off the ground."
Leonhardt says the WVDA is ready to help farmers take advantage of this new agricultural frontier.
"Our promise to them is we will work with our federal partners and the Legislature on this and other projects to bring economic diversity to the state, he said. "Failure is not an option. We must succeed or continue to fall behind."
According to a 2017 Congressional Research Service Report, Americans purchase around $580 million worth of hemp-based products each year and that number is expected to grow.
In Kentucky, the state agriculture commissioner is forecasting record numbers of hemp growers and processors.
Last year, state agriculture department said it has approved 225 applications from growers to produce up to 12,018 acres of hemp for research purposes this year.
"Industrial hemp in 2018 was the biggest year yet, with the most growers and the most processors and we think the most acres," Kentucky Agriculture Commissioner Ryan Quarles said.
In 2017, Kentucky's farmers planted more than 3,200 acres of hemp, up from 2,350 acres in 2016 and 922 acres in 2015. Experimental projects began in Kentucky with 33 acres in 2014.
To date, 41 states have defined industrial hemp as distinct and removed barriers to its production. Now freed from the list of federally banned substances, hemp and hemp-derived CBD products are expected to continue on the upward trend.
Source: https://www.herald-dispatch.com/news/hemp-derived-cbd-market-booming/article_a0220b24-4407-11e9-a22c-bbd173808c9a.html