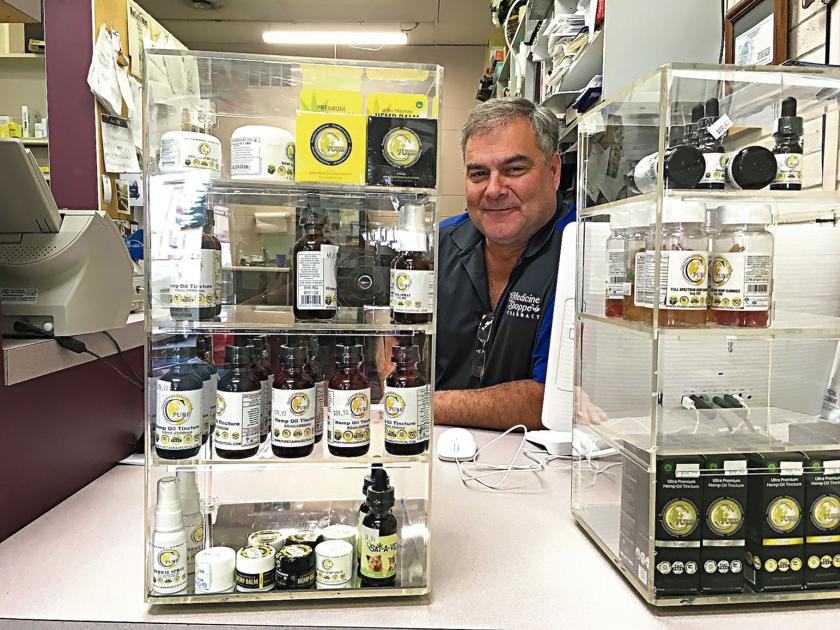 <![CDATA[
]]>
<![CDATA[
]]>
Since his days in the army in the 1980s, Eric Lee Perry has has back problems.
Over the years, additional stress and anxiety caused the 54-year-old pharmacist to experience problems with his stomach, sleep and overall well being.
"From time to time doctors recommended various drugs to relieve the pain, but I've been hesitant," said the former New Castle fire chief.
"As a fireman and as a pharmacist my mind has had to be sharp. I couldn't risk it being clouded by the side effects of painkiller drugs. I've looked for alternate medicines. CBD is something that works for me."
At a recent pharmaceutical seminar, Perry said he crossed paths with a medical marijuana contingent who suggested he might find relief by going down that path.
"But this involved smoking, vaping, in light of COPD, lung cancer and others respiratory problems, I couldn't in good conscious recommend that," he said.
Then he learned of CBD —Cannabidiol — an organic, non-narcotic, non-addictive, all natural substance extracted from hemp plants. The substance has been found to be effective in managing chronic pain. It also slows potential at limiting inflammation, relieving symptoms of nausea and anxiety and has been helpful in treating insomnia, arthritis, multiple sclerosis, some cancers, diabetes, immune system responses, epilepsy, depression, seizures, schizophrenia, and some of the effects of Alzheimer's.
Perry said he came home with samples and shared them with customers he believed might benefit — including himself.
"I tried the oil. In one week, my nausea was gone and I could eat again," he said. An ointment containing CBD was provided to a woman with severe arthritis.
"It doesn't cure arthritis, but after a week or so she told me she could open a ketchup bottle, something she hadn't been able to do in years," he said. "It's transformative, that's the only thing I can say. It doesn't fix you, but it lessens symptoms and allows you to function."
Earlier this month Perry began selling CBD — Cannabidiol oil — at his Medicine Shoppe Pharmacy at 1707 Wilmington Road.
Although a part of the cannabis family, the product carried by the pharmacy lacks THC (tetrahydrocannabinol) the substance in marijuana that creates the "buzz" associated with marijuana.
"It's safe and legal," Perry said, adding, "Since there is no THC you can use this, reap the benefits and pass drug tests — unless you consume unusually large doses."
On June 14, Perry invited the public to learn more about CBD. Spokesman Michael Sena conducted a workshop on the benefits of the substance to more than 40 people who jammed the pharmacy. Most attending, he said, were familiar with CBD and had questions about purity, dosage and availability.
His presentation can be viewed on the pharmacy's Facebook page.
Perry said he hopes to invite Sena back in August to a larger venue.
"CBD can make life-altering changes that seem this side of miraculous," Sena told the crowd.
Sena explained CBD is a natural substance produced not only in Cannabis Sativa, which is marijuana and hemp, but also produced in limited amounts the human body.
"This balances the body's own endocannabinoids system in balance and allows the body to cure itself," Sena said.
Consider a supplement, a doctor's permission or prescription is not needed, he said, adding that CBD has no known side effects.
"Even if you're taking other medications you can take this — except in one instance," he said. Organ transplant recipients are advised not to take it.
"It boosts the immune system," he said. "Transplant recipients take anti-rejection drugs so the body does not fight the transplanted organ. This would work against that."
Sena said research is finding that CBD has analgesic and anti-inflammation and anti-anxiety properties but no psychoactive effects.
Sena also noted that the product is expensive and Medicare and insurance does not cover the cost.
Prices vary depending on dosage and could be as much as $400 per month for high dosages.
"But this is something that you will know right away, in five days to a week, is it will work for you. If it does not, you're taking the wrong dosage."
<![CDATA[
]]>
Source: http://www.ncnewsonline.com/news/hemp-based-oil-makes-its-way-to-town/article_55fd9ae8-7998-11e8-afbc-0f05494a006e.html