Top manufacturer and brand of natural, organic and pure CBD products exhibiting at East Coast natural products trade show in Baltimore Sept. 13-15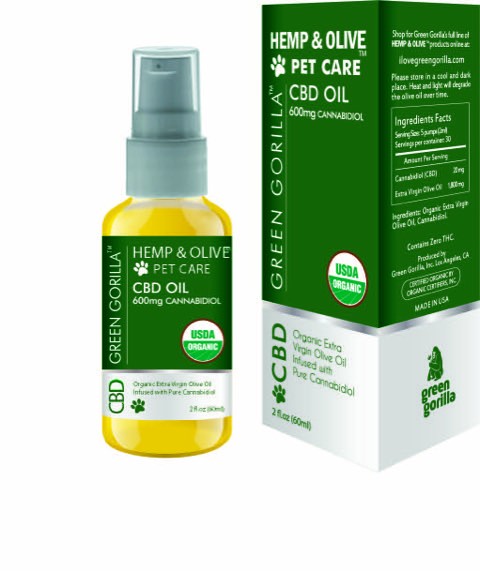 LOS ANGELES – September 12, 2018 – (Newswire.com)
Green Gorilla™, a leading manufacturer and brand of cannabidiol (CBD) products, will showcase its line of Hemp & Olive™ organic CBD products at the annual Natural Products Expo East industry trade show Sept. 13-15 at the Baltimore Convention Center in Baltimore, Maryland. Green Gorilla™ will be at booth #6530.
Green Gorilla™ recently launched a new division, Gorilla FarmCo, to plant, grow, harvest and process hemp in the United States for use in Green Gorilla™ products and establish a scalable hemp-growing operation to bring consumers seed-to-shelf certified organic CBD products. The company also just launched the first 100 percent, all natural, botanical, organic CBD balm and lamb freeze-dried dog treats, which are now available online and on retail shelves nationwide.
Green Gorilla™ CBD products are USDA NOP Certified Organic, non-GMO, vegan, paleo, gluten-free, sugar-free and THC free. The Pure CBD Oil products are formulated with organic 99+ percent pure cannabidiol and the Whole Plant Full Spectrum CBD Oils are formulated with  25 percent active cannabidiol along with GG BioEnhanced Complex™, Green Gorilla's proprietary blend of certified organic botanicals, herbals and essential oils to further optimize bioavailability. The products are then crafted with certified organic extra-virgin olive oil with some of the highest polyphenol counts, making it an optimal courier for CBD. The product line includes supplements, pet care, horse care, topical balm and lip balms.
Green Gorilla™ will also be promoting its premium all organic Whole Plant-Full Spectrum CBD oil supplement and CBD pet care line.
"We have been diligently working to provide consumers with high quality, all natural and organic CBD products made with the finest ingredients and in facilities that use Good Manufacturing Practices," said Steven Saxton, founder and CEO of Green Gorilla™. "We are giving retailers the products and tools needed to profitably and responsibly bring CBD to their customers." 
Green Gorilla™ is an international brand in the hemp and cannabis industries and a leading manufacturer of cannabidiol (CBD) organic supplements, topical, pet and horse care products using GG BioEnhanced Complex™ for the highest bioavailability. The company markets its supplements and topical products under the brand Hemp & Olive™ and its organic biodynamic agricultural products for the cannabis industry under the Master Grower™ brand. Green Gorilla™ was established in 2013 by founder Steven Saxton. Green Gorilla™ products are sold at 1,000+ retailers in the U.S. and online. More information is available at ILoveGreenGorilla.com, Twitter: @GreenGorillaInc, Instagram: @GreenGorilla, Facebook: /ILoveGreenGorilla, GreenGorilla.com.br (Brazil), GreenGorilla.ca (Canada) and Mastergrower.pro. Third-party lab tests of Green Gorilla™ CBD products are available at ILoveGreenGorilla.com/science. 
Note to media: Images are available for download at HonigCompany.com/media.
FORWARD-LOOKING STATEMENTS: This press release may contain certain forward-looking statements within the meaning of Section 27A of the Securities Act of 1933, as amended, and Section 21E of the Securities Exchange Act of 1934, as amended. Readers are cautioned that all forward-looking statements contained herein are reasonable, any assumption could be inaccurate and therefore, there can be no assurance that the forward-looking statements included in this press release will prove to be accurate. In light of the significant uncertainties inherent in the forward-looking statements included herein, the inclusion should not be regarded as a representation by the Company or any other person that the objectives and plans of the Company will be achieved.
Press Release Service by Newswire.com
Original Source: Green Gorilla Brings Line of All-Natural Certified Organic CBD Products to Natural Products Expo East