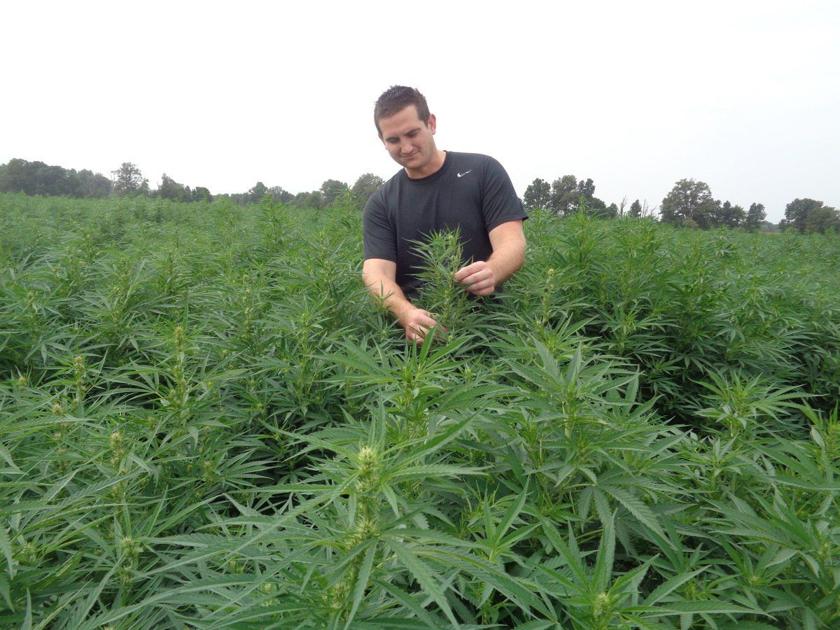 FARMINGTON — Matt Colley looks out over his 300 acres of hemp growing in the Farmington sunshine and sees what he believes will be Kentucky's cash crop to replace tobacco.
"It's a brand new market, said Colley, 30. "We're just hitting the tip of the iceberg on hemp."
Colley is primarily a hog and chicken farmer, but he also grows tobacco, corn, soybeans and wheat. He added hemp this year, becoming Graves County's only hemp farmer. Colley experimented by fertilizing his hemp with hog manure to decrease the production cost. The move has also allowed him to stay away from herbicides and pesticides and produce a food grade crop.
Every decision in growing industrial hemp has been a similar experiment, Colley said.
"We had no idea what hog manure under hemp might do," he said.
Colley has worked with GenCanna, the hemp processor with which he has contracted, to see how best to cultivate the crop in the western Kentucky heat and humidity. So far, he and one Calloway County farmer are the only people he knows growing hemp for canninoid (CBD) oil, although some Carlisle County farmers are growing it for seed. They are all learning day by day, he said.
Even about six weeks away from harvest, Colley hasn't decided the best way on how to bring in his crop. Because the stalk and flowers are used for CBD oil and not for seed, combines won't work. Instead, he said, if they can't find a better way to bring in the crop without damaging the oils in the plant, hand cutting each stalk may be required.
Colley has already learned enough that he plans on increasing his hemp acreage next season.
The crop costs more than tobacco to produce — as much as $32,000 an acre from soil preparation to final, dried product — and is slightly more labor intensive, but it has much more potential, he said. Currently, he said, tobacco processors contract a small amount of acreage with many different tobacco farmers. Farmers can't grow extra tobacco because with no auctions or price supports, there is no buyer for amounts produced in excess of the contract.
Farmers interested in producing hemp also need to contract with a processor, but the limits are much more generous, Colley said.
Future hemp crops should also be more cost effective, he said, as both the University of Kentucky and Murray State University are working to develop cultivars — varieties of the plant — that perform better in Kentucky's climate.
Federal legislation could also help, he said.
Although his farm is already licensed and approved in Kentucky, the federal farm bill under consideration in Congress includes language legalizing industrial hemp production throughout the country. Colley said he believes that will lead to more interest from both farmers and processors.
"The sky's the limit on this crop," Colley said.
Still, hemp still has raised a few eyebrows, especially since without chemical testing the plant is indistinguishable from marijuana.
"We get lots of people pulling in here, wondering what in the world it is," Colley said.
The main difference in the two plants is that hemp has no more than 0.3 percent of THC, the chemical in marijuana that causes users to feel a high. That chemical is kept in minute amounts to increase the CBD oil in hemp. CBD oil is commonly sold in creams, pills and droplets. Although not licensed by the U.S. Food and Drug Administration, third-party sellers market the product to treat seizures, improve concentration, relieve anxiety and insomnia and reduce pain and swelling, but it does not produce a chemical high.
Although some people have expressed concern because of the identical appearance of the two plants, Colley quickly reassures them. First, he said, the Kentucky Department of Agriculture inspects and chemically tests his crop regularly. Secondly, he said, if a marijuana plant were to start growing within miles of his hemp, the two plants would interact, causing the marijuana to lose its THC.
Growing hemp is not for everybody, Colley said, but he hopes his crop will lead to more farmers to consider it.
"Read up on it," was his advice to those who might be interested. "Don't listen to the negative about it. Make your own judgment."
Source: http://www.paducahsun.com/news/local/graves-farmer-expects-bright-future-for-hemp/article_f43b2ae1-5e0f-5d6b-ba71-cab128b1701c.html