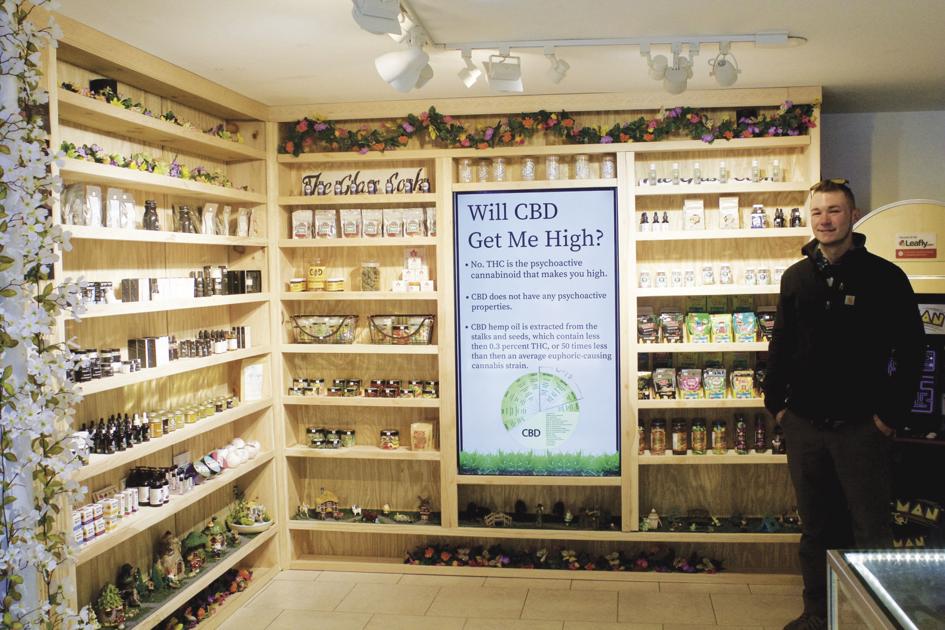 FRYEBURG, Maine — Tom Fuller opened The Glass Cook last year after taking glass-blowing classes in Burlington, Vt., in the winter of 2016, earning a certificate in the craft from the Bern Gallery.
A Fryeburg native who attended Fryeburg Academy, Fuller then returned to his hometown and built his own studio in order to hone his craft. "I spent 5-6 hours a day practicing, and after a month of that I felt really confident in blowing glass," he said.
Fuller then decided to expand his business to marijuana plant caregiving.
He renovated his Fryeburg shop with his girlfriend Makayla and employee Jake. Together, the three turned the basement space into a beautiful retail shop, complete with a waiting area.
Fuller has the shop divided so the front is a CBD shop for anyone 18 years old and over, where he also displays his glass. A separate area is for the medicinal marijuana cardholders.
Fuller says part of being a dedicated caregiver is never being off-the-clock. "You end up spending your free time on the couch just researching or ordering. If I want to close at 7 p.m. and I'm finished making a product at 7 p.m. then I still have to portion, package and label it, so really I won't be finished till much later. It's just hard to separate when you work out of your home," he explained.
But to Fuller, it's a labor of love.
The Glass Cook sells both medical marijuana and CBD products. When it comes to edibles, Fuller makes them himself and enjoys the challenge of creating recipes and testing them.
This enthusiasm is evident when you consider that The Glass Cook offers over 130 different edibles.
Fuller says he works with other growers to supply his flower product, making sure that quality comes first.
In the spirit of supporting both local and small businesses, Fuller sources all his CBD products from brands he trusts.
Many of the providers are from New England, including Maine, New Hampshire and Massachusetts, but he also works with companies as far away as California.
Offering both full-spectrum and simply CBD products, The Glass Cook has something for every need.
Fuller also finds that often clients come looking for recommendations or need help in finding a product that's right for them.
"I get a lot of questions — sometimes they're the most difficult questions you can imagine. But I really value the feedback my patients give me. They'll come back and tell me exactly what works, what didn't work and how they felt, and I'll use that when making recommendations in the future," Fuller said.
A Silver Sponsor of the Home Garden Flower Show with Cannabis, The Glass Cook will have a booth at the show, which runs May 17-19 at the Fryeburg Fairgrounds.
Asked about being one of three largest sponsors of the show, along with Dirfy Generators (Gold) and the North Conway Olive Oil Co. (Platinum), Fuller explained, "I'm trying to give back to the community.
"I want to show that I'm involved in this community and not just here because they allow me to sell cannabis. I was living here before the town had even considered allowing cannabis. With this community allowing my business to be here, I want to support the community back," Fuller said.
For more information about The Glass Cook, call (207) 890-8817, go online to theglasscook.com or visit the shop at 295 Bridgton Road, Route 302, in Fryeburg.