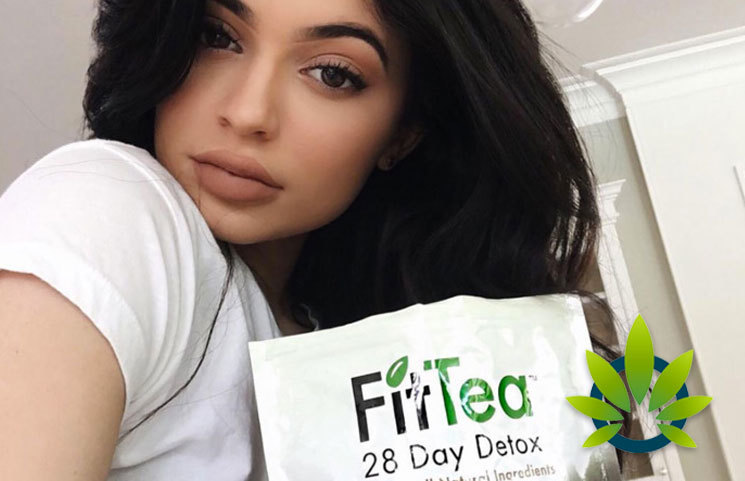 Fit Tea has launched a CBD-infused remedy called Happy Tea.
The new drink is being endorsed by Kylie Jenner.
Fit Tea is a company that has already made $75 million from their products, but Michael Gonzalez is looking to make a change. This new change will be the launch of Happy Tea, in collaboration with Kylie Jenner. The tea features cannabidiol (CBD), allowing the user to relieve their anxiety and even support mental health, according to an article by Grit Daily.
Several days ago, Jenner announced that she would be endorsing the brand through an Instagram post that featured a cannister of the Happy Tea. With 112 million followers, the post was likely to have already been seen by many potential customers. Much like Jenner, Kim Kardashian has already gotten involved in the CBD industry.
Fit Tea was originally established in 2013, and it has become one of the top teas in the detox market. It has been advertised by many celebrities on social media already for its 28-day detoxification regimen, and it has likely seen this kind of success as a result of "influencer marketing."
Gonzalez set out to create Happy Tea as a CBD product that was different from the other formulas in that it offered a delicious taste. Presently, there are three flavors available, including Zen Punch, Lemon Zen, and Mixed Berry, made from all-natural ingredients. It can easily be dissolved in water, and the company recommends blending the powder with 12 ounces of water.
Gonzalez focuses on mental health awareness, but this path has yet to gain traction, due to the stigma surrounding these health issues. He stated, "That is something that desperately needs to change," especially considering that millions of adults face anxiety disorders in their daily lives.
Presently, the purchase of CBD is completely legal in all 50 states, as long as the trace amounts of THC do not exceed 0.3% of the formula. While the Farm Bill made the sale, purchase, and cultivation of hemp-based CBD legal, the Food and Drug Administration still considers it to be a schedule 1 drug. The entity even approved a CBD oil called Epidiolex to treat specific types of epilepsy.
Source: https://timesofcbd.com/fit-tea-earns-kylie-jenner-endorsement-coinciding-with-happy-tea-cbd-detox-drink-mix/