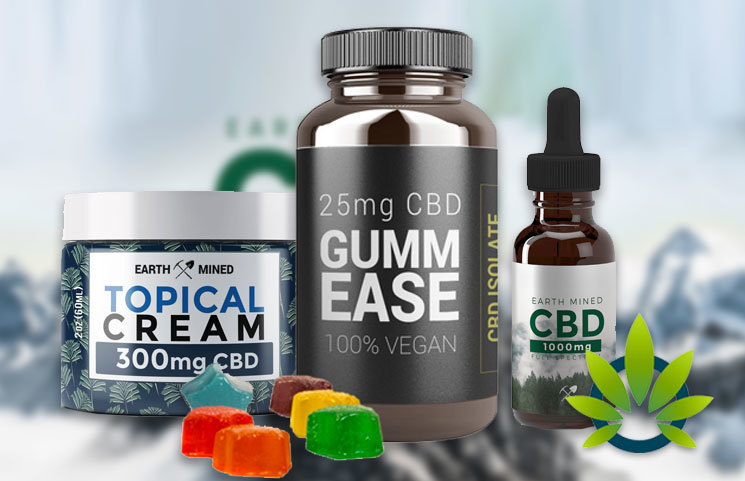 Earth Mined is the latest addition to an increasingly vibrant CBD industry. The store is dedicated to providing top quality CBD products to customers with transparent and honest business practices. Their CBD products are derived from full spectrum hemp that is grown in Kentucky, USA. They offer pure CBD products without any THC, and they are also organic, non-GMO, and vegan-friendly.
Whether you want to get rid of nausea, pain, or even increase your mental focus, research has shown that taking CBD can be very useful. Of equal importance is that you use quality CBD products, hence why it is crucial to ensure you get the best products. Below is a comprehensive review of Earth Mined and all its various products. They have a well-stocked store that features everything from tinctures, creams, and edibles to customized pills and a handy sample pack for those who are trying CBD for the first time.
Earth Mined CBD Product Line
CBD Gummies 25mg
Earth Mined 25mg CBD gummies are an appealing combination of effective natural relief with a tasty treat. These gummies are the perfect choice for those who are looking to avoid that CBD taste and want an easy way of getting their dose. The 20 gummies are enough to help with inflammation and relaxation throughout the month. Also, no artificial flavors are used, and instead the gummies have tasty fruit flavors.
A.M. CBD Pills with 25mg CBD and 100mg Caffeine
A great alternative to coffee, these Earth Mined CBD Am capsules deliver the perfect mixture of 25mg CBD and 100mg caffeine. It is ideal for starting your day as it provides you with a natural energy boost to get you started on the right track. This product also features coconut oil, which helps your digestive system. Overall, the caffeine and CBD combination will significantly improve your concentration and mental focus.
CBD Sample Pack 205mg, with tincture, pill and gummy
Many users get confused when they enter the CBD world as there are so many different products available. However, what is even more confusing is that you may not necessarily know the best delivery method to choose. Earth Mined has compiled some of the best full spectrum gummies, tincture and pills to help you get started on your CBD journey. The sample pack is easy to use and comes with straightforward usage instructions.
CBD Tincture
In addition to using the healthiest CO2 extraction method for their tincture, Earth Mined also uses full spectrum hemp that is free of heavy metals and pesticides. The result is a highly effective natural wellness product that will give you all the health-improving benefits associated with CBD. Best of all, they even list the third party test results on their website to showcase their dedication to providing the best quality CBD oils. You can choose from either the 1000mg or 2400mg varieties depending on your dosage needs.
P.M. CBD Pills with 25mg CBD and 3mg Melatonin
Perfect for unwinding and falling asleep, these P.M. CBD pills are a great addition to any lifestyle. The CBD and melatonin contents here help to regulate your sleep cycle, thus allowing you to fall asleep and also stay asleep. Melatonin has also been shown to have other benefits, including strengthening the immune system and fighting menopause symptoms. Earth Mined recommend taking one pill at least an hour before bed for best effects.
Topical Cream with 300mg CBD
Earth Mined Topical CBD Cream is designed to target the inflammation and pain caused by muscles, ligaments, nerves, and tendons. It quickly absorbs into the skin when applied on the problem areas, and its smooth texture means that you will not even feel oily after application. The Cream can be used to deal with neck and back pain, anxiety and stress, pain in the joins, sprains, and strains.
Key Features of Earth Mined Products
100% organic USA fresh hemp
Zero THC products
Free domestic shipping for orders above $50
Lab tested by third-party firms
A broad and diverse product range
Earth Mined Verdict
Overall, Earth Mined has some top-notch CBD products with consistent quality across every item. They are also transparent in that their products are lab tested by third parties, and they are also regulatory compliant with no THC or a psychoactive ingredient in their products.