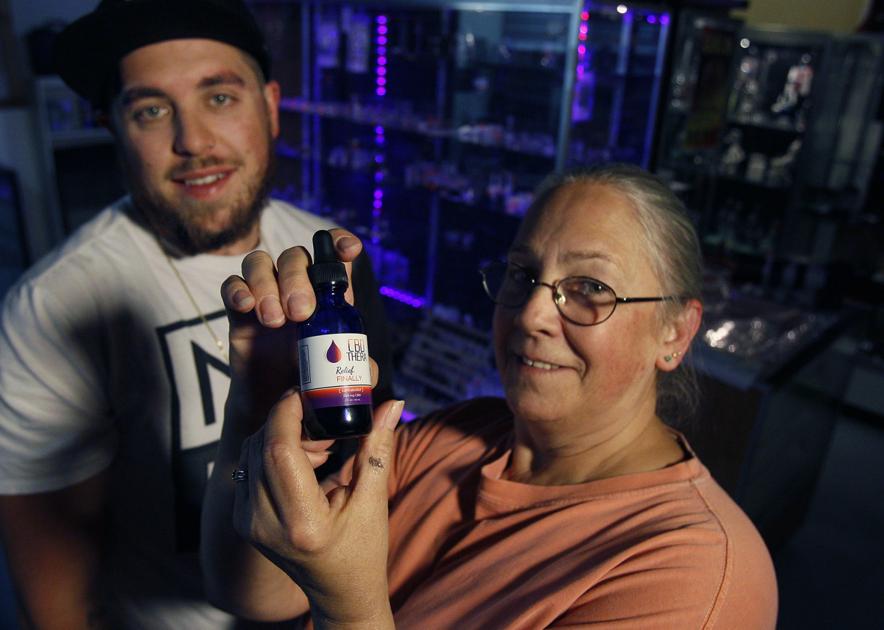 For the longest time, Deb Bergevine could not find relief from the arthritic pain in her hands and knees. Then she tried CBD.
Short for cannabidiol, the substance is an oil extracted from the hemp plant that has become popular with users who contend it is a cure-all for a number of health problems, both major and minor.
It contains little or no THC, the psychoactive ingredient in marijuana that makes people high.
Bergevine said she puts a few drops of it under her tongue, waits awhile, and then swallows.
From the first time she tried it, her swelling went down and her pain subsided, she said.
CBD also made her feel tired at first and she sat on the couch for a while and did nothing. But now, she said she is taking it a few times a day and swears by it.
And Bergevine is not just a user, she sells it in her store, Nostalgia 'N' More on Pleasant Street in Attleboro.
She said it has become one of her most popular items, and that she took in $1,100 last month from selling it on consignment.
One Wall Street study said CBD has become a $2 billion industry and is projected to grow to $20 billion by 2024.
Bergevine's son, Stephen Bergevine, said sales of CBD and vaping equipment are keeping their store alive to the point it no longer sells antiques.
And Michael Maloney, owner of CBD Thera, a manufacturer based in Brockton, said his sales tripled over the past year.
There is little doubt CBD is gaining in popularity.
As Bergevine spoke to a reporter, customersat Nostalgia 'N' More joined in unsolicited to tell their stories.
Stephanie Morgan of Attleboro said her friend vapes, or smokes, CBD to reduce his anxiety.
A man who wished to remain anonymous said it has helped his alcoholic friend stop drinking.
One customer, who also did not want her named used, said she has been investigating the product through online videos for her mother, who has a blood disease.
She said she believes the product can help combat cancer.
Stephen Bergevine said he recently burned his hand and used a balm with CBD in it and the burn quickly healed.
He also said people who work out strenuously use it before and after hitting the gym to reduce muscle pain.
Where's the proof?
But, while customers sing its praises, the medical profession is far from convinced.
It says most of the claims are unproven and there has been little research done to determine if CBD works and what side effects it might have.
In April, the Food and Drug Administration sent letters to several CBD companies warning them to stop making medicinal claims.
The letter ordered a halt to "unfounded, egregious claims about the products' ability to limit, treat or cure cancer, neurodegenerative conditions, autoimmune diseases, opioid use disorder and other serious diseases."
Dr. Igor Koturbash of the University of Arkansas for Medical Sciences said he has been studying CBD for two years and it has shown great promise in clinical trials for reducing seizures in certain rare forms of childhood epilepsy.
However, there is also evidence that its use can cause liver damage, he said.
Other than epilepsy, Koturbash said he knows of no proof it has any other medical benefits.
"There has been a lack of research on its safety and efficacy," he said.
That's were the issue gets a little confusing.
Dr. Peter Grinspoon recently wrote in a Harvard Health blog that a study in the European Journal of Pain found CBD helps with inflammation and pain from arthritis.
Yet the FDA has only approved it for epilepsy.
In Massachusetts, state regulations ban producers from making medicinal claims about CBD, but that has not stopped the claims from being made.
CBD Thera states plainly on its website, cbathera.com, that it relieves plain, kills bacteria, lowers blood sugar levels, helps with inflammation, and inhibits the growth of cancer cells, among other benefits.
Maloney, a former Plainville resident, said the claims are legitimate, regardless of what the state says.
He said there have been studies in Israel to back up the claims of helping with arthritis and there is the experience of customers.
"This is really helping a lot of people," Maloney said.
When it comes to government regulation, he said, "the left hand doesn't know what the right hand is doing."
The state also bans selling CBD in food.
CBD Thera does not sell CBD-infused candy, but several online companies and stores do.
Ann Scales, spokeswoman for the state Department of Public Health, said candy is a form of food and CBD is illegal in food.
However, the law would be enforced by local boards of health and they only inspect businesses that are licensed to sell food.
If a store is selling CBD candy and it is not a licensed food store, the board of health would have no way of enforcing the law.
So it appears vape shops, which commonly carry CBD, can escape the regulations.
Drug tests
Maloney, who is also a criminal defense attorney, gets his product from facilities in Massachusetts, Maine and Colorado and said he has it tested for quality control.
Because it has little or no THC, customers can take it instead of medical marijuana and his company guarantees they will still pass drug tests.
Maloney said he got into the business because he was on "the front lines" in seeing the damage the opioid crisis was causing and decided CBD could help as an "exit strategy" for getting off drugs.
While CBD is widely available at vape shops and online, it is not cheap.
The Attleboro woman at Nostalgia 'N' More said she is looking into it for her mother but the only thing holding her back is the price.
At Nostalgia N More, a small bottle with a 150 mg concentrate of CBD costs $31.99. A more concentrated form with 250 mg is $59.99. Using 1,500 mg, which Stephen Bergevine uses, will run you $499.99 per small bottle.
Using several drops of it three times a day means a bottle doesn't last long and the cost is not covered by health insurance.
The explosion of CBD use has been tied to a 2018 federal farm bill that legalized it, except for in food.
Farmers had lobbied for it to clarify the law about the use of hemp, as opposed to marijuana.
Now, lawmakers at both the federal and state level want to go further.
In Washington, farm-state members of Congress are pushing the FDA to speed up its process of writing regulations that would clarify the rules for CBD.
But, in recent testimony to Congress, FDA Commissioner Ned Sharpless said the agency needs time to get it done because there is a lack of knowledge on its effects.
"While we have seen an explosion of interest in products containing CBD, there is still much that we don't know," he was quoted as saying by the online news outlet The Hill.
On Beacon Hill, state Rep. Mark Cusak, D-Braintree, has filed a bill that would lift restrictions and allow CBD to be included in food. Cusak says it would allow hemp growers to diversify their products and take advantage of a growing business.
Source: https://www.thesunchronicle.com/news/local_news/confusion-reigns-over-cbd-as-medicine/article_c313fa4a-5f5c-51a5-9d08-a8d5080293e7.html