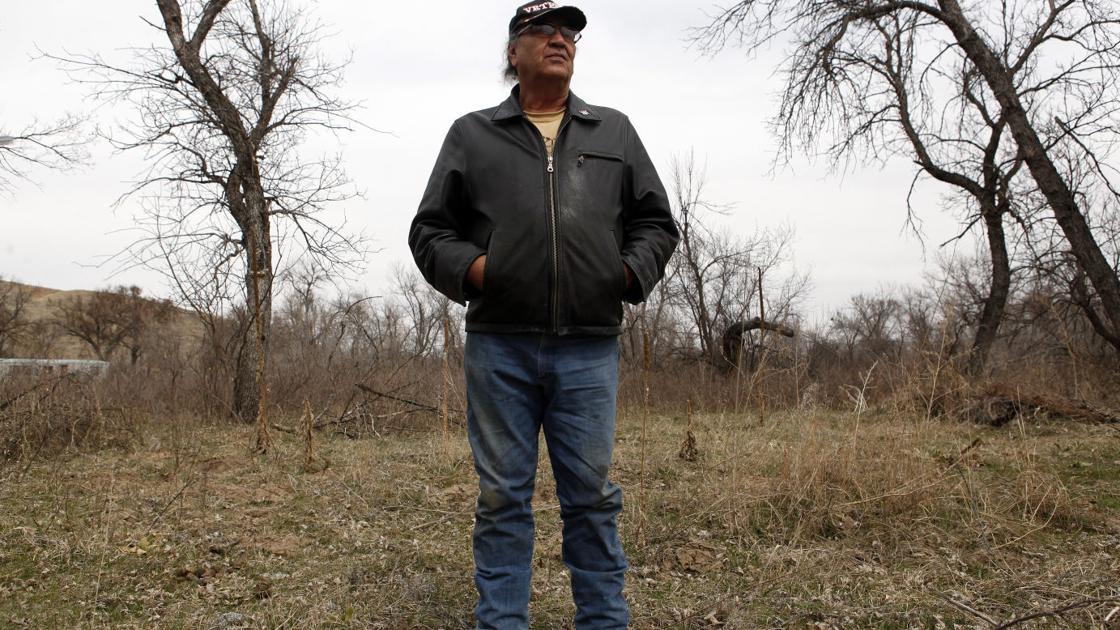 Congress could soon authorize the growing of hemp nationwide, but Alex White Plume isn't waiting.
The Manderson man signed a deal last year to sell his hemp to a Colorado company, and he grew his second crop for the company this summer.
For White Plume, a Native American who lives on the Pine Ridge Reservation, it's the culmination of a more than two-decade struggle to grow hemp as a cash crop.
'ÄúI'Äôm just envious of all my friends who started with me 23 years ago, including many who are millionaires now,'ÄĚ White Plume said, referring to other hemp growers around the United States. 'ÄúNow I'Äôm finally not standing on the sidelines anymore. I can participate and try to catch up with them.'ÄĚ
White Plume's quest dates to at least 1998, when he worked with the Oglala Sioux Tribe to exempt hemp from the tribal government's ban on marijuana. White Plume believed that hemp, which requires less water than some other commercial crops, could be a viable economic enterprise on the semi-arid and economically depressed reservation.
Hemp and marijuana are similar-looking members of the cannabis family, but hemp does not induce a high when ingested. Nevertheless, hemp has never fully escaped its popular association with marijuana, and federal legislation passed in 1970 essentially banned the growing of hemp despite the plant's usefulness in an array of products including fabric, food, paper, lotion and biofuel.
White Plume attempted to assert his tribe's sovereignty over hemp regulation when he planted hemp in 2000 and 2001, only to watch federal agents from the Drug Enforcement Administration seize his crops. He tried again in 2002, but the federal government obtained a court order prohibiting him from cultivating hemp without the DEA's permission. It was believed to be the nation's only court-ordered prohibition against an individual hemp farmer.
Since then, movements to legalize marijuana for medicinal and recreational use have helped to relax attitudes toward hemp. In 2014, a farm bill passed by Congress authorized hemp farming in conjunction with university research and pilot projects, but only in states that decided to allow it.
The 2014 farm bill was a boon to the hemp industry, but not to White Plume. South Dakota did not authorize hemp cultivation (it remains one of only 10 states not to allow it), and the court order against White Plume was still in effect.
In 2016, a federal judge lifted the court order, but White Plume remained in a legal gray area because of the federal restrictions and state prohibition of hemp cultivation. He decided to forge ahead anyway, once again asserting his tribe's sovereign right to allow hemp farming.
'ÄúI have no fears,'ÄĚ he said.
White Plume agreed to sell his hemp to Evo Hemp, of Boulder, Colo. He is growing several acres on his own land, he said, and Evo officials said White Plume is also leasing land in Colorado, where hemp cultivation is legally regulated.
Evo Hemp is extracting cannabidiol oil from White Plume'Äôs hemp plants and using it to make tinctures 'ÄĒ which are administered with a dropper 'ÄĒ and soft-gel capsules. The product packages include biographical information about White Plume.
Cannabidiol, or CBD, is a chemical compound with numerous purported health benefits, only some of which are scientifically substantiated.
Ari Sherman, one of the co-founders of Evo Hemp, said CBD consumption may help with inflammation, anxiety, sleep and focus 'ÄĒ with an emphasis on 'Äúmay.'ÄĚ
'ÄúWe do not make any of those claims in any of our marketing material,'ÄĚ he said. 'ÄúI try to point out that they are all 'Äėmay'Äô help and 'Äėmay'Äô benefit, but there are no proven claims on them currently.'ÄĚ
Even the legality of CBD is murky. The DEA still considers it a controlled substance that is illegal to make, sell and consume without authorization; the Food and Drug Administration says CBD cannot be sold as a dietary supplement; and yet some states have laws legalizing CBD to varying extents.
South Dakota has a law approved in 2017 that makes CBD legal for uses approved by the Food and Drug Administration. The first such approval came in June, when the FDA approved Epidiolex, a CBD drug for the treatment of seizures associated with two rare and severe forms of epilepsy.
Despite its complicated legal status, sales of CBD are booming. The Hemp Business Journal reported that U.S. sales of hemp-derived CBD products totaled $190 million in 2017, which accounted for 23 percent of the $820 million U.S. hemp industry.
Reports from Washington, D.C., now indicate that hemp, and by extension CBD, could be fully legalized by the new farm bill under consideration in Congress. The movement to legalize hemp has received considerable help from Senate Majority Leader Mitch McConnell, R-Ky., who views it as a potential replacement crop for tobacco.
According to White Plume, the full legalization of hemp will be long overdue whenever it happens.
'ÄúI'Äôm just happy to sell my crop,'ÄĚ he said.
Source: https://rapidcityjournal.com/news/local/company-features-hemp-from-pine-ridge/article_46ac1cec-4dad-5918-b486-0556ee001845.html