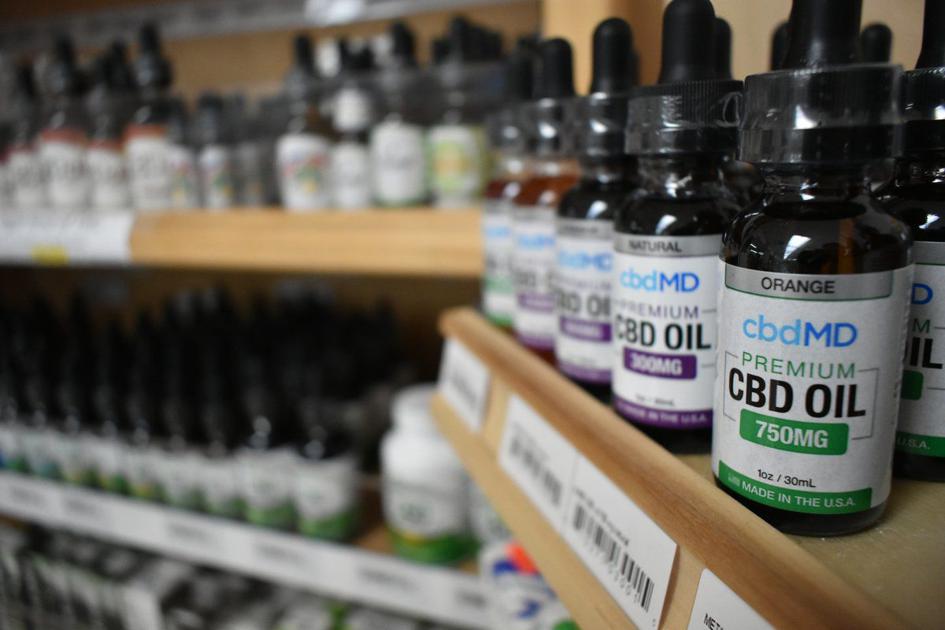 Stories like Carol Baker's can be hard to believe.
A 73-year-old cancer survivor whose daughter brought her CBD — cannabidiol, an oil extracted from hemp — to treat her arthritis said it turned her life around.
"We took a morning and an evening dose and the next day was fantastic, like some kind of snake oil — only it worked," Baker said. "It was just wonderful. It's helped me with so many things that I can't even remember them all. My bone density, my blood pressure, my sugar levels and my cancer tumor markers have all gotten better since I started taking it."
Baker and her husband, Arnold, have been using it to treat the family pet as well.
"I was ready to put down Happy, our little 16-year-old dog, because he could hardly stand up, but he has gotten another year and a half of quality life from the oil."
Baker's experience, she understands, is a remarkable one, but it's one that's turned her into an evangelist for CBD and she now sells it out of her Paducah home.
"Having had that result ourselves, I decided that I would put the time into it so that we could give other people the chance to experience the same thing."
Baker isn't the only one who's been bit by the CBD bug.
The market for CBD has gone through the roof since December 2018, when President Donald Trump signed the Farm Bill into law, legalizing hemp production across the country. With tons upon tons of cannabidiol-rich hemp being run through processing, the CBD market exploded into being.
Now it's everywhere: on gas station counters, the shelves of health food stores, farmers market booths and, since June, at the local Kroger.
The newly legal-to-produce substance, available in liquid, pill, gummy, cream or ointment-form, has been claimed as a treatment for a variety of maladies, though the intended use and results differ from person to person.
According to the staff and pharmacists at Paducah's Strawberry Hills Pharmacy, they have seen many repeat customers who have benefited from taking CBD products. Customers have reported relief from pain, insomnia, anxiety, depression and other health issues.
"I prefer to go by the book for what things are prescribed for, with CBD, it's all conjecture," said Geoff Speed, who owns Golden Carrot Natural Foods with his wife, Michelle. "The conditions typically are neurological issues, chronic pain, sleep and I've had some customers use it to treat symptoms of Parkinson's."
Despite its popularity, the medical field has largely shied away from the substance.
This reluctance, Speed suggests, is largely based on CBD's tenuous relation to marijuana, a drug that remains illegal in most U.S. states.
With it only recently becoming legal to produce the substance, Baker believes that doctors' hesitancy is due to a lack of experience with CBD and that it's only a matter of time before it's supported.
"If doctors weren't exposed to a drug in medical school, most of their practices tell them not to say anything," she said. "I definitely believe there's a time coming when the medical community will embrace CBD, but first there's going to have to be more studies."
To date, only one use of CBD has passed the muster of the Food & Drug Administration: Epidiolex, a prescription drug that contains a purified form of the substance for the treatment of seizures.
This lack of FDA approval has led to inconsistent products with advertising full of false promises. In order to counteract that, the consistent piece of advice that Speed, Baker and the staff of Strawberry Hills Pharmacy had was to research the products and always look for an analysis before purchasing.
Daniel Jones and Staci Overby, owners/pharmacists of Strawberry Hills, stated to be careful where you are purchasing CBD products. Consumers need to ask for a Certificate of Analysis, which defines the legal federal break down of 0.3% of THC content in each individual product.
Dr. Amy Abernethy, the principal deputy commissioner of the FDA, testified before the U.S. Senate Committee on Agriculture, Nutrition and Forestry on July 25, where she said that the agency "is committed to advancing hemp products through the Agency's existing regulatory pathways … and further exploring whether it would be appropriate to make additional regulatory pathways available to hemp products such as those containing cannabidiol."
As the FDA takes a closer look at CBD, the economic impact of hemp and its byproducts continues to be felt locally.
West Kentucky has proven to be fertile ground for the industry by attracting producers like Aerospace-H, a Kevil-based hemp processing plant that opened its doors in March; Vertical, which cut the ribbon on a $5 million processing facility in Trigg County in 2018; and the Kentucky-based GenCanna, which is slated to open refining, processing and retail facilities in Paducah and Mayfield in the coming year.
"Thanks to the General Assembly's foresight in 2013 to offer industrial hemp as a viable alternative crop," said State Rep. Steven Rudy in March. "Kentucky farmers are now leading the nation in the effort to fully integrate hemp into our agriculture economy."
Gov. Matt Bevin echoed his sentiment.
"As this crop takes root nationwide, the commonwealth's efforts to set the table for economic prosperity are already paying dividends."
Source: https://www.paducahsun.com/news/local/cbd-users-swear-by-it-but-others-advise-caution/article_4765d822-0303-5a09-a1db-525c64d3c7e4.html