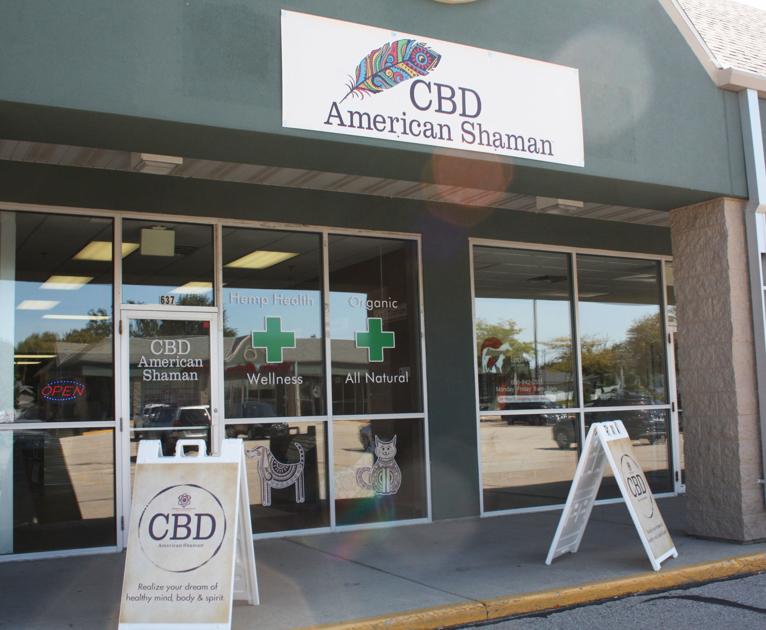 A new shop in DeForest is selling the controversial product cannabidiol (CBD), a non-intoxicating extract of the marijuana plant that's billed as a diverse health supplement.
CBD oil – marketed as a cure-all for many ailments including depression, aches and pains – is gaining popularity in the U.S. alongside changing attitudes toward medicinal marijuana, and the American Shaman store in DeForest is the most recent local option for shoppers.
Its door opened in late August.
Owner Shane Dorn said that every business day since then, he's helped people limit their chronic pain stemming from arthritis, chronic nausea and headaches, even depression and sleeplessness. CBD can be ingested in several ways, although Dorn said the most popular products are salve lotions as well as CBD extracts that are mixed and drank with water.
The CBD in Dorn's shop is extracted from hemp plants in Colorado. The products have little to no THC – the psychoactive component in pot – Dorn said. He said you won't get high, but you will find relief.
"People can come here for all sorts of things," Dorn said. "Every day someone walks in here … and when they leave, they're not in as much pain."
Dorn said he only recently became familiar with CBD after conducting research online. He decided the product was worth the entrepreneurial risk, and after contacting DeForest village offices and law enforcement, Dorn opened up shop.
He said the community support has been staggering – so staggering, in fact, that he's already planning on a second location nearby the Madison area. There is a second American Shaman store in Portage.
Dorn said he's seen the positive effects of CBD hit close to home. When his mother was diagnosed with a brain tumor and developed seizures, Dorn asked her to try CBD.
He said she found instant relief from the seizures.
But experts say CBD hasn't been clinically proven to treat or cure anything outside of treatments for seizures. Proof of CBD's medical powers are largely anecdotal, experts say, and there needs to be more research before broad medical support of the extract is achieved.
"There isn't a lot of research or clinically controlled trials to properly assess CBD … outside of childhood seizures," said Mark Grapentine, senior vice president of government relations at the Wisconsin Medical Society.
He said the contents of CBD products can range wildly from one batch to another, as testing is often a spotty and largely unregulated process for CBD oils. (Dorn however said his products are rigorously tested by the American Shaman franchise labs.)
Grapentine said some products claim to have more CBD than what's actually present in the product. He said it's a similar situation to other marketed health or wellness supplements that don't have Federal Drug Administration approval.
"What they were finding is that a lot of the product being sold out there wasn't what it was being touted as," Grapentine said. "They also found that some of the CBD oil out there had THC in it," which could actually worsen the health of individuals with certain medical conditions.
Grapentine said the Wisconsin Medical Society is pressing for more research and to remove marijuana as a Schedule One drug, a classification which largely prohibits medical research into the benefits of pot and its extracts.
"We try to explain why research will be more beneficial for patients in the future, but the argument gets locked up in the fight against illegal drugs," he said.
The legality of selling CBD products is forbidden except by physicians and pharmacies, according to the Wisconsin Department of Justice, although the distributers appear to be operating in a legal gray area. And the WDOJ said possession of CBD is illegal except with the certification of a physician.
"Law enforcement has encountered examples of products claiming to be CBD oil that resulted in people getting hurt and sick," said Wisconsin Attorney General Brad Schimel in a May 4 press release. "We have an obligation to protect public health and safety, and need to provide frontline law enforcement with the knowledge to enforce the law…."
Dorn said local law enforcement and the village signed off on the store, and he hasn't had any troubles since opening day.
Despite the medical and legal controversies, Dorn said the proof is in the pudding – so to speak. He has no doubts as to the effectiveness of CBD and said the popularity of his product is only going to continue its ascent.
"It's getting more accepted," Dorn said. "The product isn't going away. CBD isn't going away.
"I would challenge anyone to try the product," Dorn added.
The store is located in the Main Street strip mall in DeForest. Dorn said free samples are available to customers interested in the products at the shop.
Source: http://www.hngnews.com/deforest_times/community/article_a6edfc86-4dc1-549b-a2dd-8b7f1967cc04.html