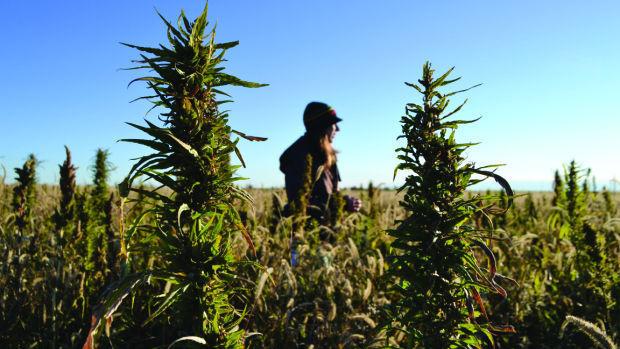 JACKSON — Certain cannabidiol products have disappeared from shelves at Jackson Whole Grocer and Lucky's Market after the stores received a visit from police.
An ongoing investigation has sparked a debate on the legality of the substance in Wyoming.
After being told the store would face charges if they didn't pull CBD products, employees at Whole Grocer complied.
"They were very kind," Whole Grocer Vice President and General Manager Tom Scott said. "They didn't come in here guns blazing."
The Wyoming Division of Criminal Investigation claims a product the stores were selling contains traceable amounts of THC, which it says makes it illegal to possess or sell.
"They gave us seven days to get rid of it," Whole Grocer Herbalist Heather Olson said. "We're sad to see it go. It's a great category for our department. It was a huge move forward for herbal medicine. But psychoactive chemicals in the product are not appropriate in Wyoming."
DCI agents say the only exception to possessing THC in Wyoming is if you have a "hemp extract registration card" issued by the Wyoming Department of Health.
Those cards are rare, state officials said.
One of the CBD products police say is testing positive for THC comes from CV Sciences, a CBD hemp-oil manufacturing and distributing company.
"We will address this like any issue with our lobbyists and attorneys," said Josh Hendrix, director of business development at CV Sciences. "It should be an easy conversation. But we need clear-cut legislation."
Hendrix disagrees with DCI on the product's legality.
"We don't get our products from marijuana," he said. "This has happened enough times that the misinterpretation gives us an opportunity to educate."
Olson said the product is popular with Whole Grocer customers. She turned away half a dozen customers on Tuesday alone. More than 50 bottles are now in a cardboard box in the back of the grocery store.
CBD is often used by people who suffer from epilepsy, anxiety, depression, seizures and chronic pain.
Olson said the stores will rely on the CBD companies to send certificates of analysis to confirm none of their other products have THC in them.
Lucky's Market also took products off shelves last week.
"We've pulled the products in a gesture of good faith," said store director Chris Martinez. "There were multiple brands we had to pull."
The Division of Criminal Investigation said lab analysis confirmed the presence of THC in "many of the items" it received.
According to CV Sciences, CBD oil is derived from agricultural hemp, does not make you high and has "a remarkable safety profile."
The World Health Organization does not consider it a controlled substance.
"Cannabidiol does not appear to have abuse potential or cause harm," its website states.
A World Health Organization expert committee continues to review the extracts.
DCI Operations Commander Ronnie Jones told the News&Guide that his agents have been collecting CBD around Wyoming since late last year.
"We are still conducting an investigation," Jones said.
DCI Deputy Director of Operations Forrest Williams said the investigation began because of inquiries from the public and law enforcement officers about CBD's legality.
"We have bought from stores in Casper, Cheyenne, Laramie, Gillette, Rock Springs, and whatever products we've bought we submit them to the lab for testing, and if it contains any amount of THC it's illegal," Williams said.
Jones wouldn't say that the ongoing investigation is a priority for DCI. But several agents around the state are involved.
"They are wasting their time," Hendrix said. "This is a very disruptive thing. Cannabis has been demonized for so long. I've grown hemp on my farm. You can't get high off it."
Hendrix says the investigation is based off misinformation.
"They have bigger things to worry about," he said. "There are hard drugs on the steeets. This doesn't harm anyone. It helps people."
Hendrix says his company plans to clear up any confusion surrounding levels of THC in their products and where it comes from.
"It's kind of like decaf coffee or Kombucha," Hendrix said. "There are kids that take this product."
Source: https://trib.com/news/state-and-regional/cbd-oils-pulled-from-shelves-in-jackson/article_47abd95e-fa6d-5e98-b681-0579502b46f4.html