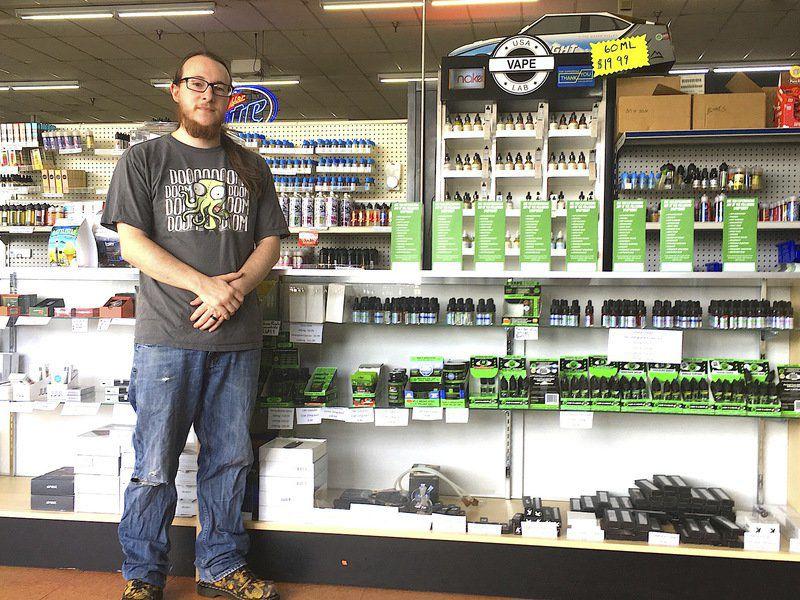 Shannon Prusaitis has experienced the power of CBD oils.
"My late husband had prostate cancer that metastasized to his bones," said Prusaitis, who teaches yoga and fitness at the YMCA and works at Westgate Cinemas. "He said he felt doped up by the pills and patches they gave him for the pain. Lars helped us out."
Lars Mockus, manager of the Vape department of Beer 4 Less, recalls the couple who came in soon after he began carrying CBD oils.
"He had Stage 4 bone cancer. His insurance was paying for strong pain relievers that left him in a perpetual medical-induced fog. It broke my heart," said Mockus, a former Army medic who was familiar with CBD —Cannabidiol — an organic, non-narcotic, non-addictive, all-natural substance extracted from hemp plants.
"I talked with the couple about alternative medications. I gave them brochure, urged them to talk with their doctor and see if it CBD could help. They tried, a few drops under the tongue several times each day.
"Five weeks later he walked into the store. He had better quality of life, no longer semi-comatose and lethargic," Mockus said.
For the past 15 months, Beer 4 Less has carried CBD oils, to be placed under the tongue and absorbed; creams, and salves for muscle aches. Other applications are taken for inflammation as with psoriasis, irritable bowel syndrome and other conditions. Mockus said there are many brands on the market. He offers five.
"We were the first in the county to carry them," he said.
Mockus said before he began offering the products, he went to the state police to be certain that he could legally offer the substance and was violating no state or federal laws. He and they are satisfied that he is not. 
CBD won't cure cancer, he said, "But it can treat the pain, stress and anxiety common to cancer patients." He added that he expects to see more uses as testing continues.
Prusaitis said she had heard of the product but was not familiar with it.
"Lars helped us finding us with samples to try, providing information, determining what the dose should be. He could answer all of our questions about what would help."
Prusaitis said she would dose her husband before she left for work to allow his body to relax in order to sleep.
"He was in pain all of the time," she said."But the CBD oil allowed him to relax a little."
She said her husband took the substance for almost a year and a half. By the time he died in January, Prusaitis said, he was taking 760 mls of CBD oil under his tongue in the mornings and evenings so he could sleep. 
"It was worth it to see him able to relax. Jimmy, my husband, never felt comfortable with  the pills and patches that blurred his vision and affected his speech. these strong drugs make you like a zombie. He said he didn't want to feel dopey. He wanted to be in control. He hated it when he did not feel like himself."
CBD is used to treat inflammation, nausea, hot flashes, headaches, joint and muscle pain, back pain, anxiety, digestive issues,. It has also helped with spasticity, trouble sleeping, frequent urination and irritated skin.
It also provides hope, Mockus said. Parents of a 5-year-old with brittle bone disease sought him out. Their son, he said, was on Valium. "He was anxious that he'd fall, break bones and necessitate more surgery. Now CBD is easing his anxiety and allows him to be a little boy again." 
 "This is one wonderful substance," he said. "You see people strung out on pain pills and other drugs. That doesn't happen with this but the benefit is there. Cannabinoid receptors are located in the brain, throughout the central and peripheral nervous systems and every cell has receptors CBD can tap into to strengthen the immune system. This is an effective form, an alternative natural treatment for so many ailments and illnesses.
According to Medical News Today, "A study published in the Journal of Experimental Medicine found that CBD significantly reduced chronic inflammation and pain in some mice and rats. The researchers suggest that the non-psychoactive compounds in marijuana, such as CBD, could be a new treatment for chronic pain."
Other patients, Mockus said, are veterans on high doses of opioids anxiety and psychoactive pills. which may be controlling some symptoms but don't cure the person's condition. Most of the strong medications prescribed, he said, result in horrible side effects.
Medical News Today reported on its website that "There is some promising evidence that CBD use may help people to quit smoking. A pilot study posted to Addictive Behaviors found that smokers who used an inhaler containing the compound CBD smoked fewer cigarettes but did not have any additional craving for nicotine. Another similar study posted to Neurotherapeutics found that CBD may be a promising substance for people who abuse opioids."
In addition to the oil itself, Mockus has a selection of CBD and informational packets, and he encourages people to read them "to see what every one does. We also want to adjust the dosage so you take the lowest dosage possible."
The substance works, he said, but is expensive. "There is no reason to take more than you need to. A little will make you feel better. A lot won't get you high."
Although CBD comes from the cannabis plant, he said, there is no THC, the substance found in marijuana that "creates the buzz.: And, he said, there is no threat of any dependency.
Mockus notes the sublingual (under the tongue) varieties vary in tastes.
"Hemp is an earthy taste not really pleasant," he said. Others are mixed with coconut or vegetable oils, which improves the taste if that matters to you." 
Source: http://www.ncnewsonline.com/news/cbd-oil-users-tout-its-benefits/article_2962d7b9-fbc7-5d5a-a7dc-7772861f59dd.html