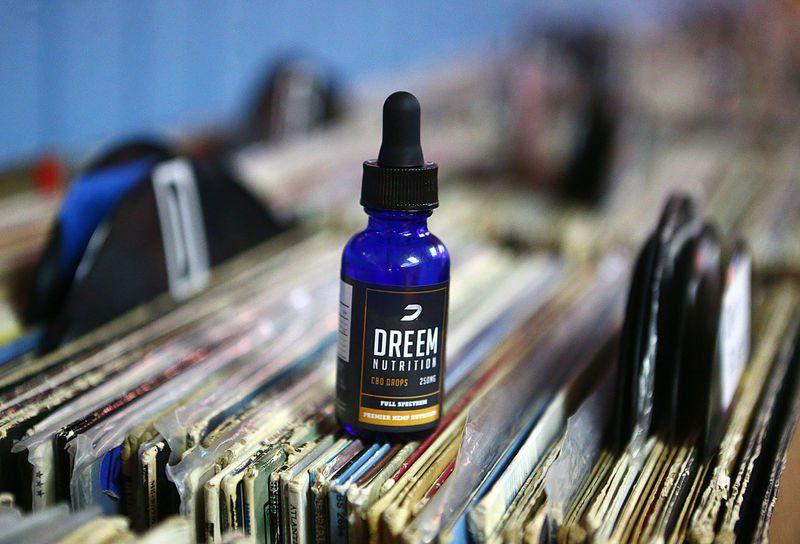 The sale of CBD oil has been legal in Indiana since March, and that's good news for people looking for natural alternatives that may help with a slew of health issues such as anxiety, insomnia, depression and epileptic seizures.
But, the supplement's new legal status should also come with a warning: buyer beware. Some CBD oil can be toxic and even cause a user to fail a drug test.
"There are a hundred companies out there selling this stuff, and there are a lot of scammers among those companies," Dr. Gary Gettelfinger, who practices out of IU Health Pain Center in Bloomington and is a board-certified anesthesiologist and pain doctor.
He said he started giving patients the hemp-based product when it first became legal in Indiana to treat children with epilepsy. Since then, he's provided the supplement to more than 500 patients.
And if there's one thing he's learned, it's that not all CBD oil is created equal.
"There's good stuff and there's bad stuff," Gettelfinger said. "Be aware that there's a lot of stuff on the market that is straight junk."
With the sale and production of CBD skyrocketing in Indiana and across the U.S., here are some tips to ensure you're buying high-quality oil and not a rip-off product that doesn't offer any health benefits.
BUY ORGANIC
Gettelfinger said hemp plants are sometimes grown on sites where there have been radiation spills or other industrial contamination because research has shown the plant pulls the toxins from the soil.
Although it's a good use of the plant, it could also mean some of the hemp used in certain, low-quality CBD oils could contain plants that were grown on top of industrial spills and then harvested and sold to CBD-oil companies.
Gettelfinger said the only one way to ensure that isn't the case when picking a product is to make sure it's certified organic by the U.S. Department of Agriculture. Products that have the certification will usually advertise it on the label.
CHECK THE THC
The Indiana law that took effect in March requires all CBD oil sold in the state to contain no more than 0.3 percent of THC, the psychoactive compound found in cannabis plants that, in large amounts, create a "high."
Other regulations on the product kicked in earlier this month, including requirements that distributors and retailers label each bottle with a QR code – a scannable barcode that contains specific information about each product.
Those QR codes should ensure customers are getting CBD oil that contains only trace amounts of THC, but that doesn't hold true if you order it online from out-of-state distributors, Gettelfinger said.
Oil that comes from states such as Colorado could contain much higher levels of THC that aren't legal in Indiana, and could even lead consumers to fail a drug test. Gettelfinger said people who buy CBD oil online need to confirm the amount of THC it contains. Those who buy it off the shelf in the state can check the QR code.
THE RIGHT ABSORBTION
Although CBD products are generally referred to as an oil, you don't want an oily product, Gettelfinger said. He said oil-based products may only allow the body to absorb 6 to 10 percent of the actual CBD contained in it.
Instead, look for products that are water soluble, which allow the body to absorb up to 95 percent of the CBD.
Gettelfinger said some companies sell expensive, oil-based products that contain 1,000 milligrams of CBD. But with the low absorption rate, your body may actually only be getting less than 100 milligrams. A water-soluble product with just 500 milligrams of CBD, on the other hand, will provide more CBD to the body.
He said an easy way to check if CBD is oil-based is to put a small amount in a cup and water and see if it's absorbed. If it separates from the water, it has too much oil.
THE FULL SPECTRUM
Hemp oil can be purchased as CBD isolate or full-spectrum CBD, which means it contains all the other cannabinoids found in the hemp plant such as CBN (cannabinol), CBG (cannabigerol) and THCV (tetrahydrocannabivarin).
CBD isolate, on the other hand, is only purified CBD that has been extracted from the hemp plant and isolated from the other cannabinoids.
Gettelfinger recommended buying full-spectrum CBD, since the other strains of the plant can also have health benefits. Some products also add vitamins, minerals, fatty acids and other supplements to boost the range of health benefits the products offers.
WHEN NOT TO BUY
A report issued earlier this year by the World Health Organization (WHO) found there are no adverse health outcomes to CBD, and it has legitimate medical applications. According to the report, naturally occurring CBD is safe and well tolerated in humans, and is not associated with any negative public health effects.
But, Gettelfinger said, there are still some instances in which he does not prescribe CBD oil. He said he doesn't give it to pregnant women or those who have had organ transplant, since it could cause complications with the body accepting a new organ.
The U.S. Food and Drug Administration has not approved CBD for the treatment of any condition. Gettelfinger also qualified that the oil is a supplement that is not intended to diagnose, treat or cure any disease of any symptom of a disease.
Even so, he said, he's seen CBD products provide huge health benefits to his patients and recommended people give it a try to help with health issues such as depression, anxiety and insomnia – just make sure it's a safe, high-quality product.
"You just have to try it to see if it's going to work for you," Gettelfinger said. " … If you can afford it, and you get a good product and it has a QR code, it's worth giving it a try."
Source: http://www.washtimesherald.com/news/cbd-oil-sales-are-exploding-in-indiana-but-how-do/article_db475e10-7c91-5331-89da-158c57068b6d.html