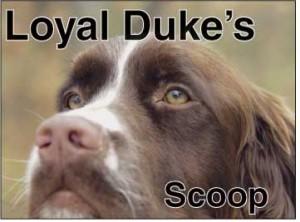 Dylan Dog is three months past his 12th birthday. He has arthritis, most noticeably in his back legs and hips.
He's a hefty golden retriever who also suffers with intermittent seizures. The seizures – often just one – usually occur every three weeks to a month apart.
To help with the arthritis pain and discomfort, he has been on an arthritic medication from our veterinarian. It has helped him quite a bit. But when all the news about using CBD flooded the media, we thought we should give it a try as well. Has it helped? Yes.
So what is this stuff called CBD? Its full name is cannabidiol. It is listed as a supplement for dogs to help with a wide range of problems. A random search of the internet brings up rave reviews for issues from anxiety to generalized social anxiety disorder to pain and seizures and more.
Dr. Stephanie McGrath at Colorado State University is studying how CBD can impact dogs with epilepsy. The results from her clinical studies showed an 89 percent reduction in the frequency of seizures in dogs in her study group.
CSU conducted a safety study in 2016 and determined the CBD used in clinical trials is traceable in the blood and thereby safe for clinical use in dogs.
How does that compare with Dylan's seizure frequency? His seizures have not gotten worse nor has the frequency changed. He had one last evening – it's usually in the evening or around midnight. In other words, he has stayed the same. We did not expect the seizures to cease but hoped they did not become more frequent, and that has been the result so far.
Has it helped his arthritis? Yes. He still walks the same distance on our woods walks as our younger golden, Cooper. Not as fast, but that's OK. He needs to keep moving, albeit slower. Cooper can run around him in circles and up and down small hills as he needs to do.
The CSU study gave 30 healthy dogs different dosages in capsules, oil tincture and a cream applied on the skin. The results from the oil were the most significant. We will now change over to oil rather than the pumpkin-flavored treats.
The low-dose treat helped him be able to rather gracefully jump onto the bed with a hassock in between for leverage. Wonder what he'll be able to do with a more effective dose? Time will tell.
Judy Lore writes for the Loyal Duke column about personal experiences with her dogs and on any dog-related topic of interest, such as dog books, recipes for dog treats and other doggie concerns.
Source: http://www.themountainmail.com/opinion/columnist/article_f34c5f7c-15bb-11e9-b5d2-0b42c92bc843.html