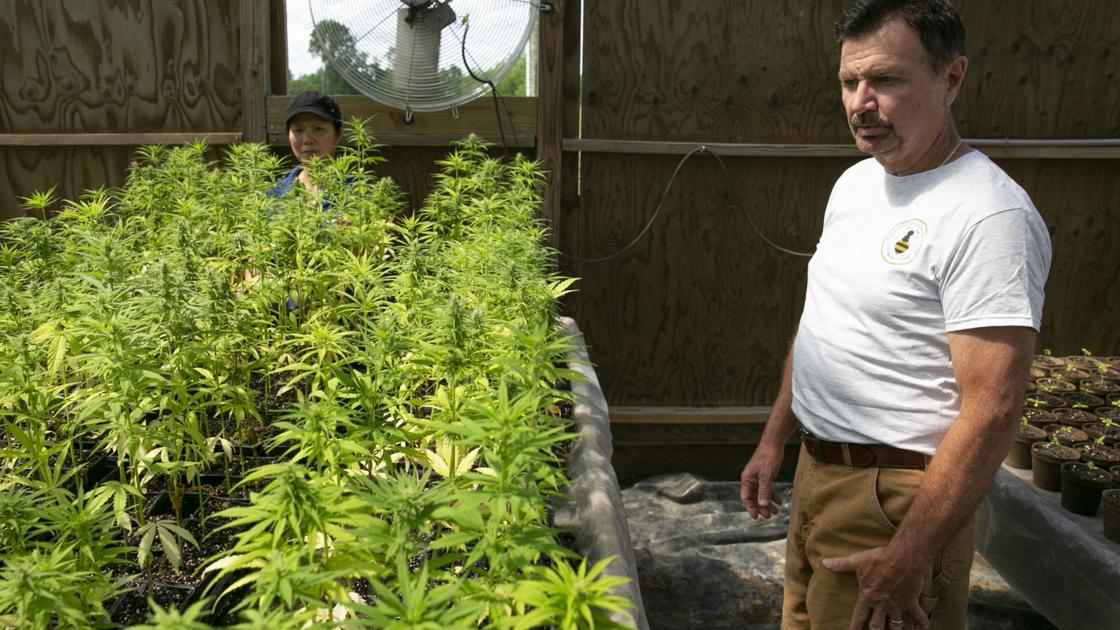 A few years ago, Bill Pickett was in the mountains near Bama Yao in southwestern China, picking wild hemp seeds with a 90-year-old resident.
Residents of Bama Yao—which is near where Pickett and his wife, Bixia, own a second home—have a life expectancy of over 100 years. As of 2013, there were 81 centenarians living there.
Part of the reason for this longevity, Pickett said, is that hemp seeds are a regular part of the villagers' diet.
"They steam them and make them into a porridge," he said. "They say hemp originated in that region."
Pickett suspects that the seeds he picked on that trip came from plants that were 4,000 to 5,000 years old.
"They haven't been stepped on a lot," he said. "There's a purity."
He hopes that purity comes through in the cannabis sativa plants now growing at Cool Water Farm, the Caroline County property that has been in his family for 100 years.
He developed the proprietary strains he grows—which he calls Virginia Gold and Cool Water Cherry—through open pollination of several hemp varieties, including the ancient Chinese strain, and harvested his first salable crop last August.
Virginia Hemp Commodities, the business the Picketts established, sells hemp seed and hemp plants. Pickett hopes to eventually extract CBD oil for sale.
According to the VHC website, Cool Water Farm is first licensed hemp farm in Caroline and the only source in the state for hemp seed.
"If something inspires me, I dig in and try to learn as much as I can," Pickett said.
There is growing local and national interest in the farming of industrial hemp. The 2018 federal farm bill established a regulatory framework for the commercial production of hemp and at the end of March, Virginia Gov. Ralph Northam signed legislation permitting the growing and processing of industrial hemp for commercial purposes in the state.
Until then, hemp could be grown only as part of a research program in partnership with a college or university.
Both hemp and marijuana derive from the genus of plants called cannabis, but the two plants differ in how they are cultivated and harvested. Marijuana plants are cultivated to have high levels of the chemical compound tetrahydrocannabinol, or THC, which produces the "high" feeling.
Hemp is cultivated to have low levels of THC and will not produce a buzz. It is an ancient crop that was important for colonial Virginians, who were required by the British to cultivate it for making canvas sails—the word "canvas" derives from "cannabis."
Pickett said he's been watching the progression of the hemp industry in the United States since about 2010, and in 2016, he started working with John Fike at Virginia Tech to develop his own seed. He now has separate state licenses to grow and process hemp, as well as a license for distributing the hemp seed.
Pickett said the focus of his business is in the health and medical benefits of hemp seed and in cannabinodiol, or CBD.
"CBD is the medical part," Pickett said.
According to Brightfield Group, industry analysts for the cannabis and CBD market, CBD will be a $22 billion industry by 2020.
Studies published in the National Institute of Health database have found that cannabinoids such as CBD can help with pain relief, reducing anxiety and depression, alleviating cancer symptoms, treating seizures and lowering blood pressure, though most studies also say further research is needed.
Cool Water Farm makes a salve with 1 percent CBD oil. Pickett said he rubs it on his aches and pains and finds it soothing.
"But it could be placebo affect," he added.
Industrial hemp can have CBD levels up to 20 percent and Pickett said Cool Water Farm's product is "up to the higher end."
According to federal regulations, industrial hemp plants and their derivatives—fiber and seed—cannot have THC levels higher than 0.3 percent. Pickett said the highest THC level his hemp plants measured last year was 0.2 percent at maturity.
If a crop is found to have levels of THC that are too high, it will have to be destroyed.
High THC levels can be caused by the growing environment or an overly long flowering season. They can also be caused by accidental cross-pollination with a nearby hemp crop. That's why the Picketts also grow hemp in several other undisclosed locations around the county that are more remote than Cool Water Farm.
Cross-pollination causes problems both for hemp farmers, by making THC levels too high, and marijuana farmers, by making levels too low.
"Friends in Oregon [where growing marijuana is legal] have a lot of trouble just growing [hemp], because of all the contamination," Pickett said. "I hope Virginia takes a little slower approach [to possibly legalizing marijuana]."
According to the Virginia Department of Agriculture, there are 15 licensed hemp production fields in Caroline, four in Stafford County, four in King George County and three in Spotsylvania County. As of last week, the state has issued 629 grower registrations and 92 processor registrations across the state.
Pickett, who also works as vice president of Hoover Treated Wood Products, said he thinks everybody sees dollar signs when they think about hemp farming.
"But they shouldn't be focused on that," he said. "You should go into it with the idea that you're a farmer and you like to grow things, to plant a seed and see the product of the work."
At Cool Water Farm, Bixia Pickett starts baby hemp plants from seed in her greenhouse. When they are old enough, she separates the males from the females.
Both male and female hemp plants go into the ground at Cool Water Farm so pollination can occur and seed will develop. At the isolated locations, the Picketts plant females only, to get flowers and buds without cross-pollination for extracting CBD.
Hemp can't take frost, so it is planted outside once that danger has passed—though Pickett said he is working on developing a variety that can overwinter.
The soil at Cool Water Farm is a sandy loam, which hemp likes because its roots can spread out, he said. The plants get water from a drip irrigation system—they don't like to stay wet.
"They like to take a shower and dry out," Pickett said.
Everything is organic. Pickett said his father and grandfather, who farmed the same land before him, never used pesticides and it's never been part of his routine, either.
Instead, he grows clover in between rows of hemp. This has the dual effect of keeping weeds down and providing nitrogen-rich fertilizer to the hemp.
Last year, some of the hemp plants grew to 14 feet tall, and six feet in diameter.
Fiber from hemp stalks can be used to make rope, textiles, clothing, shoes, food, paper, bioplastics, insulation, and biofuel.
Though it has so many potential uses, Pickett said any success he's had didn't come from hemp as a product, but from working hard.
"It's profitable, but it's hard work," he said. "We spent $20,000 last year on just a couple of acres. I'm doing this with the mindset that I can develop something that really has some use."
Source: https://www.fredericksburg.com/news/local/caroline-hemp-farm-hopes-to-cash-in-on-change-in/article_0e048f9c-da0f-5a72-8912-9c4192eeb5b3.html