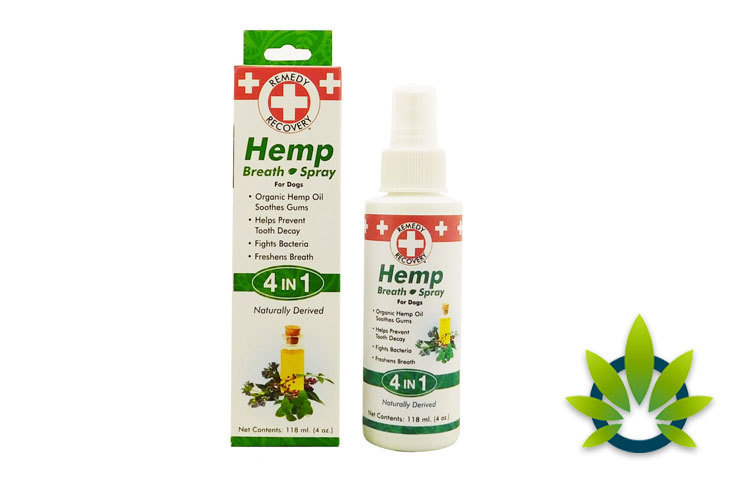 There is a new line of pet care products for dogs. Cardinal Pet Care offers dog owners the Remedy+Recovery brand to care for their pets. The CBD-infused hemp product line includes:
CBD-infused Hot Spot Spray
Liquid Bandage
Ear Cleaner
Pet Shampoo
Oral Care Spray
Calming Spray
Wound & Infection Lotion
Hemp Oil for pets
The latest addition to the Cardinal Pet lineup is the 4-in-1 naturally-derived Hemp Breath Spray. This helps protect the dental and oral health of dogs without the need for toothbrushing. They also claim it helps soothe gums, prevent tooth decay, fight bacteria and freshen breath.
The President of Cardinal Pet Care, Tony de Vos, said,
"Pet parents are doing more at-home grooming, including everything from dental care to ear cleaning. They're also becoming more aware of how over-the-counter first-aid and health products can contribute to their dog's well-being and keep them prepared for any minor emergencies that might arise. As a result, Cardinal has experienced a growth in sales of our Remedy+Recovery product line."
Cardinal Pet Care introduced these new products during the SuperZoo event in Las Vegas last August. When he also added:
"Cardinal Pet Care is committed to developing products that make it easier for pet parents to care for their dogs' health on a daily basis" […] "Our new Omega Plus with Bone Broth Treats and Hemp Breath Spray offer easy-to-administer solutions that target two very prevalent canine health problems—joint and dental issues."
Source: https://timesofcbd.com/cardinal-pet-care-releases-new-remedyrecovery-cbd-products-for-dogs/