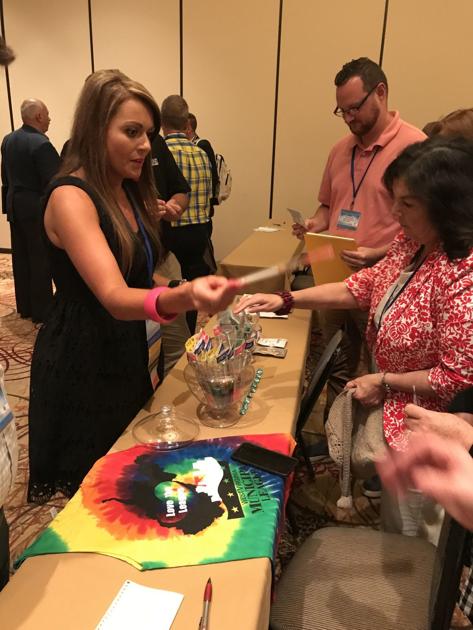 MORGANTOWN — The benefits of fully legalizing cannabis in the Mountain State were presented to city representatives Thursday during the second day of the 49th West Virginia Municipal League Conference in Morgantown.
Kicking off the presentation was Amber Viars, city clerk of Logan and a patient advocate of the West Virginia Medical Advisory Board. Viars went into detail about her daughter, who had suffered a stroke at birth. This lead her to Shriners Hospital where she discovered children suffering from seizures were treated with cannabis oil and that there was a great need for it.
Use of such products is not something that should get people branded as criminals or get parents put on a list to have their kids taken away by Child Protective Services, she said, noting that if she did suffer from seizures then cannabis oil would be preferred.
"Am I going to treat her with a chemical? No," she said. "I'm going to treat her with a plant."
Viars noted the Municipal League Conference focuses on one key issue: What West Virginia's cities need to prosper and improve quality of life.
To achieve those goals, every city needs money — money that could come from a booming cannabis industry, she said.
Viars noted Colorado's success story. In 2017, the state took in $118 million in taxes on legal cannabis products. Of that total, $41 million went to building new schools and other education projects, while $32 million went toward substance abuse programs.
Viars asked the conference attendees to show where they stand on the matter of cannabis legalization. While a few people raised their hands as being neutral on the issue, just about everyone raised their hands in support, with none declaring opposition.
Another proponent was Rusty Williams, a patient advocate representing the West Virginia Medical Cannabis Advisory Board, who said cannabis helped save his life.
"I'm here because in 2012 cancer tried to kill me and an illegal flower stopped that from happening," he said. "I did not set out to be the poster boy for cannabis legalization in West Virginia."
Williams highlighted how several issues can be traced back to the country's war on drugs, especially how it's resulted in disproportionate imprisonment of African Americans for nonviolent cannabis convictions.
Looking to more recent events, Williams recalled the statewide teachers strike over wages and the Public Employees Insurance Agency.
Cannabis legalization could help solve PEIA's funding problem — not only through taxes but also because less money and fewer resources would be spent by law enforcement and correctional centers on cannabis-related cases, he said.
Williams also said states that legalized cannabis have seen a decrease in opioid-related deaths of 25 percent the first year, followed by a later decrease of 43 percent.
Williams did note his opposition to taxing medical cannabis, saying that any such revenue should come from recreational use, not from helping the sick.
Both Viars and Williams said they are supporters of home rule, but noted that cities aren't allowed to deal with the cannabis issue because cannabis remains a scheduled controlled substance. They urged those at the conference not to wait until election season, but to begin contacting their delegates and senators on the cannabis issue now.
Also speaking in favor of cannabis legalization was Floyd "Kin" Sayre III, an attorney for Bowles Rice LLP.
He said legalization would bring new industries to cities, especially on the medical side.
"Would you stop a pharmacy from opening up in your city?" he asked. "Those pharmacies are dispensing a lot more stuff than these cannabis dispensaries will be doing, and I think we should look at the writing. One of things that's happening in municipalities throughout the state is we're losing revenue."
Sayre also emphasized his support from a pragmatic perspective, noting he does not consume cannabis or see it as a cure-all, but understands its benefits in other areas.
"I'm a bean counter," he said, noting that West Virginia's success with attracting outside dollars through legalized gambling could be replicated with legalized cannabis, provided neighboring states don't do it first.
Among those who sat in on the conference panel was Paul Thornton, community development director for Vienna, who started his career in law enforcement.
"I'm open-minded. I came here to be educated," he said, noting that regulating cannabis as a legal product could also make it safer.
He added that the next miracle drug could lie with cannabis, but that won't be known until adequate research is done.