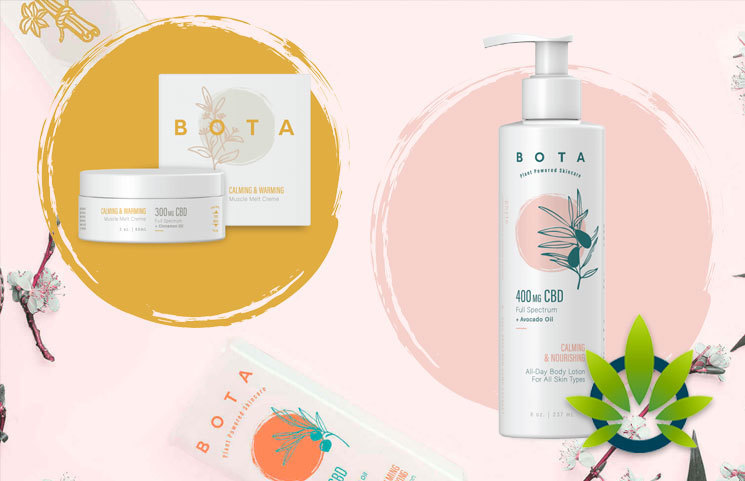 Bota Hemp is a brand that develops skincare products and supplements to meet a variety of needs in the body, including the use of CBD in all of their products. Consumers can purchase these products from participating stores in California.
The CBD industry started reaching new heights as soon as the Farm Bill passed last year, leading many companies to pop up or add CBD to existing products. While consumable products like chocolate and drinks seem to be gaining momentum, BOTA has taken a different route with skincare products and supplements.
Bota Hemp Products
The product line appears to be still in the works for BOTA, but all of their remedies include full-spectrum, hemp-derived CBD. The products are safe for daily use, and they start off by inviting users to choose the ailment that they want to fix – dry skin, tender muscles, or chaos.
There are only six products on the website presently, which include four skincare products and two tinctures.
Skincare
The skincare products predominantly deal with reducing the stress of dry skin, found in a hand lotion, a body lotion, and a body creme. The hand lotion offers 150mg of CBD in a 2-ounce container, as well as vitamins A and E to make the skin appear more youthful. The Satin Body Creme offers 200mg of CBD in a 4-ounce jar, adding shea butter and vitamins to tone and soothe the driest of skin. The All-Day Body Lotion includes 400mg in an 8-ounce bottle, adding avocado oil to remedy dry skin.
The Muscle Melt Creme is a little different, as it is meant to soothe the muscles of the area that it is applied to. This two-ounce bottle contains 300mg of CBD, and it includes cinnamon oil in the remedy.
Tinctures
The tinctures available through BOTA are meant to be ingested to get the desired impact. The two variation are meant to tackle "chaos," in that they calm and nourish the body. Both the cinnamon and spearmint options have 10mg of CBD for each serving, while including coconut MCT oil for the stress that consumers deal with through physical and environmental factors.
Contacting Bota Hemp
Even with the information provided online, consumers may find themselves with other questions. The customer service team is available on weekdays from 8:00am to 5:00pm, and can be reached by sending an email to [email protected]
Bota Hemp Summary
BOTA Hemp is still relatively new, but the application of CBD into everyday remedies that are easy to integrate makes the entire process easier on the body. Tackling important concerns in the body, the use of CBD allows consumers to get all of the support that they can for dry skin, aging, and general "chaos," as the website describes.
While unavailable at the moment, Bota will soon be launching their skincare and supplements. Consumers can sign up on the websites to receive emails about the upcoming changes to the brand.