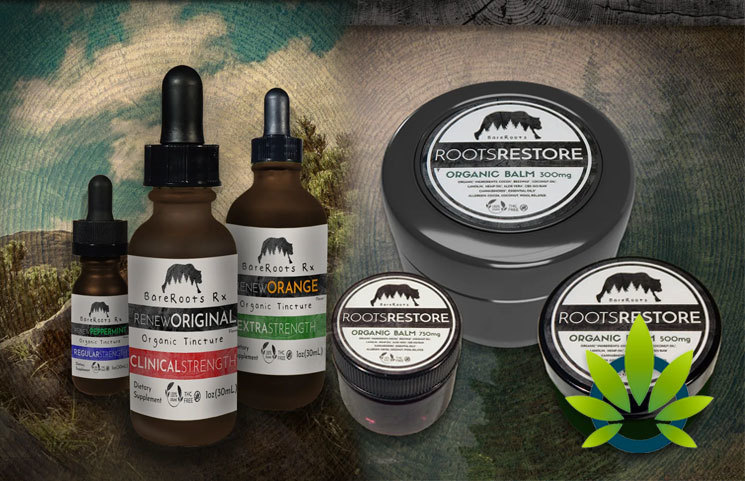 Bareroots Rx is a company that offers a variety of CBD products, ranging from mints to healing balms to pet remedies. The products can be purchased directly from the official website.
The Farm Bill of 2018 opened the door for many companies to bring forth CBD products for the public, but Bareroots Rx originally started in 2016 with founders Dale and Kathryn Hipes. Upon seeing an opportunity for a pharmaceutical alternative in the market. While the duo had experience with using essential oils and had previous experience with physical and massage therapy, Dale and Kathryn joined together to add Bareroots Rx to their resume.
Bareroots Rx offers 100% hemp-derived CBD, boasting a 93% absorption rate, due to their patented Disto-Raw Technology. Along with CBD, hemp naturally offers omega-3, omega-6, and protein, promoting bone health via the endocannabinoid system.
Bareroots Rx Products
Some of the products presently available through Bareroots Rx include:
Renew Organic Tincture
Restore Organic Balm
Critters Pet CBD
The Restore Organic Tincture is flavored with essential oils, offering four different flavors in four different strengths. Consumers will need to take the tincture sublingually to get the advertised soothing for inflammation, pain, and anxiety. Choose from Chocolate-Peppermint, Orange-Chocolate, Peppermint, and Lavender.
The Restore Organic Balm allows consumers to topically apply CBD to their joints and muscles to relieve tension and reduce inflammation. The balm should only be applied to clean skin and is available in strengths of 300mg to 1000mg.
Critters Pet CBD is a liquid supplement to ease anxiety and improve healing in the animal's body. It is available in regular (300mg) and extra (500mg) strength.
Contacting Bareroots Rx
With the information online, consumers may still find themselves with other questions. The customer service team can be reached by phone call or email.
Bareroots Rx Summary
Bareroots Rx offers a small selection of products to consumers as an alternative to the chemical-filled products that are often available in the pharmaceutical industry. These products are relatively affordable and focus on the combination of benefits from CBD and essential oils, among other ingredients.
While products can be purchased from the website, hemp businesses like Bareroots Rx still struggle to secure banking services for their involvement in the hemp industry. At this time, according to a recent tweet from the company, payments can only be accepted in cash, check by mail, or the Zelle payment processing system.