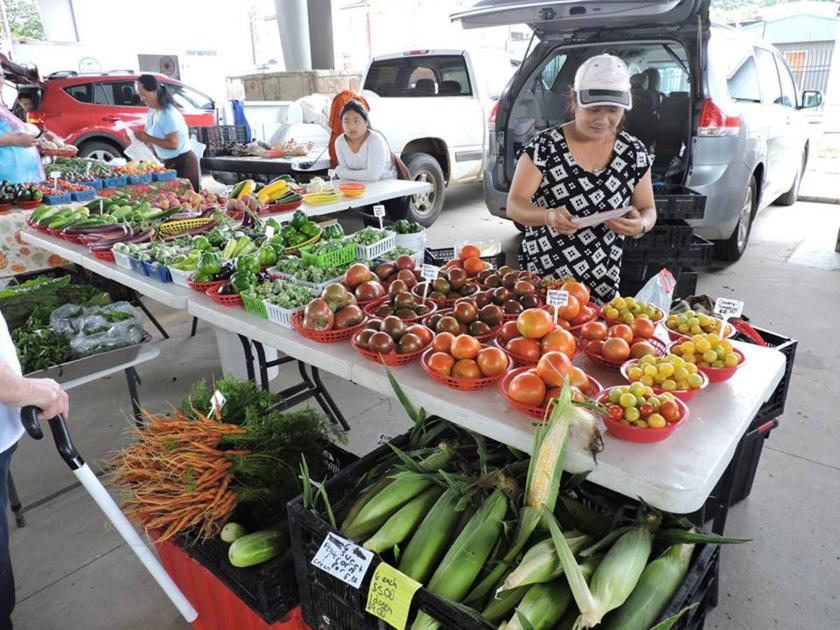 Buying fresh produce grown through organic practices has become increasingly popular in Tahlequah, and the Tahlequah Farmers' Market is starting to receive more and more visitors every Saturday.
The Farmers' Market recently broke an attendance record, with 910 people dropping by two weeks ago. With September nearing, the market has some items now that weren't available at the beginning of the season, including watermelon and cantaloupe.
"We also have an abundance of peppers – everything from sweet to really, really hot," said Marla Saeger, TFM president. "There are these sweet peppers that Ben Berry has. I made a pureed pepper soup last week. My husband just texted me a while ago, telling me he had the last bowl of soup, so I'm going to need to get more peppers this weekend."
Early in the season, lettuce was widely available at the Farmers' Market. Once temperatures began to rise, lettuce was hard to come by, but Saeger said it's begun to make a comeback. The market also has quite a few tomatoes left, but the stock is beginning to wane.
For those looking to make a blueberry or strawberry pie, they'll need to shop elsewhere, since their seasons have ended.
Unfortunately for some people, food allergies can prevent their tastebuds from experiencing a whole world of flavors. Kylie Keener of Freedom Bakery has a solution, though: She offers an assortment of cookies, cupcakes and breads for people who are gluten-sensitive or have celiac disease.
"Everything I sell is gluten-free and free of the top eight allergens," said Keener. "There is not really a place around here that sells those kinds of items. I do custom orders and I can try to accommodate any kind of food allergy."
The Farmers' Market isn't just for farmers, but also for artisans of various crafts and health products. Nancy James, owner of Clear Creek Wellness Center, brings a variety of essential oil products to the market. Some of her skin products help people with eczema, insomnia and arthritis pain. She also makes lye soap with essential oils.
"The lye soap doesn't have an additives, preservatives, dyes, or any of that kind of stuff," said James. "When you bathe with lye soap, you're actually giving your skin a moisturizer. You feel very clean after you bathe with my soaps. I also put the essential oils in them, so it's like you're getting an aroma therapy treatment every time you shower."
James also sells hand-embroidered towels, handmade jewelry, and CBD oil for pain. Under the pavilion on Morgan Street, TFM attracts people from all walks of life. James said she enjoys the atmosphere, as customers and vendors often mingle with one another, make trades, and listen to the different bands that setup every week.
"It's kind of like a party going down there," said James. "A lot of people come just to shop, but a lot of people come for the ambiance. It's a pretty cool place to go, and I like being there. I've met a lot of very neat people and friends that I consider to be lifelong friends."
Check it out
The Tahlequah Farmers' Market will have new T-shirts for sale this weekend, which helps fund the market. Vendors will be set up from 8 a.m. to noon. For more information, call 918-207-7671.
Source: http://www.tahlequahdailypress.com/news/local_news/attendance-record-broken-fall-crops-arriving/article_a289ae6f-f177-51f1-b8d7-dcd2c00275bb.html